WATCH: Tempers Flare Over Boston Bombing At Senate Immigration Hearing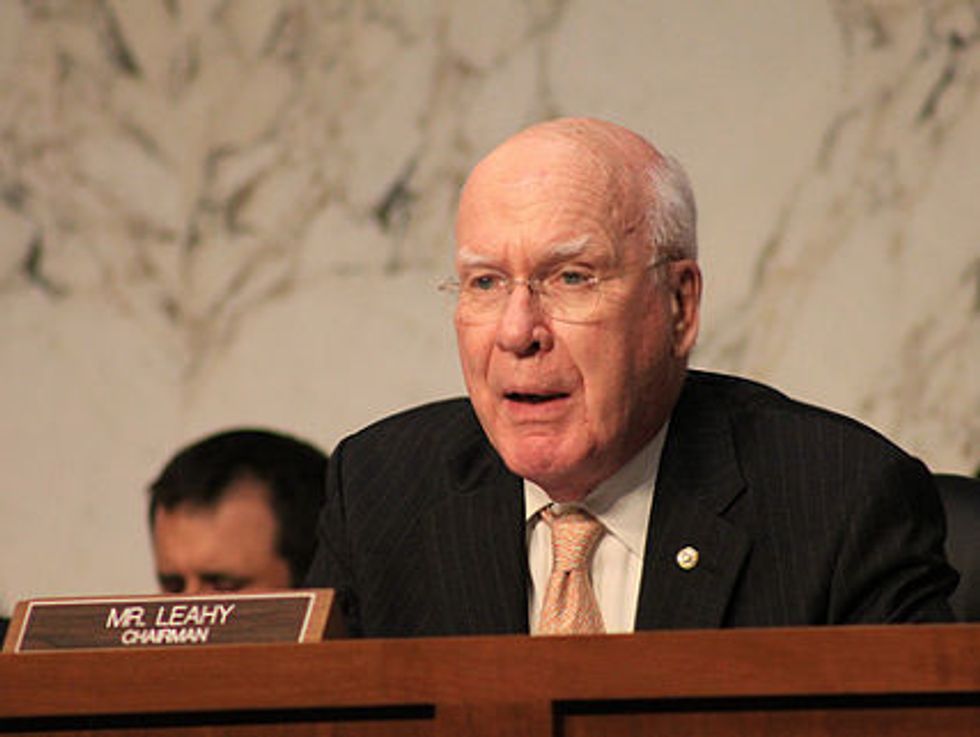 Tensions boiled over at a Senate Judiciary Committee hearing Monday, as Senator Chuck Grassley (R-IA) angrily denied accusations that he is trying to exploit the Boston Marathon bombing to delay immigration reform efforts.
Last week's attacks loomed large over the entire hearing, which was focused on the immigration reform bill put forth by the "Gang of Eight." Twenty witnesses were scheduled to appear, including United Farm Workers president Arturo Rodriguez, former U.S. representative Jim Kolbe (R-AZ), and Americans for Tax Reform president Grover Norquist, among other prominent activists and business and labor leaders.
After the hearing commenced, the topic turned almost immediately to the Boston bombing, which was allegedly carried out by immigrant brothers Dzokhar and Tamerlan Tsarnaev. Committee chairman Patrick Leahy (D-VT) used part of his opening statement to criticize those who have pointed to the attack as evidence that the Senate should slow its efforts to reform the American immigration system.
"Late last week opponents of comprehensive immigration reform began to exploit the Boston Marathon bombing," Senator Leahy said. "I urge restraint in that regard…Let no one be so cruel as to try to use the heinous acts of two young men last week to derail the dreams and futures of millions of hardworking people."
"The bill before us would serve to strengthen our national security by allowing us to focus our border security and enforcement efforts against those who do us harm," he added.

That comment drew a sharp rebuke from Senator Grassley, who had linked the bombing and the proposed reforms at a hearing on Friday.
"I want you to take note of the fact that when you proposed gun legislation I didn't accuse you of using the [Newtown] killings as an excuse," Grassley said. "And I don't hear any criticism of people, when there's 14 people killed in West, Texas, and taking advantage of that tragedy to warn about more government action to make sure that fertilizer factories are safe. I think we're taking advantage of the opportunity that once in 25 years we deal with immigration to make sure that every base is covered."
Later in the hearing, Senator Chuck Schumer (D-NY) also went after Grassley. As Schumer criticized "those who point to the terrible tragedy in Boston as…an excuse for not doing a bill or delaying it," Grassley jumped in to interrupt.
"I never said that!" Grassley shouted. "I never said that!"
"I didn't say you did," Schumer replied as Leahy banged his gavel in an attempt to restore order.

Despite Senator Grassley, Congressman Steve King (R-IA), and other reform opponents' efforts to use the Boston attack to delay or derail the immigration bill, it remains popular among voters and retains significant bipartisan support. As one Senate GOP aide told Politico's Mike Allen, "The … analysis that the Boston attacks are a setback for immigration reform appears wrongheaded, as we learn more about the story."
"Given the facts, the events in Boston seem unlikely to stoke nativist sentiments that may derail immigration reform," the aide continued. "To the contrary, to the extent it renews fears of terrorism, it will strengthen the case for reform, since the bipartisan proposal fixes major gaps in our national security posture (by implementing a visa-exit system, registering and background-checking undocumented immigrants, gaining 100% awareness of our southern border, etc.). "
Similarly, House Speaker John Boehner (R-OH) argued during a Monday morning appearance on Fox News that the bombing shouldn't slow down reform efforts. "If we fix our immigration system it may actually help us understand who all is here, why they're here, and what legal status they have," Boehner said.
The reform bill is on track for a vote in the Senate early this summer; if it passes through the upper chamber, it will go to the House of Representatives — where Boehner's Republican majority is expected to mount a much tougher opposition than their Senate counterparts.
Live streaming video of the ongoing Senate Judiciary Committee hearing can be viewed here, via C-SPAN.
Photo: Talk Radio News Service via Flickr.com