WATCH: The Obama Speech That Could Lock Down The Hispanic Vote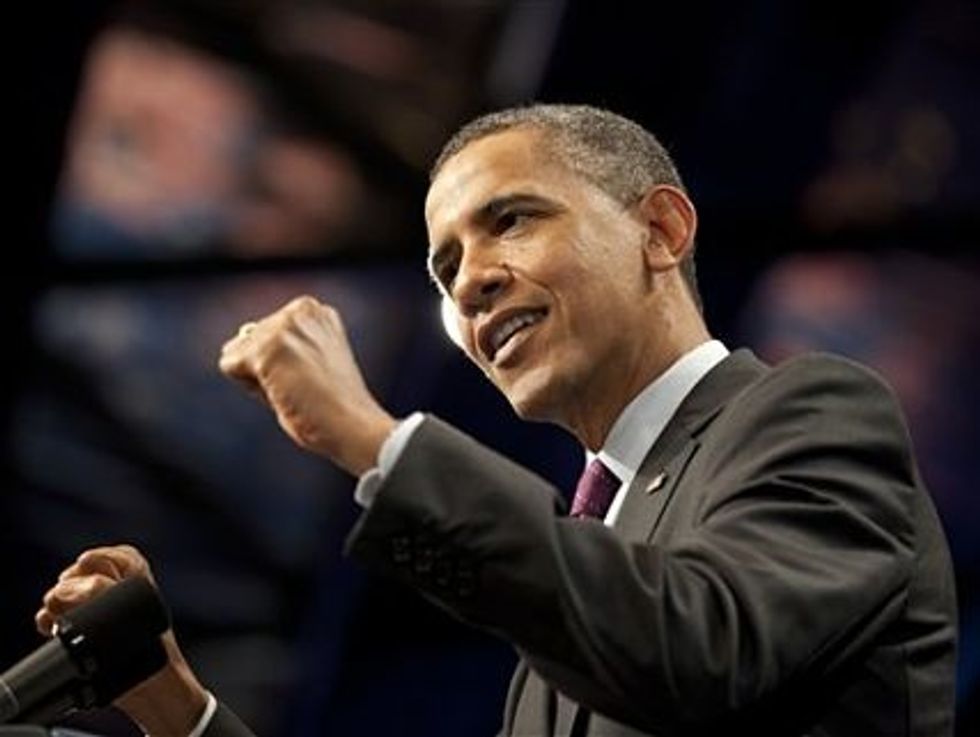 President Barack Obama brought down the house at his speech to the National Association of Latino Elected and Appointed Officials (NALEO) this afternoon, receiving several standing ovations and providing a clear reminder of why he holds an overwhelming lead over Mitt Romney among Latino voters.
The day after Romney attempted to walk back some of his harsh rhetoric on immigration, Obama reminded Latinos of his longstanding support for comprehensive immigration reform — something he has not proposed since coming into office.
"Just six years ago, an unlikely trio — John Mccain, Ted Kennedy, and President Bush — came together to consider comprehensive immigration reform," Obama said. "I, along with a lot of Democrats, were proud to join 23 Senate Republicans in voting for it. Today, those same Republicans have been driven away from the table by a small faction of their own party."
The president went on to champion his executive order that halted the deportation of almost one million DREAM Act eligible youth. "In the face of a Congress that refuses to do anything on immigration, I've said that I'll take action wherever I can," he said.
He received a prolonged ovation from the enthusiastic crowd, allowing him to pivot and slam Republicans for refusing to work with him on immigration reform:
We should have passed the DREAM Act a long time ago…It was written by members of both parties. When it came up for a vote, a year and a half ago, Republicans in congress blocked it. The bill hadn't changed. The need hadn't changed. The only thing that changed was the politics.
Obama also took a shot at Romney, who has refused to take a clear stance on the president's executive order. "Your speaker from yesterday has a different view [from mine,]" Obama said. "In a speech he said when he makes a promise to you he'll keep it. He's promised to veto the DREAM Act, and we should take him at his word."
Obama's assertion was supported by the fact that Ray Wasler, a Romney campaign co-chair for issues pertaining to Latin America, told The Daily Telegraph today that "My anticipation is that [Romney] would probably rescind this directive were he to be elected in November."
Obama also received a standing ovation for his unapologetic defense of his health care reform, which he argued was especially important for Latinos (who are more likely to be uninsured than any other group.)
"It was the right thing to do," he said to sustained applause.
The president's message is clearly resonating with Latino voters; according to a new poll from Latino Decisions and America's Voice, Obama is leading Romney among Latinos by wide margins in the key battleground states of Arizona, Colorado, Florida, Nevada, and Virginia.
Obama's speech was filled with optimistic rhetoric about the power of diversity, hope, and his own life story, all of which recalled his 2008 presidential campaign. Obama added to that narrative himself by declaring near the end of his remarks that America was built by people "who said 'yes we can,' who said 'si, se puede.'"
Video of Obama's full speech is below: