WATCH: Tied In The Polls, Nunn Launches First TV Ad In Georgia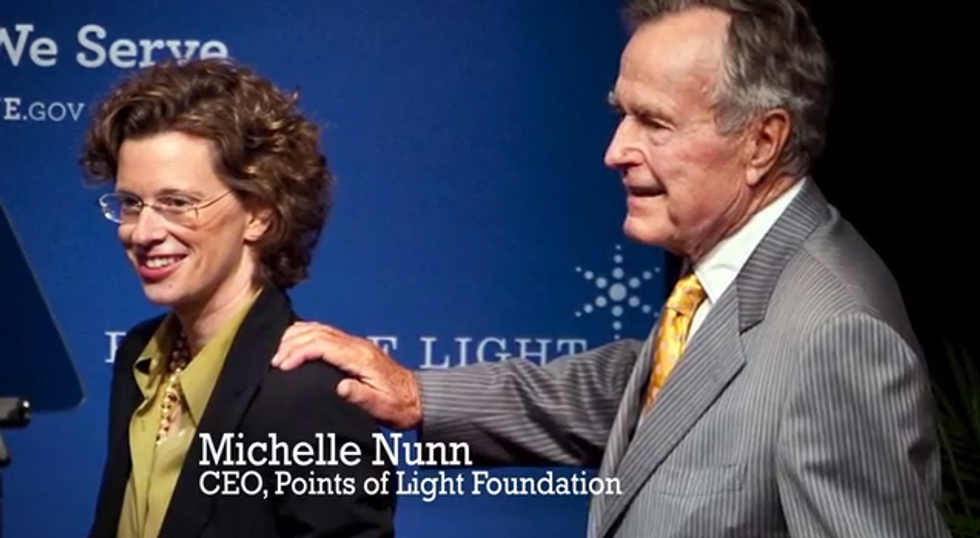 Georgia Senate candidate Michelle Nunn (D) released her first television ad of the campaign Thursday, providing a preview of how the likely Democratic nominee hopes to win in the solidly red Peach State.
The ad, titled "Optimist," is backed by at least a $55,000 buy on Atlanta broadcast stations, according to the Atlanta Journal-Constitution.
"Some people ask me why, with all the dysfunction in Washington, I'm running for Senate," Nunn says in a voiceover. "In the end, I think it comes down to being an optimist."
"I've seen the power of individuals to work with businesses, charitable and religious organizations to make change," she continues, as the ad highlights her career leading the Points of Light charity. "I know things can be better."
The ad's optimistic tone contrasts neatly with the (sometimes literal) fire-and-brimstone rhetoric that has characterized Georgia's crowded Republican primary. The tight five-way contest has become a mad dash to the right, potentially opening up a golden opportunity for the moderate Nunn to steal what should be a safe Republican seat. Should Nunn win in Georgia, it could cripple Republicans' hopes of winning a Senate majority.
That helps to explain why Nunn's ad does not mention the Democratic Party at all (not even her father, Sam Nunn, who represented Georgia in the Senate as a Democrat for 24 years). The only politician aside from Nunn to appear in the ad is former president George H.W. Bush, who inspired the founding of Points of Light and still serves as its honorary chairman.
Although she hadn't yet aired a single commercial, Nunn managed to pull herself into a virtual tie in the polls with each of her potential Republican opponents. If the new ad campaign starts moving her numbers higher, it will increase the GOP's urgency to start attacking her in anticipation of a surprisingly tight general election race.
At least one outside group isn't waiting to find out. This week, the Ending Spending Action Fund — an organization best known for its aborted plan to smear President Barack Obama as a "black metrosexual Abe Lincoln" — began a campaign targeting Nunn for supporting the Affordable Care Act.
Screenshot: YouTube