This Week In Crazy: Bill O'Reilly Has Some Advice For 'I Can't Breathe' Protesters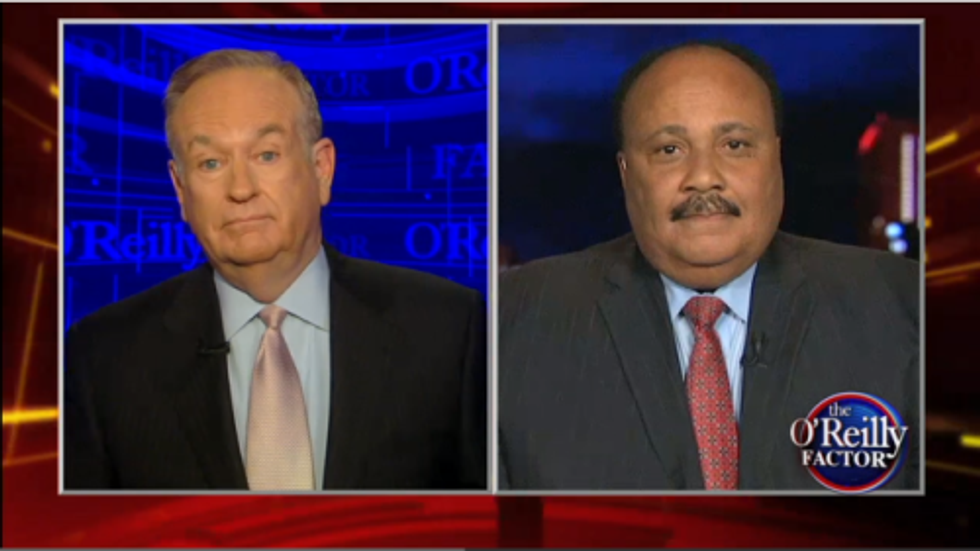 Welcome to "This Week In Crazy," The National Memo's weekly update on the wildest attacks, conspiracy theories, and other loony behavior from the increasingly unhinged right wing. Starting with number five:
5. Glenn Beck
American prophet Glenn Beck can see the future, and it looks bleak for the true patriots.
On the Wednesday edition of his show, Beck lashed out at black Americans like Samuel L. Jackson who talk about racism in American society. After all, everyone knows that Tea Partiers have it tougher.
"You want to talk about racism? You want to talk about bigotry?" Beck asked. "Let me ask you: Have you tried being me? Have you tried being a conservative? Have you tried being a Tea Party member? You tried being an actor that has to meet in secret because of their political or religious beliefs?"
"Well, you can't change the color of your skin," Beck continued. "I can't change what I believe! I believe in God the Almighty. I believe in the God of Abraham, Isaac, and Jacob. There's nothing I can do to change that!"
"Don't tell me about your problems, Samuel L. Jackson," he concluded. "Shut the hell up."
When Beck's long-predicted race war finally begins, he may want to avoid this guy.
4. Michele Bachmann
Rep. Michele Bachmann (R-MN) may be leaving Congress, but if her recent interview with WorldNetDaily is any indication, she'll be with This Week In Crazy for a long time.
The interview, published Wednesday, is full of gems.
"I took them on, and their agenda, and I went to the heart of whatever it was they wanted to advance, and tried to take it apart through evidence-based arguments, and they don't like that," Bachmann explained.
"When the left argues, they argue from emotionalism. They don't argue from a logical, linear point of view. And I take them on at their false premises," she added, without any sense of irony.
"That's the best way to defeat them, by the way. Defeat them with evidence and defeat them with their false premises and I did that," she said, apparently unaware that her time "at the tip of the spear" of the anti-Obamacare movement didn't exactly kill the bill.
Bachmann also took a moment to praise the Tea Party, explaining that it's "apolitical," and that "any normal human being" would support its ideals (for that, interviewer Garth Kant charitably described Bachmann as "very Jeffersonian").
Impressively, this may not even have been Bachmann's most delusional conversation of the week. And there's plenty more where that came from: Bachmann told WND that she won't be leaving politics, but merely changing venues.
"Instead of holding elective office, now I'll be fighting from the outside," she explained.
3. Pat Robertson
Televangelist Pat Robertson is a big fan of "opening up to Cuba," letting the country's citizens know that Americans are their friends, and helping them achieve freedom.
At least he was, until King Obama actually did it.
On the Thursday edition of The 700 Club, Robertson explained how Obama screwed up by offering the Castro government a "bailout," just as the half-century-old isolation policy was about to start working.
"They were dependent on money from Nicaragua…excuse me, from the regime of Chavez in El Salvador…But Chavez is out of money, that country is gone. Busted," Robertson said, twice failing to properly identify Hugo Chavez as the former leader of Venezuela. "That country of Cuba was in the process of going bankrupt. So what are we going to to do? We lift the sanctions and bail them out, and not get any concessions."
No concessions at all! Except for the release of dozens of political prisoners, and an important U.S. intelligence asset.
Robertson isn't even upset at Obama himself; he's more upset with the president's aides, whom the octogenarian describes as "children" who "don't love America," and are too "weak" to help run the government.
Hey, we can't all be as strong as Pat Robertson.
2. American Energy Alliance
Most voters support the Environmental Protection Agency's new regulations on pollution. But it may not shock you to learn that the Koch brothers aren't among them.
Last Friday the American Energy Alliance, which is funded by the Kochs, voiced its displeasure:
This should go over well: @EPA Torture Report http://t.co/tmWqyrN6tL via @AEApic.twitter.com/XY4OgrI86P

— Timothy Cama (@Timothy_Cama) December 15, 2014
Yes, according to AEA, limiting ground-level ozone pollution is pretty much the same thing as rectal rehydration.
"Whether it's the costliest regulation in history or the coal-killing power plant rules (that Obama's law professor says raise "constitutional questions"), it's clear that the CIA isn't the only government agency engaged in torture," AEA explains in a note on its website. "At least the CIA isn't torturing Americans."
Even Jerry Boykin thinks that may be a bit over the line.
But remember: Aside from mocking human rights and trying to dismantle environmental regulations, eliminate Social Security, end Medicare, eradicate the minimum wage, cut taxes for the wealthy, and gut public education, David Koch is a pretty liberal guy.
1. Bill O'Reilly
Having "singlehandedly saved Christmas," Fox News host Bill O'Reilly is turning his attention back to one of his network's favorite topics: America's race war. And his views make Glenn Beck look like Bayard Rustin.
During a Wednesday evening interview with Martin Luther King III, O'Reilly shared his hot take on activists who wear "I Can't Breathe" t-shirts to protest the killing of Eric Garner.
"See, I don't mind President Obama saying to Lebron James, 'Hey look, I'm with you,' and that's what he did. But he also has to provide some leadership," O'Reilly explained.
"We fight the injustice, and we realize it's there. But we love our country, and applaud the progress we've made, and here's a pathway to success," O'Reilly suggested that Obama tell the black community. "Don't abandon your children. Don't get pregnant at 14. Don't allow your neighborhoods to deteriorate into free-fire zones."
"That's what the African-American community should have on its t-shirts," O'Reilly added. "Am I wrong?"
In reality, President Obama frequently calls on black Americans to take more responsibility for their families and communities, and teen pregnancy rates are actually at historic lows. Maybe O'Reilly will figure that out during his next fact-finding mission to Harlem. (I suggest wearing a shirt that reads "don't talk about falafel.")
Check out previous editions of This Week In Crazy here. Think we missed something? Let us know in the comments!
Get This Week In Crazy delivered to your inbox every Friday, by signing up for our daily email newsletter.