This Week In Crazy: 'Dr. Chaps' Ruins The Ice Bucket Challenge, And The Rest Of The Worst Of The Right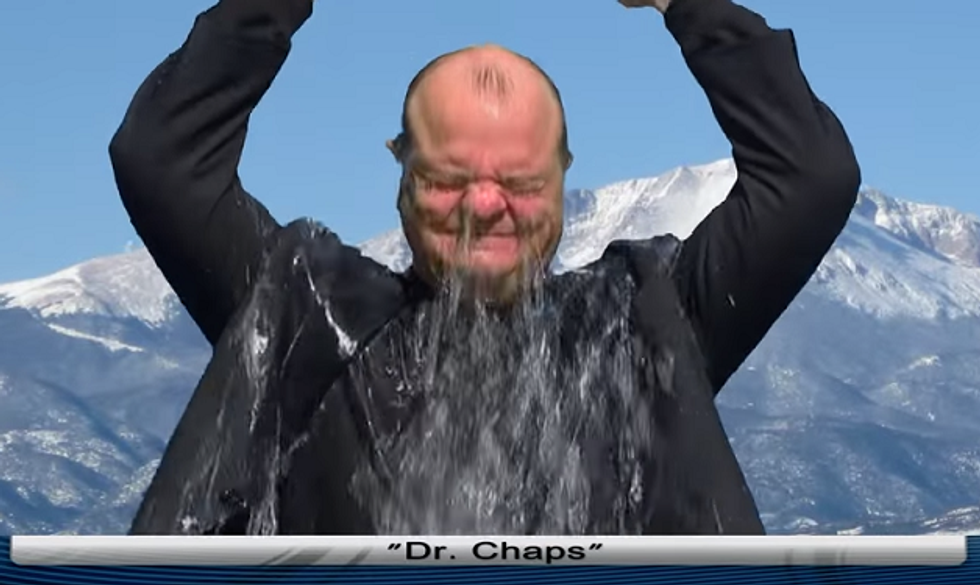 Welcome to "This Week In Crazy," The National Memo's weekly update on the wildest attacks, conspiracy theories, and other loony behavior from the increasingly unhinged right wing. Starting with number five:
5. Kimberly Guilfoyle
Like many Americans, the hosts of Fox News' The Five are concerned about ISIS' violent rampage across the Middle East.
Unlike any other Americans, however, their solution is to install Russian president Vladimir Putin as a temporary dictator to clean up the mess.
"In terms of making, like, decisive action" against ISIS, co-host Kimberly Guilfoyle explaiend, she has a "special request."
"Could we get, like, Netanyahu, or like, Putin in for 48 hours, as, you know, head of the United States?" she asked. "I don't know, I just want somebody to get in here and get it done right, so that Americans don't have to worry and wake up in the morning fearful of a group that's murderous or horrific like ISIS."
Because nobody in Israel or Russia ever has to worry about terrorism.
Of course, if the titular five think that Obama is a tyrant, they probably wouldn't love temporary president Putin's Federal Mass Media Inspection Service. But then again, they may be onboard with his conflict-resolution style.
4. Allen Weh
The good folks at Fox News aren't the only ones who have lost their minds over ISIS. But while The Five saw James Foley's murder and thought "man, I wish Putin were president," New Mexico Senate candidate Allen Weh (R) thought, "That would look awesome in an attack ad."
The result is probably the low point of the midterm election campaigns to date:
If you think that using an image of Foley's murderer in a Senate ad crosses every imaginable line of decency, you're not alone; outrage over the ad became widespread enough that Weh's campaign manager offered a statement noting that "out of respect for the Foley family, no picture of James Foley was used."
Unsurprisingly, that was good enough for Fox.
3. Pat Robertson
It's been two weeks since Robin Williams took his own life, and the tributes to the beloved comedian are still rolling in. Some have been inspiring. Others… not so much.
Pat Robertson's ode to Williams falls in the latter category. According to the oft-confused televangelist, Williams committed suicide because he was a "heathen" who worshipped "idols" instead of God:
In addition to revealing his lack of compassion, Robertson's cold appraisal of Williams' death may have revealed his reading list. The ultra-right-wing WorldNetDaily has been using the tragedy to peddle DVDs about celebrities wielding "demonic powers" (and at least one other This Week In Crazy favorite, right-wing radio host Bryan Fischer, has swallowed the conspiracy hook, line, and sinker).
2. Bryan Fischer
Speaking of Fischer, he checks in at number two for taking the right-wing paranoia over President Obama's recent vacation to crazy new heights.
After suggesting that President Obama could have saved James Foley if only he had gotten off the golf course and made a Putin-style decision, Fischer jumped the rails.
"The best information we have is that Valerie Jarrett pulled the trigger and told the Seal Team Six 'you got to go in and get [Osama bin Laden],'" Fischer raved. "It was Valerie Jarrett that said 'look, we have an opportunity here, we can't afford to pass up this opportunity. I'm not even going to consult with Barack Obama. I'm not even going to consult with the president on this one, he's out playing golf, I'm just going to give the go signal' … So Valerie Jarrett was functioning as the de facto Commander in Chief."
Of course, this is not a huge leap for Fischer, who believes that President Obama was Photoshopped into the iconic photo of the national security team monitoring the raid. But it does represent another impressive accomplishment for Jarrett, whose six-year tenure as shadow president has also seen her sell the midwest to China, bulldoze Ronald Reagan's childhood home, and order the military to let Benghazi burn.
1. Gordon Klingenschmitt
This week's "winner" is once again Colorado state House candidate Gordon "Dr. Chaps" Klingenschmitt, whose take on the ice-bucket challenge makes Sarah Palin's look dignified by comparison.
The story starts last weekend, when Klingenschmitt sent a newsletter to his supporters warning that U.S. Rep. Jared Polis (D-CO) would soon join ISIS and start beheading American Christians:
"The openly homosexual Congressman Jared Polis (D-CO) introduced a revised bill to force Christian employers and business owners to hire and promote homosexuals with ZERO RELIGIOUS EXEMPTIONS for Christians who want to opt out.

"Polis 'wants sexual orientation and gender identity treated the same way as race, religion, sex, and national origin, when it comes to employment protections,' claims the Advocate, under the headline "Polis trims ENDA's religious exemption.

"Dr. Chaps' comment: The open persecution of Christians is underway. Democrats like Polis want to bankrupt Christians who refuse to worship and endorse his sodomy. Next he'll join ISIS in beheading Christians, but not just in Syria, right here in America."
The comments understandably angered leaders of both political parties, causing Klingenschmitt to "apologize" on Monday night.
"I used hyperbole!" he explained. "Apparently some Democrats do not have a sense of humor, and they were offended by some of the things I said using hyperbole this weekend. So I want to issue a personal apology to you, Congressman Jared Polis."
"Even though you're an openly gay Democrat and you are passing policies that would persecute some Christian business owners here in America," he continued, "I would never compare you to the ISIS rebels who behead Christians, right? Of course you would never go in for something like that."
So to prove how sorry he was, Klingenschmitt dumped a bucket of water on his head. It was weird.
You can make your own donation to the ALS Association here — and you don't even need to commit libel beforehand.
Check out previous editions of This Week In Crazy here. Think we missed something? Let us know in the comments!
Get This Week In Crazy delivered to your inbox every Friday, by signing up for our daily email newsletter.