This Week In Crazy: Alex Jones Makes Incoherent Case For White Reparations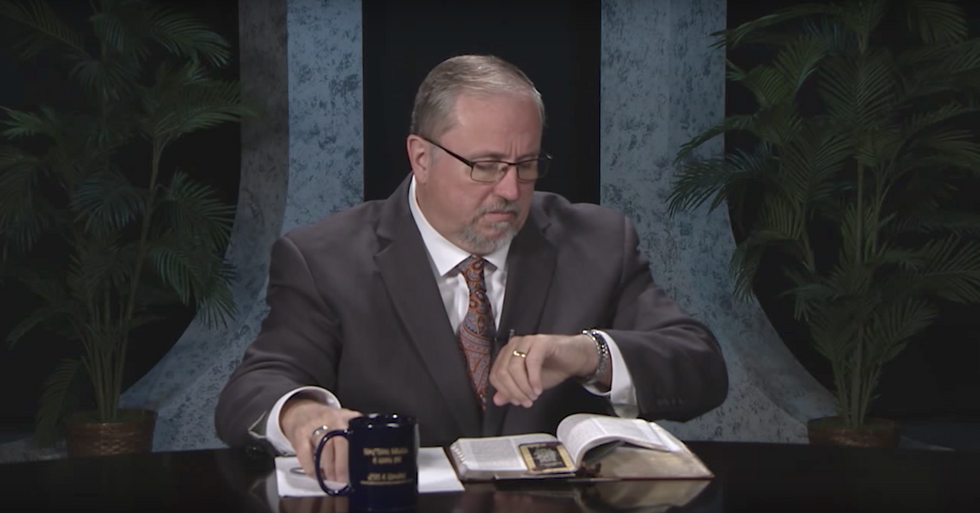 Eclipse apocalypse, white reparations, and a journalism crash course from a conspiracist blogger. Welcome to This Week In Crazy, The National Memo's weekly update on the loony, bigoted, and hateful behavior of the increasingly unhinged right wing. Starting with number five:
5. Joe Arpaio
Awaiting sentencing for a July contempt of court conviction, the former Arizona sheriff — who, along with then-Celebrity Apprentice host Donald Trump, was at the forefront of the birther movement in 2012 — Skype'd into Alex Jones' show on Wednesday to thank theTWIC regular for potentially convincing the president to pardon him.
"I want to thank you, Alex, and your staff, Jerry Corsi, Roger Stone, for bringing this story out and reaching the president," Arpaio told Jones. "I supported him from, what, two years ago at the same forum that he did yesterday and I'm with him and I'm with him to the end."
Despite early rumors to the contrary, Arpaio was not invited — and didn't show up — to Trump's rally on Tuesday night in Phoenix. He told reporters on Monday, "I don't want to cause any havoc, if you know what I mean."
(h/t MediaMatters)
4. Jerry Falwell, Jr.
The president of Liberty University in Lynchburg, Virginia — who told students at a convocation service after the San Bernardino attack in 2015 that they should get concealed carry permits to "end those Muslims before they walked in" — is apparently self-styling as moral policeman.
"You know, [Trump's] a little abrasive sometimes in the way he says things, and we have some thin-skinned Americans sometimes who ignore the substance of what he's saying because they're put off by his demeanor," Falwell told Fox News Radio's Todd Starnes. "And I think we need to grow up as a people and stop being so easily offended. It's offensive for anybody to say that President Trump is a racist. He's anything but."
3. Paul Begley
This week was punctuated by the solar eclipse for which at least one McDonald's shut down for a whole three minutes to allow its employees "to allow our employees to enjoy the 'once in a lifetime' spectacle of the totality of the Solar Eclipse."
To summarize: President Trump looked directly into the sun, Tucker Carlson made fun of him for it, and — as far as I know — the world didn't end. This despite Indiana Pastor Paul Begley's prophecy that the eclipse was a sign of the apocalypse.
"It happened in the plagues of Egypt," he reasoned — citing Joel 2:31 — during his radio show, Coming Apocalypse. "In one of the plagues the sun went dark for three days."
2. Michael Snyder
Pastor Begley's li'l theory was only the second craziest interpretation of Monday's eclipse. The crown belongs to smalltime conspiracist and Idaho congressional candidate, Michael Snyder, whose Tuesday post on The Economic Collapse Blog was titled Is It Significant That The USS John S. McCain Was Damaged In A Collision On The Same Day As The Solar Eclipse?
The first thing I learned on my first day working in media was not to ask a question in a headline because the answer is more often than not no. And then Snyder came along this week and totally negated the lesson, because (spoiler alert) he indeed thinks it's significant that the USS John S. McCain was damaged in a collision on the same day as the solar eclipse:
To me, it definitely feels like we have reached a 'turning point.'  … I have written about the extraordinary confluence of events that are going to happen over a 40 day period beginning with the eclipse and ending with Yom Kippur on September 30th.

I certainly don't anticipate anything too cataclysmic during the coming weeks, but I do believe that someone up there is trying to tell us something.
(h/t Right Wing Watch)
1. Alex Jones
You'll remember the InfoWars figurehead from number five — and every other TWIC I've written. Remember when Joe Arpaio thanked Jones for pleading his case for a pardon to Donald Trump? Think for another paragraph about that line of communication between Alex Jones and the president. Now this:
On Monday — just over a week after a woman was killed and 19 others were injured in defiance of a rally in Charlottesville, Virginia, ostensibly protesting the removal of a statue of Confederate General Robert E. Lee  — Jones issued a "travel advisory" for white people and tried to make the case for white reparations.
"I've issued a travel advisory for the United States for white folks going to places like Denver, Detroit. Places like Chicago, places like Seattle, because I've been to these towns and I've experienced it," Jones whined. (It's worth noting here, he was doused with hot coffee during his man-on-the-street "invasion" of Seattle on Friday.)
He added:
There needs to be reparations for white people the last 20, 30 years, getting attacked and killed by the tens of thousands every year. Seriously, if you want to play this whole game, and I'm not actually asking for that. There needs to be real travel advisories. They used to have in the 60s some places like Selma, Alabama, The New York Times would put travel advisories out for black folks. Well, you know what? They needed a travel advisory. That's true.
(h/t Media Matters)