This Week In Crazy: Obama Gives New Mexico To ISIS, And The Rest Of The Worst Of The Right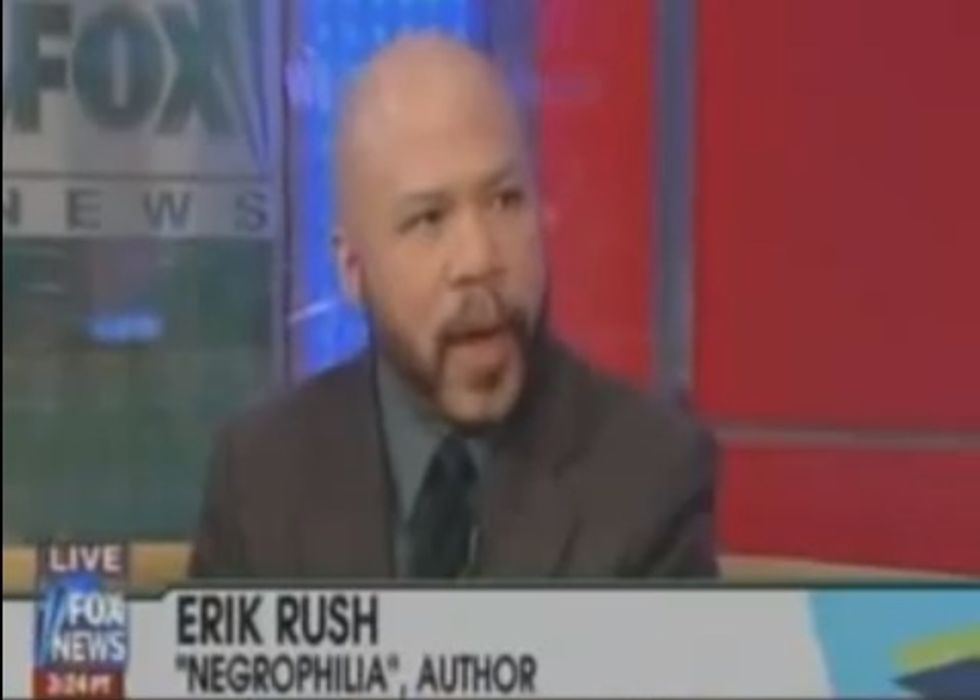 Welcome to "This Week In Crazy," The National Memo's weekly update on the wildest attacks, conspiracy theories, and other loony behavior from the increasingly unhinged right wing. Starting with number five:
5. Phil Robertson
As ISIS continues to wage a campaign of terror across the Middle East, Fox News' Sean Hannity turned to the one man who could explain the geopolitical crisis to Americans, and put our minds at ease: That homophobic guy from Duck Dynasty.
After warning Hannity never to leave his house without his Bible and his woman, "Duck Commander" Phil Robertson got to the meat of his argument about the terrorist group.
"In this case, you either have to convert them — which I think would be next to impossible," Robertson said. "I'm not giving up on them, but I'm just saying either convert them or kill them. One or the other."
Convert or die. Where have we heard that before?
4. Michael Savage
It took a few weeks, but Rep. Mo Brooks (R-AL) has finally found an ally in his resistance movement against President Obama's "War on Whites:" Right-wing radio host Michael Savage.
According to Savage, "This entire government is geared up to fight a war against white people."
"Could this be the most racist administration in American history?" he asked, apparently unaware of the 12 presidents who owned slaves. "Are we allowed to ask the question?"
"ISIS has 12,000 foreign fighters, hundreds of Americans," Savage continued. "Where was Homeland Security when all of these so-called homegrown Muslim radicals were incubating? Well, they were looking at returning white, male, Christian soldiers. And those who oppose abortion. That's your DHS. The same DHS that was nowhere to be seen in Ferguson, Missouri."
Why didn't DHS intervene in Ferguson? According to Savage, it's because the protesters weren't white enough to spark the race war that Obama so desperately craves.
"They've been waiting for an insurrection by white people," he explained. "That's what Homeland Security's getting ready for. All you evil white crackers. So when the city was almost burned to the ground they weren't there, because they're still planning your insurrection."
In Savage's defense, he's probably right to assume that his audience is 100 percent white people. And if it makes him feel any better, if the "War on Whites" were a real thing, their side would be dominating it.
Coincidentally, the only way to stop Obama from killing all of the evil white crackers is by buying Savage's new book.
Audio of Savage's comments is available atRight Wing Watch.
3. Bryan Fischer
For most conservatives, news that the National Institutes of Health has spent $3 million studying why lesbians have a higher obesity rate than heterosexual women would prompt cries of "wasteful spending!" or "starve the beast!" or "#Benghazi!"
For the American Family Association's Bryan Fischer, however, it's a call to action. On the Tuesday edition of his radio show, Fischer declared that if First Lady Michelle Obama really wants to fight obesity in America, she needs to embrace homophobia.
"I would suggest that if Michelle Obama really cares about obesity, she should be out there leading the charge against normalizing lesbianism," Fischer argued. "She should be at the head of a campaign to convince women not to get into lesbianism. Her slogan ought to be 'Fight Obesity, Go Straight.'"
Usually, when Fischer warns us about Big Gay, he's not being quite so literal.
2. John Bennett
Meet Oklahoma state Rep. John Bennett. A self-described "Man of Faith," Bennett believes that religion is "extremely important," and that God "should be first in our Nation." Unless you're a Muslim.
In a Monday Facebook post, Bennett explained why Oklahomans should be "wary" of Muslims:
Islam and Muslim are one in the same. They are adjectives describing their religion. Islam is the religion, Muslim is the person that follows Islam. If someone claims to be Muslim they subscribe to Islam (Quran). The Quran clearly states that non Muslims should be killed. Arab is the ethnicity, not Muslim or Islam. Be wary of the individuals who claim to be "Muslim American". Be especially wary if you're a Christian.
Bennett's factually and grammatically challenged warning understandably upset the Oklahoma chapter of the Council on American-Islamic Relations, which wrote Bennett a letter requesting that he "denounce these anti-Muslim comments and issue an apology for said derogatory statements."
Unsurprisingly, Bennett did not.
"We must shine a bright light on the role of the Muslim Brotherhood and its varied tentacles in the U.S.," he responded. "These tentacles include un-indicted co-conspirators of the U.S. vs. Holyland Foundation trial like the Council on American-Islamic Relations here in Oklahoma. Our borders are wide open to drug and human traffickers. Terrorism could come to Oklahoma just as easily."
Of course, when terrorism actually did come to Oklahoma, it wasn't via one of the Muslim Brotherhood's varied tentacles. Nonetheless, the Oklahoma GOP is standing by its man.
"It seems as if their attack on his comments is disingenuous at best," party chairman Dave Weston said of the CAIR. "Here's why. If we as Americans were ruled by Islam, then Christians and Jews like you and I could only keep practicing our faith if we paid a protection tax. But if you're Christian or Jewish and don't immediately convert to Islam, they imminently decapitate you. This is proven by ongoing observation around the world today."
Well if the Oklahoma GOP observes it, then it must be true. That's how we know that the founding fathers caused the Rwandan genocide, that God wants you to stone gay people to death, and that robots are slowly taking over Congress.
1. Erik Rush
This week's "winner" is once again WorldNetDaily columnist Erik Rush, who remains convinced that President Obama is a secret Muslim terrorist who is planning a devastating attack against America.
In his latest column, titled "Obama: The Head Of The ISIS Snake," Rush once again claims that "the individual representing himself as Barack Hussein Obama is responsible for the resurgence of Islamic militancy in the Middle East, and ISIS in particular."
"As uncomfortable for [other members of the government] as it may be, they must come to grips with the fact that Obama is a well-placed saboteur representing malignant interests, enemies both foreign and domestic, that have been strategizing the downfall of the United States for decades," Rush declares.
As evidence, he notes that in May, Obama established the Organ Mountains-Desert Peaks National Monument. Could the president have been trying to protect 500,000 acres of pristine wilderness, filled with diverse wildlife and fascinating Pre-American, New Mexican, and American history?
Nope. It's actually a 500,000-acre training ground for ISIS.
"Potential for the incursion of malefactors in that area is enormous; not just an efficient and effective route for small bands of drug smugglers or gangs, it now amounts to a protected access for potentially large sorties onto the U.S. soil," Rush writes. Clearly, establishing the monument is just a precursor to "a terror cell executing a Nairobi mall-style attack or detonating a dirty bomb somewhere in Middle America."
"Whether Obama intends to seize absolute power via martial law after a comprehensive White House-orchestrated terrorist strike or use his jihadi army to aid in pacifying an unsuspecting American populace matters little," he concludes. "The bottom line is that the decisive measures needed to defeat ISIS and to protect American citizens from them will never be taken by this president, and it should be obvious as to why. This nation now faces extreme and unprecedented crises, and apart from an Act of God, they will only be resolved through extreme and unprecedented measures."
Is it too late for Valerie Jarrett to sell that part of New Mexico?
Check out previous editions of This Week In Crazy here. Think we missed something? Let us know in the comments!
Get This Week In Crazy delivered to your inbox every Friday, by signing up for our daily email newsletter.