This Week In Crazy: Obama Shot Down Another Plane, And The Rest Of The Worst Of The Right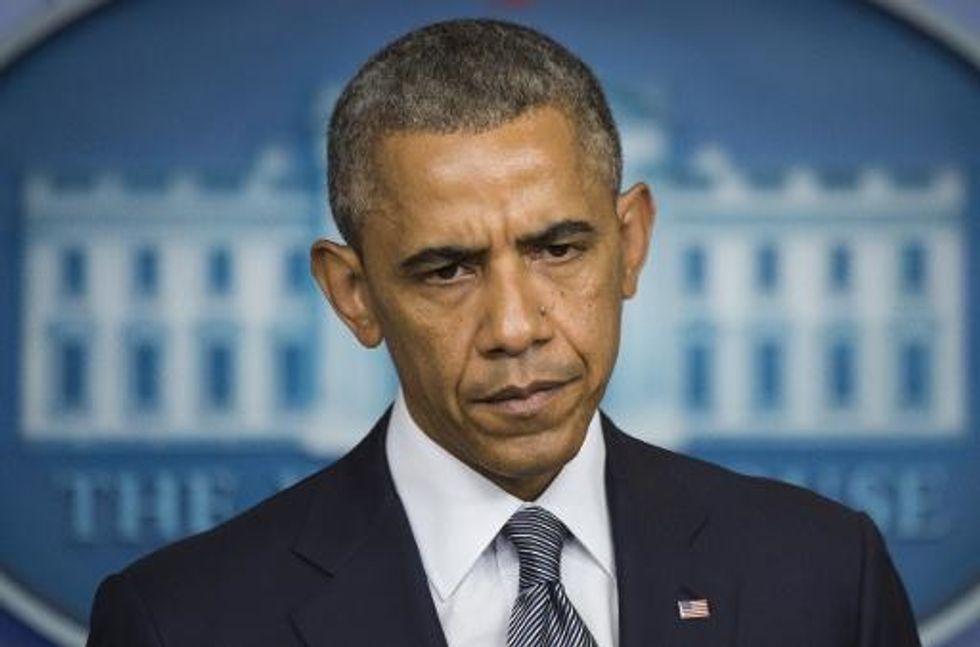 Welcome to "This Week In Crazy," The National Memo's weekly update on the wildest attacks, conspiracy theories, and other loony behavior from the increasingly unhinged right wing. Starting with number five:
5. Billy Johnson
In May, the NRA attempted to reach out to a younger audience by launching a new "Freestyle" network designed to reverse the decline in gun ownership by young Americans.
Let's see how that's working out for them.
In a new video for the network, titled "Everyone Gets A Gun," NRA News commentator Billy Johnson explains how we could end America's "anti-gun policy:" By forcing schoolkids to shoot guns against their will.
"Our gun policies are designed around the assumption that we need to protect people from guns," Johnson says. Apparently, this is a bad thing — but thankfully, he has some solutions.
"What if instead of gun-free zones, we had gun-required zones?" Johnson asks.
He then proposes a new public education system, in which students would need to pass gun tests to graduate.
"Just like we teach them reading and writing, necessary skills, we would teach shooting and firearm competency. It wouldn't matter if a child's parents weren't good at it. We'd find them a mentor," Johnson says. "It wouldn't matter if they didn't want to learn. We would make it necessary to advance to the next grade."
"Gun policy driven by the assumption that we need guns would probably mean that our government would subsidize it," Johnson added. "Perhaps we would have government ranges where you could shoot for free or a yearly allotment of free ammunition."
Because if there's one group of people that loves government handouts, it's the gun rights movement.
4. Pat Robertson
Televangelist Pat Robertson checks in at number four, for a bizzare segment on his 700 Club program which advised young women on how to avoid looking like a "hoochie momma momma."
Things got uncomfortable almost immediately.
"A lace stocking is more sensual than a bare leg," Robertson insisted to co-host Wendy Griffith. "It's the illusion that there's something behind there."
"Modesty's hottest," the 84-year-old added. "Once it becomes cool, then it will catch on. Until it is cool, then the girls want to be cool, they want to be hip, they want to do what's in."
Here's a tip for the ladies out there: If you're taking advice on how to be "hip" (or, even more horrifically, "sensual") from Pat Robertson, you are doing it wrong.
3. Dana Rohrabacher
In addition to being a terrible historian and one of the world's least competent criminals, Dinesh D'Souza is also the director of the new right-wing film, America. The film is doing decently at the box office, but D'Souza thinks it should be doing better — and it would, if Google weren't censoring him.
According to D'Souza, potential moviegoers who search for America are having a hard time finding the right information (and this is obviously due to Google's liberal bias, not D'Souza naming his movie "America"). Given his history of presenting himself as the victim of massive conspiracies, this claim was not particularly surprising or noteworthy.
But now Congress is getting involved.
Rep. Dana Rohrabacher (R-CA), who is best known for blaming global warming on dinosaur farts, arm-wrestling Vladimir Putin, and joining the mujahideen in Afghanistan, wants to see the tech giant held accountable.
"This doesn't deserve to be ignored. We need to verify the statistics in some way, and I will be suggesting the appropriate committee or subcommittee have some kind of hearing on this," Rohrabacher toldThe Hollywood Reporter. "We know there were significant incidences, and that would suggest there was intent behind Google's nonperformance."
Who says Congress never does anything important?
So, just to be clear: If a business wants to stop you from getting birth control coverage, that's OK. But if it wants to stop you from seeing Dinesh D'Souza's awful movie, that's TYRANNY.
Of course, if Rohrabacher really wants to protect against online discrimination, he could support net neutrality. But he has repeatedly voted against legislation that would bar broadband service providers from giving preferential treatment to certain content.
2. Jody Hice
On Tuesday night, pastor and right-wing radio host Jody Hice became the Republican nominee for U.S. House in Georgia's 10th congressional district.
This could be a problem for Georgia Republicans.
ThinkProgress has compiled a handy cheat-sheet of Hice's positions, which include a belief that Muslims are not eligible for First Amendment protection, that the reasons for the Civil War "are still being debated," that women should only enter politics if they have their husband's permission, and that the separation of church and state was responsible for the Sandy Hook Elementary School shooting.
With this in mind, it may not surprise you that Hice's response to the crisis at the U.S.-Mexico border is not exactly nuanced and policy driven. In an interview with Liberty Conservatives, Hice correctly predicted that Texas would send National Guard troops to the southern border — and then all but encouraged people to open fire on the children attempting to enter the country.
"That is the reason we have a Second Amendment," Hice said. "Ultimately, it comes down to the right of defending ourselves against tyranny should our government ever become a threat to our liberties. And when you are talking about a government that refuses to secure our borders, you are talking about a government that is not taking seriously its responsibility to defend us."
Hice's position is actually even worse than it looks, considering that he thinks that the Second Amendment gives citizens the right to own "cannons and bazookas and missiles."
So congratulations, Georgia: You've managed to replace Paul "lies from the pit of Hell" Broun with someone even more insane.
1. Erik Rush
After Malaysia Airlines Flight 17 was shot out of the sky, it was only a matter of time before someone on the right blamed the horrific tragedy on President Barack Obama. To absolutely no one's surprise, Erik Rush won the race to the bottom.
In his latest column for the reliably crazy WorldNetDaily, Rush made a case that President Obama and the Ukrainian government teamed up to falsely pin the attack on Russian-backed separatists.
"From the earliest reports breaking the news that Malaysian Airlines Flight 17 had been shot down over Eastern Ukraine, my suspicions were aroused," Rush writes.
"[O]n Monday, President Obama accused Russian separatists controlling the crash site of tampering with evidence and intimidating international investigators by firing their weapons into the air. He said that this 'begs the question, 'what exactly are they trying to hide?'" the paranoiac continues. "Considering the Alinskyite penchant for projection so often employed by this White House, for me the question immediately became one of what Washington and Kiev might be trying to hide."
Naturally.
Rush then goes on to suggest that all of the overwhelming evidence suggesting that pro-Russian separatists were responsible for the attack was fabricated (and anyway, evidence is for liberals).
"Given the geopolitical climate and the duplicity of the Obama administration, we may never know the whole truth, but the fact is that Washington and Kiev would have had quite a bit to gain politically in the intentional downing of this jet and the implication of pro-Russian militias," Rush explains.
At least in this case, Rush realizes how crazy he sounds.
"Oh, yes – I realize that this will be viewed by many as another anti-Obama far-right conspiracy theory," he says, "but I believe that it is at least as viable a proposition as the administration's narrative."
Once again, Rush is just asking questions. Just like he did the last time a Malaysia Airlines plane went down (like most things in life, that was also Obama's fault).
Check out previous editions of This Week In Crazy here. Think we missed something? Let us know in the comments!
Get This Week In Crazy delivered to your inbox every Friday, by signing up for our daily email newsletter.