This Week In Crazy: Obama Wants You To Grow A Jihad Beard, And The Rest Of The Worst Of The Right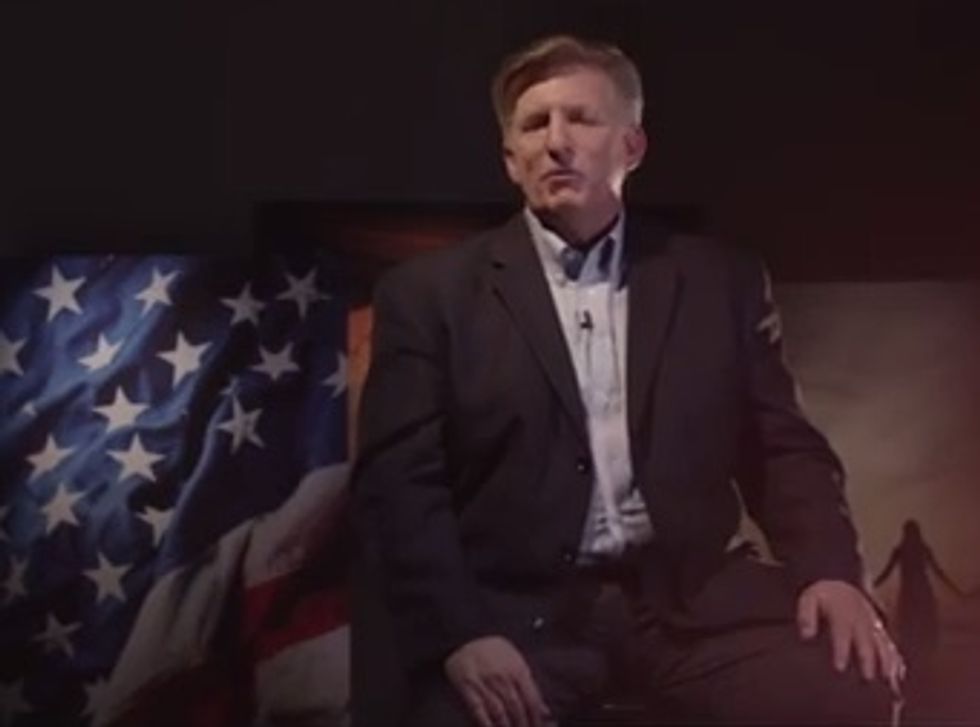 Welcome to "This Week In Crazy," The National Memo's weekly update on the wildest attacks, conspiracy theories, and other loony behavior from the increasingly unhinged right wing. Starting with number five
5. Glenn Beck
Right-wing author and filmmaker Dinesh D'Souza dodged prison time this week, when a federal judge sentenced him to five years of probation and a $30,000 fine for illegally using straw donors to violate campaign finance law in 2012.
By most accounts, D'Souza got off easy (he faced up to two years in jail). But as you may not be shocked to learn, Glenn Beck disagrees.
During a Tuesday interview with Beck, D'Souza revived his conspiracy theory that the White House unfairly targeted him (even though he's admitted his guilt).
"I think a lot of it goes back to my understanding of the character of Obama," D'Souza said.
"I don't have to speculate that he doesn't like me, I know that," D'Souza continued, "and it's hard for me to believe that [the government was] treating me normally, like any other guy who did this."
Beck couldn't agree more. According to him, D'Souza is a "political prisoner" — even though he completely dodged prison time.
"This is a political prisoner, make no mistake," Beck lamented. "He was only prosecuted, they only found this stuff because they were going through everything to stop him. And it's sick. It's really sick"

4. Andrea Tantaros
Republicans were predictably pleased with the news that Attorney General Eric Holder plans to resign, but — with apologies to the always animated Rep. Louie Gohmert (R-TX) — no response was as unhinged as that of Fox News host Andrea Tantaros.
During Thursday's edition of Outnumbered, Tantaros said good riddance to "one of the most dangerous men in America."
"He didn't enforce the laws on Obamacare," Tantaros raged. "He was droning terrorists without a trial while he was giving them trials in downtown Manhattan."
That doesn't make any sense, but Tantaros plowed right ahead.
"He ran the DOJ much like the Black Panthers would," she declared. "That is a fact."
Who knew that the Black Panther Party was so soft on Wall Street?
3. Jim Geraghty
For the past two weeks, the nation has wondered: How could NFL Commissioner Roger Goodell have botched his response to Ray Rice's offseason assault on his then-fiancée so badly?
Thankfully, National Review editor Jim Geraghty has finally provided an answer: Blame Obama.
"Does our president just reflect a broad cultural trend in the behavior of leaders, or does he set the tone from the top?" Geraghty wrote on Monday.
He went on to cite the examples of Goodell, General Motors CEO Mary Barra (whose company recently recalled 2.6 million vehicles with faulty ignition switches that led to over a dozen deaths), NBC (which employed Chelsea Clinton, to Geraghty's evident displeasure), and Freedom Industries (which caused an environmental crisis in the Elk River).
"These are all private-sector scandals, of course. Every administration and every era has its scandals. What our current moment seems to feature is a bumper crop of (alleged) leaders insisting they can wait out the storm, often displaying a glimpse of indignation at suggestions that they resign because something terrible happened on their watch. Somehow tapes of criminal behavior never reach the folks at the top, nor reports of a defect in ignition switches," Geraghty wrote.
"Everybody's got rogue low-level staffers in Cincinnati, it seems," he added, in what would be a sweet burn if the IRS scandal actually existed in the form that Geraghty seems to think it does.
Just in case you still didn't get the picture, Geraghty added this image to the bottom of the post, captioned "Leadership!"
In fairness, this argument does make more sense than Elizabeth Hasselbeck's.
2. Michele Bachmann
Rep. Michele Bachmann (R-MN) may like corn dogs and Egypt's military junta, but she loves Eagle Forum founder Phyllis Schlafly.
According to Bachmann, Schlafly isn't just the sexist matron of the conservative movement — she's also responsible for the end of the Cold War!
"I believe that Phyllis Schlafly is the most consequential female woman [sic] in public policy in the last 50 years of the 20th century," Bachmann gushed in an interview with WorldNetDaily.
"Had there not been a Phyllis Schlafly, I believe that we wouldn't have seen a rise of the pro-family movement. Had there not been a rise of the pro-family movement, I don't believe that there would have been a Ronald Reagan. Without a President Ronald Reagan, I don't think we would have seen the ability to defeat the evil — and yes that's what it was — Soviet empire and to bring a conclusion to the Cold War," she continued. "Just as Ronald Reagan was consequential, Phyllis Schlafly was extremely consequential because she was a tee to tee up this president that we had."
That's right: If Phyllis Schlafly didn't lead the charge to kill the Equal Rights Amendment, the Berlin Wall would still be standing.
Bachmann later added that "Phyllis Schlafly truly is the epitome of womanhood and she is a woman that every young girl can pattern their life after and should choose to emulate." So if you avoid college, stay far away from "boys' fields," and generally hate on Hispanic people, maybe you, too, can grow up to earn Michele Bachmann's respect.
1. Rick Wiles
This week's "winner" is right-wing radio host Rick Wiles, who finally uncovered a presidential plot more dastardly than secret Muslim foot signals: Secret Muslim fashion advice!
Wiles shared the horrible truth during the Wednesday edition of his Trunews radio show. After calling the president "a very sick, little puppy, but a dangerous attack dog" and repeating his warning that Obama is "the ultimate jihadist," Wiles recounted a terrifying story.
"I saw a small advertisement in the lower right-hand corner of the news website, it was the website of a big-name U.S. newspaper, the ad was sponsored by a store selling men's clothing. The ad featured a typical 30-year-old white American male model in a dark blue business suit. So what was so shocking about the ad? Well the young man had a beard," Wiles said.
"What's so shocking about a beard on a young man?" he continued. "Nothing, except it wasn't an American-style beard. "It was that long, scraggily, dirty-looking, flea-infested Islamic beard you see on jihadists. So who is conditioning the American people through advertising to accept the Islamic beard on American men?"
I think you can guess what's coming next.
"Folks, this thing is coming down fast, we're being taken over from the inside and the chief rat is in the White House," Wiles warned.
So there you have it: President Obama is turning us into jihadists by forcing newspapers — using psy-ops, no doubt — to run fashion ads featuring men with flea-infested Islamic beards (not to be confused with patriotic Duck beards).
Of course, Wiles is facing some very D'Souza-like consequences for blowing the whistle.
"I just can't figure out why somebody is breaking into our office and stationing cars and men on the street next to my office for hours each day," Wiles mused. "Could it be something I said?"
Audio is below, via Right Wing Watch:
Check out previous editions of This Week In Crazy here. Think we missed something? Let us know in the comments!
Get This Week In Crazy delivered to your inbox every Friday, by signing up for our daily email newsletter.