This Week In Crazy: 'Super Gay Male Soldiers' Are Killing Christians, And The Rest Of The Worst Of The Right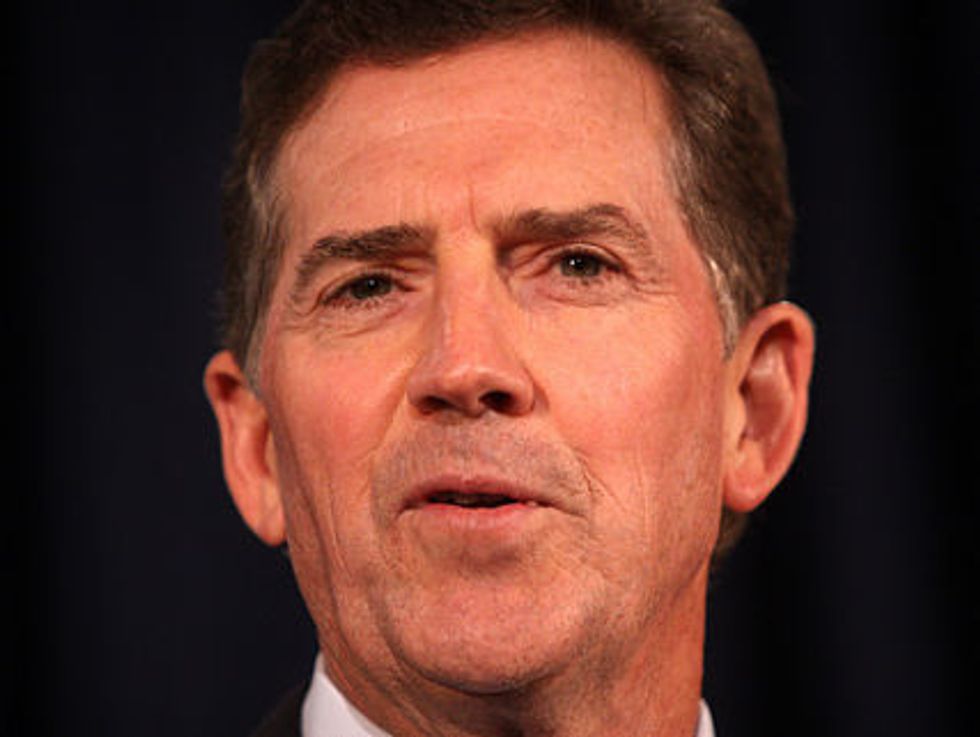 Welcome to "This Week In Crazy," The National Memo's weekly update on the wildest attacks, conspiracy theories, and other loony behavior from the increasingly unhinged right wing. Starting with number five:
5. Jim DeMint
Photo: Gage Skidmore via Flickr
Heritage Foundation leader Jim DeMint continued to make a mockery of the term "think tank" this week, when he offered a spectacularly stupid theory about the Civil War.
During an interview on the Christian radio show Vocal Point, the conservative think-tank leader uncorked the following explanation of how the government didn't actually have much to do with freeing the slaves:
Well the reason that the slaves were eventually freed was the Constitution, it was like the conscience of the American people. Unfortunately there were some court decisions like Dred Scott and others that defined some people as property, but the Constitution kept calling us back to 'all men are created equal and we have inalienable rights' in the minds of God. But a lot of the move to free the slaves came from the people, it did not come from the federal government. It came from a growing movement among the people, particularly people of faith, that this was wrong. People like Wilberforce who persisted for years because of his faith and because of his love for people. So no liberal is going to win a debate that big government freed the slaves. In fact, it was Abraham Lincoln, the very first Republican, who took this on as a cause and a lot of it was based on a love in his heart that comes from God.
Welcome to Jim DeMint's America: Where big government can't claim credit for ending slavery, but it canstop women from talking about abortion on the internet.
Of course, as Ian Millhiser points out at Think Progress, DeMint's argument seems to overlook the fact that the Thirteenth Amendment came less from the love in Lincoln's heart, and more from the "massive big government program known as the 'Civil War.'" And DeMint seems to have confused the Constitution with the Declaration of Independence. And William Wilberforce died three decades before the abolition of slavery in the U.S.
But then, nobody has ever confused DeMint with a historian.
4. Glenn Beck
You can always count on Glenn Beck to come up with a boneheaded response to a tragedy.
While discussing the stabbing attack that rocked a Pennsylvania school earlier in the week, Beck explained that God didn't make the attacker assault his classmates with a knife — Marxism did. And apparently, mass starvation is coming next.
"God doesn't punish us. We punish ourselves," Beck lamented. "By going against universal principles, we end up going down this road."
"The hunger, and dare I say it, starvation that this nation will face in the coming years will not be a punishment from God. It will be an acceptance of principles that are wrong," he added, noting the high price for embracing "Marxist principles."
"We are now doing things that go against natural law," he insisted. "And because of that, we will pay a very heavy price."
Hey, at least he probably won't get sued this time.
3. Michele Bachmann
Photo: Gage Skidmore via Flickr
Michele Bachmann will only be in Congress for a few more months, and she seems determined to use them to set up a particularly unhinged routine on the Tea Party speaking tour.
Last week, Bachmann launched a new conspiracy theory about the 2012 Benghazi attack. Because former CIA director Michael Morell's testimony on the tragedy does not match Bachmann's baseless accusations, the congresswoman reasoned, there can only be one explanation: Hillary Clinton bought him off.
She expanded on her theory on Thursday, during an appearance on The Janet Mefford Show:
"Barack Obama's failed national foreign policy and Hillary Clinton's foreign policy led directly to the debacle at Benghazi. They need to answer for their failed foreign policy, they couldn't afford to do that six weeks out from a presidential re-election and so they had to concoct a preposterous story," Bachmann explained (ignoring the fact that they actually answered for it quite successfully on the way to re-election).
"Hillary Clinton can't get out of it, but it appears that she has bought Michael Morell's false narrative and her consulting group or at least sympathizers to her in that consulting group have bought and paid for Mike Morell's testimony," Bachmann added.
Sure, she has zero evidence that Clinton bribed the director of the CIA, but hey — evidence is for liberals.
Bachmann's continued obsession with using Benghazi to destroy Clinton is really starting to get a bit desperate. When even Charles Krauthammer has given up, it may be time to throw in the towel.
2. Rick Wiles
Conspiracy theorist Rick Wiles checks in at number two this week, for becoming the latest in a surprisingly long line of right-wingers to warn that gay Nazis are preparing to conquer the United States.
Wiles shared his fear during the Friday edition of his show.
"It's not an exaggeration to say homofascist, because the German Nazi Party was homosexual, Hitler was a homosexual, the top Nazi leadership, all of them were homosexuals, it was a radical homosexual movement that gained political power, military power, and they were creating a homosexual special race. That's what it was all about," Wiles said. "It wasn't this thing about an Aryan race of white people, blue-eyed, blonde-haired, white people, Hitler was trying to create a race of super gay male soldiers. That's what he was creating."
Wiles went on to add that if gay rights aren't crushed, then Obama's "super gay male soldiers" will turn America into "a hellacious place to live" where "you're going to have to go underground to be a Christian."
"I'm telling you, this is not an exaggeration," Wiles warned. "If it's not stopped, it will end up in America just like it was in Germany but it won't be the Jews that will be slaughtered, it will be the Christians." No word on what will happen to devotees of Chrislam.
Stay tuned for next week, when Jim DeMint hires Rick Wiles as the Heritage Foundation's resident Nazi Germany expert.
Audio of Wiles' rant is available atRight Wing Watch.

1. Bob Quast
Iowa's 2014 Senate race has had more than its fair share of craziness, but nobody can top this week's "winner," Bob Quast.
Quast, an Independent candidate, is centering his long-shot campaign on his strong defense of the Second Amendment. And his new ad makes that very, very clear.
The spot opens on Quast jogging with his dog and baby, cheerily turning to the camera and announcing his candidacy as happy music plays in the background. The ad then takes a dark turn, when Quast changes the subject to the man who murdered his sister in 1999.
"If you are the sexual predator and sociopath who murdered my sister Lynette and you come to my front door to do harm to my girls, I'm going to use my Glock," Quast warns. "To blow your balls off."
He then smiles at the camera, as a cheesy special effect makes his teeth literally sparkle.
The weirdness doesn't end there. After urging voters not to confuse him with the other Iowa Senate candidate who's threatened your genitals, Quast whips out a knife and challenges Democratic frontrunner Bruce Braley to a debate.
"Congressman Braley, you have nothing to fear, as we are friendly folks in Iowa," Quast says as he waves his gun and knife at the camera. "I will leave my gun at home, Joni can leave her knife on the farm, as long as you agree to leave your elite law degree in D.C."
Because we certainly wouldn't want a lawyer writing America's laws.
Ultimately, Quast doesn't have much of a shot of being Iowa's next U.S. senator. But he will at least leave us with one of the greatest campaign slogans of all-time: "#GotBalls? Vote for Bob Quast."
Check out previous editions of This Week In Crazy here. Think we missed something? Let us know in the comments!