This Week In Crazy: Thank A White Man Today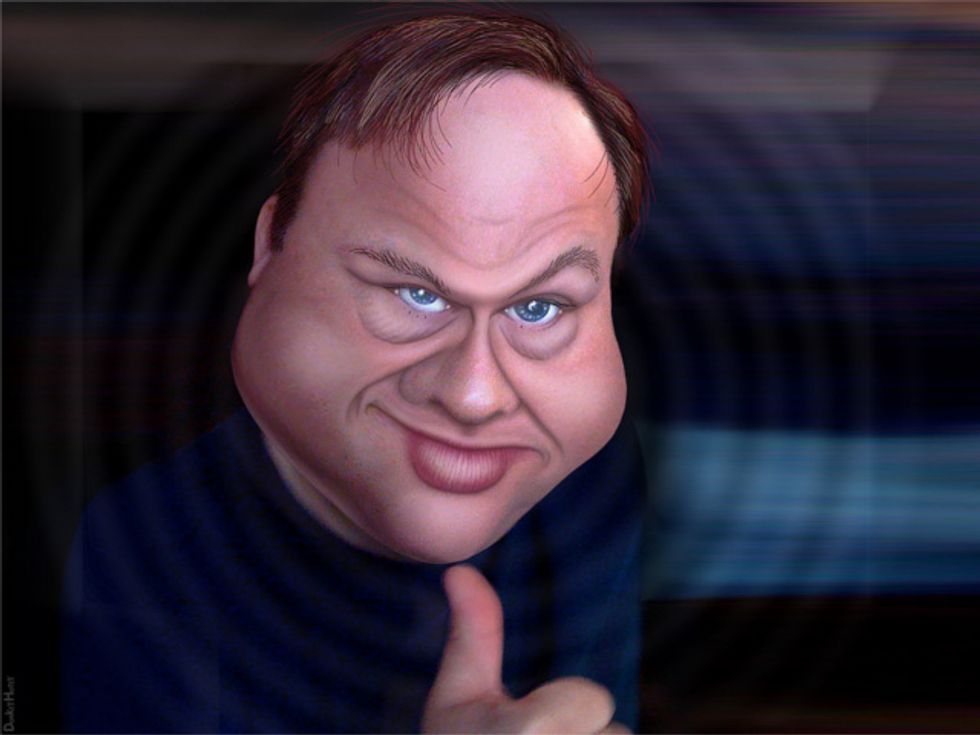 The post-campaign follies of Glenn Beck, the "imams of sexual sharia," and the sad fact that white men just get no respect. Welcome to "This Week In Crazy," The National Memo's weekly update on the loony, bigoted, and hateful behavior of the increasingly unhinged right wing. Starting with number five:
5. Roger Stone
Speaking to InfoWars host Alex Jones Tuesday, Trump's master of darkness Roger Stone sounded off on what voters can expect from Trump's VP pick.
Whoever it was, Stone said, they would be a "nationalist, not a globalist" and someone "who shared Donald Trump's views on a cross-section of issues." None of that is especially surprising, but Stone's adamantine insistence that Trump will be making the decision without respect to the input of any experts or advisers is disconcerting in a familiar way.
As combustible and irrational as he is, Trump can be counted on to always act by fiat. Stone asserted that Trump's campaign manager and lawyers would not be making the decision. "Only one person knows what Trump is going to do, and that's Trump," Stone said,
Stone might be more out of the loop than he lets on, though, as he floated New Mexico Gov. Susan Martinez as a potential Veep just as Trump, ever thick-skinned and secure in his power, shot down the Republican governor for "not doing her job," simply because — many speculated — she had not yet endorsed him.
"That's exciting, it's also common sense," Jones said.
Just one week ago, Stone insisted that President Trump should pull CNN off the air, a stance that I'm sure has nothing at all to do with the fact that the news network has banned Stone from appearing on it because of his history of inflammatory, racist tweets.
It's very nice of Jones to keep letting Stone on his show to peddle his wares: Note the background image — Stone has a new book to sell. But I think Media Matters' Brennan Suen has it right when he writes;
Stone is not a typical political adviser, and when the press treats him as one they miss out on a key election story: the extremism of Trump's supporters. Stone's decades-long history of dirty tricks includes playing a role in Watergate that later caused him to be fired from a job in the Senate. He has a record of racist and misogynistic rhetoric that caused MSNBC and CNN to ban him from their networks. Stone also regularly calls for public figures to be executed.
So maybe it is a good thing Trump doesn't listen to his advisers.
4. Glenn Beck
You kinda have to feel sorry for Glenn Beck, militant supporter of loser Ted Cruz and captain of the floundering ship TheBlaze.
It seems clear now that the incident in late April when Beck mashed his face into a bowl of Cheeto crumbs to make some kind of point should have been taken as an early indicator that all was not well in Becklandia.
This week he was caught rolling back on his own insane conspiracy theories just as soon as he said them aloud. He aired a notion on his radio show Wednesday that Obama was intentionally allowing the investigations into Clinton's emails to proceed in an attempt to derail her because Clinton is not enough of a radical to carry out Obama's long-term Marxist agenda.
"I think it's wrong," he said of the thing he was saying just then on his own show. Nevertheless, he added: "I think you could make a case, a bad case, that he's looking for an ideologue to replace him. He's done the work of bringing this country to the brink of Marxism and he's not going to have it flushed away by Hillary Clinton."
Poor Glenn doesn't even have the conviction of his own confetti-headed notions anymore. If Beck can't at least be relied upon to believe his grand conspiracy-laden fugues, who can?
Oh and there was the whole wondering-if-any-patriots-out-there-would-be-willing-to-step-up-to-the-plate-and-"remove"-Donald-Trump thing that arose in a discussion between Beck and his guest, author Brad Bird.
"With the feckless, spineless Congress we have, who will stand in the way of Donald Trump overstepping his constitutional authority as President?" Bird asked. "If Congress won't remove him from office, what patriot will step up and do that? If — if — he overstates his constitutionally-granted authority I should say as president, if he oversteps that, how do we get him out of office? I don't think there is a legal means available. I think it will be a terrible, terrible position the American people will be in to get Trump out of office, because you won't be able to do it through Congress."
"I would agree with you on that," Beck said.
But I'll say this about Beck. While other conservatives all over the map are taking their principles out behind the woodshed and lining up behind The Donald, Beck has militantly held fast to his anti-Trump position. But he's not going to sit silent. The man has grand ambitions to devise a "100 year plan" to redeem America through the magic of conservative and libertarian values. To which I say, Godspeed, Glenn. Never change.
3.  Gavin McInnes
Vice Media founder Gavin McInnes thinks white males deserve a long overdue "thank you" for ending slavery. He also said that white males had nothing to do with beginning slavery in the first place, but he may have misspoke.
During a segment on his show late last week, McInnes lamented that Curt Schilling had been fired from ESPN for posting transphobic memes ("creeps," McInnes called transgender people). Although he could not remember Schilling's name ("I'm not into sports"), he sympathized with the plight of the onetime baseballer and would-be video game magnate.
His conclusion: "It really is an upside-down world. You start looking at the data and you say: Wait a minute, I'm noticing a pattern here. Everything that is depraved and wrong and sick is good, and everything that is good we should be ashamed of."
"White males, we built society," McInnes exclaimed, "we separated church and state! We didn't end slavery…I mean, sorry, we didn't begin slavery, we ended it!"
"How about a thank you?" he demanded.
Hat tip and videoHail to the Gynocracy
2. Scottsdale, Arizona
The city of Scottsdale, Arizona is doing everything in its power to stifle religious freedom and religious expression. Ted Cruz would be just appalled.
Except that in this case the people seeking to exercise their First Amendment rights happen to be Satanists. So, you know, the Constitution doesn't apply, and they can go straight to Hell.
Please note that Satanism does not refer to a worship of the literal Satan — it's basically a doctrine for all who are opposed to arbitrary authority and celebrate individual sovereignty in the face of corrupt, illegitimate institutions (like, I don't know, state religion). Accordingly, Satanism attracts a broad spectrum of atheists, agnostics, and basically anyone who wants to turn the tables against a conservative Christian establishment, by using the same legal machinery that the Moral Majority has abused for decades to advance its own religious agenda.
Which is pretty much exactly what happened in Scottsdale, which barred the Satanic Temple from leading a prayer at a council meeting in July, even though it had already been scheduled. The Temple is fighting back, calling the decision arbitrary and baseless. A city spokesman told reporters that only "representatives from institutions that have a substantial connection to the Scottsdale community" should be allowed to give the invocation, hence the ousting.
Friendly Atheist's Hermant Mehta writes:
That's not necessarily an unreasonable rule, as the [Satanic] Temple's chapter is based in Tucson and not Scottsdale, but why did it only become an issue after the Satanists were given the green light? And doesn't it count if some of the Temple's members live in Scottsdale?

It sounds more like city officials feared what would happen and scrambled to find a reason to boot them from the list.
Indeed, back in March, Scottsdale's mayor Jim Lane admitted that city officials were working to "find a clean path, one that is legal," to bar the group from giving the invocation.
"We're not in the business of entertaining an invocation that makes a mockery," Lane said. "I'm not an advocate of it, of course."

Thousands of emails filled Scottsdale officials' inboxes over the prayer issue this spring, and religious groups were preparing to organize in protest.
Lucien Greaves, the Satanist Temple's national spokesperson, told Mehta in an email that the Temple was considering legal action, pending the city's response to a number of questions. Namely, how did Scottsdale determine exactly wheat the Temple's connection to the city was? And do they apply this level of scrutiny to anyone (a Christian, say) who wishes to give the invocation?
Or might this have been, you know, religious discrimination?
1. Bryan Fischer
The spokesman for the American Family Association took aim at the "Gay Gestapo" in his latest blog post, published Tuesday on the AFA blog.
"The Gay Gestapo is on a mission from the Dark Lord," Fischer writes, "to relentlessly harass, intimidate, punish, and silence every advocate of sexual normalcy. Now the deviancy cabal intends to send preachers who speak the truth about transgenderism and transvestitism to jail for two years."
Fischer is responding in characteristically reactionary and spurious fashion to Canadian Prime Minister Justin Trudeau's announcement last week that the government was introducing legislation to "help ensure transgender and other gender-diverse people can live according to their gender identity, free from discrimination, and protected from hate propaganda and hate crimes."
The bill (which you can read here) proposes to amend an anti-discrimination statute, the Canadian Human Rights Act, to add gender identity and gender expression to the list of prohibited grounds of discrimination, a list which presently includes race, sexual orientation, sex, disability, and religion, among other grounds.
Or, in Fischer's gloss, "Soon in Canada, it will be a crime to proclaim what the Bible and science teach about gender." Fischer's punting to "science" is particularly risible in light of his young earth creationist viewpoints.
I would not give Fischer points for credibility, since this is, after all, the same man who once likened erections to God's radar alert system, or for originality, since his post is almost a paragraph-by-paragraph crib from this article in Christian Post.
But when he rhapsodizes about the "imams of sexual sharia" making sure that all good Christians like him are "appropriately chastened and punished," well, it does make me chuckle.
—
Illustration: DonkeyHotey via Flickr
Check out previous editions of This Week In Crazy here. Think we missed something? Let us know in the comments!Get This Week In Crazy delivered to your inbox every Friday, by signing up for our daily email newsletter.