This Week In Crazy: Trump's God-Given Mission To Nuke North Korea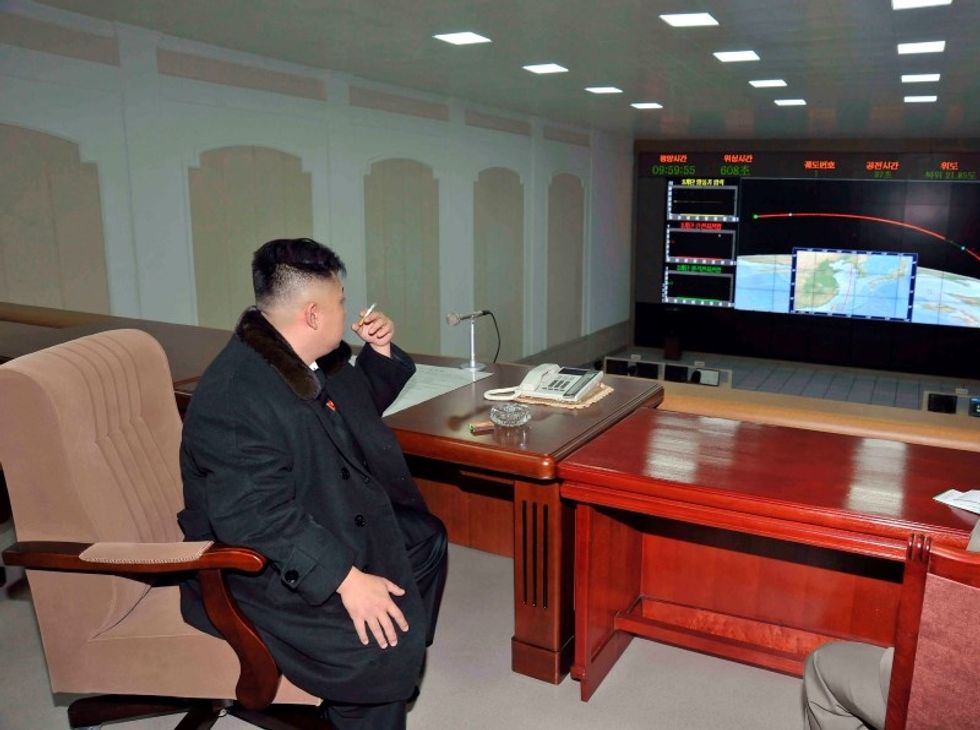 Nuclear holy war, Chi-Raqi occupation, and Al Gore's "big ugly ass." Welcome to This Week In Crazy, The National Memo's weekly update on the loony, bigoted, and hateful behavior of the increasingly unhinged right wing. Starting with number five:
5. Jack Posobiec
Less crazy than dumb, Posobiec — the alt-righter who sued Alamo Drafthouse for its limited all-female screenings of Wonder Woman — tweeted the following in response to President Trump's escalatory remarks on North Korea:
https://twitter.com/JackPosobiec/status/895048512429330434
This is a classic example of justifying incompetence as three-dimensional chess. If you asked Trump to spell "genius," he'd start writing the letter j before getting distracted by a push notification.
(Also, there's no precedent for writing six as "VI" — unless you learned Roman numerals in school that day and wanted to show off. But I don't care: this tweet's not going on the fridge.)
4. Jesse Watters
I have a special place in my — what's the opposite of heart? — for this '80s movie villain because he and I went to the same college and, aside from maybe Tucker Carlson, he's probably the slimiest alum. (Though I reckon he could say the same of me if he wanted.)
Anyway, Watters on Friday called the entire city of Chicago "another swamp that needs to be drained." His proposed method:
Remember what happened with the surge in Iraq where they went block to block and they invested heavily on boots on the ground, clear/hold [strategy], and they brought in the local population to really turn the tables. And it worked. Now Chicago needs the same thing.
Watters, it seems, gravely misinterpreted the message of Spike Lee's Chi-Raq:
3. Robert Jeffress
The megachurch pastor from Texas added to his craziness CV — which includes attributing 9/11 to God's punishment for abortion — by again justifying Trump's chest-thumping. This time, Jeffress — responding to the president's aforementioned North Korean tough-talk — said "God has given Trump authority to take out Kim Jong Un."
So when the nuclear apocalypse hits, thank God.
2. Alex Jones
It's hard to imagine a TWIC without Jones. The guy's as prolific as he is imbalanced. On Tuesday, shortly before making fun of Al Gore's "big ugly ass," he revealed that he communicates, at least via written memos, with President Trump:
Big ugly asses notwithstanding, there is a difficult-to-describe poetry in Jones's diatribes. Some exceptional turns of phrase you shouldn't ever find in normal political discourse: "fill your hand, turd blossoms;" "my fat will just be accelerant in the fight;" and "You love death, that's why I'm throwing myself against you."
Small wonder, then, that his rants also work as indie folk songs.
1. Jim Bakker
Speaking of right-wing crazies who have Trump's ear, this food bucket huckster revealed this week that he and his wife, Lori, met with other prominent evangelists at the White House on July 31.
According to Bakker — who nearly started crying as he recalled it — George O. Wood, leader of the General Council of the Assemblies of God, "spoke words," bemoaning "unnecessary swearing."
"This was not a social meeting," Bakker said, referring to former communications director Anthony Scaramucci's less-than-coincidental ouster that same day.
https://www.youtube.com/watch?v=5LhMqkvIVE0
—
Check out previous editions of This Week In Crazy here. Think we missed something? Let us know in the comments!Get This Week In Crazy delivered to your inbox every Friday, by signing up for our daily email newsletter.