Weekend Reader: 'Afterwar: Healing The Moral Wounds Of Our Soldiers'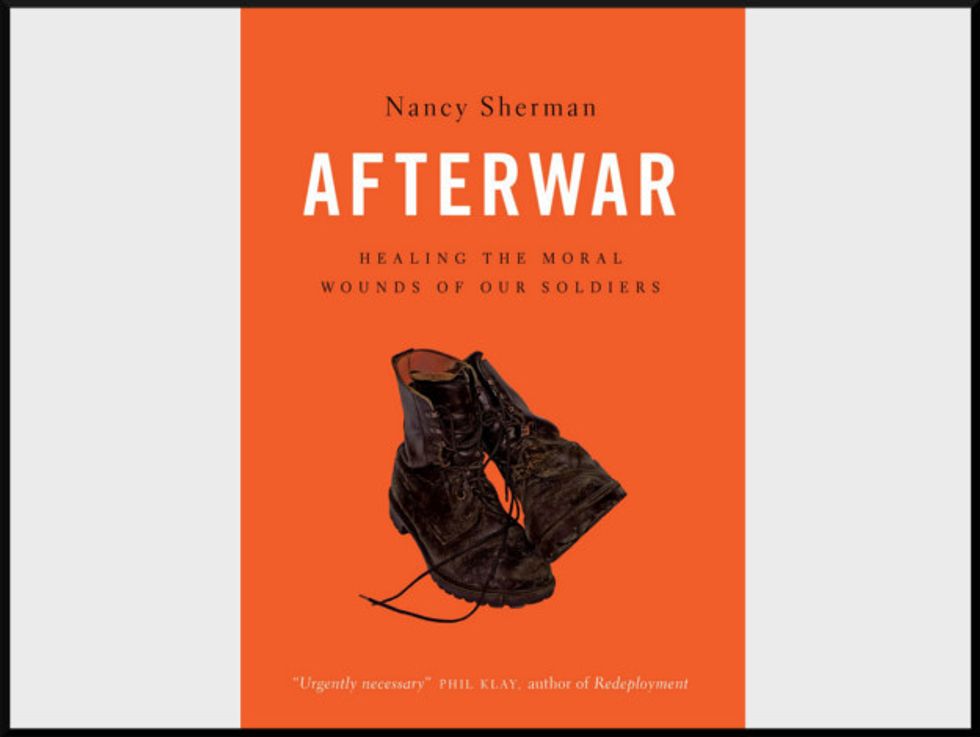 Since the United States began its campaigns in Iraq and Afghanistan, more American soldiers have died from suicide than have died in the field. The scars of warfare are not only physical, and combat veterans who return home often struggle with feelings of guilt, depression, PTSD, and substance abuse. Many do not reach out for help for fear that doing so will harm their career.
Nancy Sherman, a psychology professor with two decades of experience working with the military, investigates the costs of the Middle East wars to the mental and emotional well-being of U.S. soldiers. Her new book, Afterwar: Healing the Moral Wounds of Our Soldiers, is a lucid, insightful, and compassionate guide to how veterans can recover, so that "minds and not just bodies" can endure.
You can purchase the book here.
It is tempting to think about moral repair in terms of renewals, fresh starts, a fix for what's broken that looks forward more than back. Moral repair should involve positive thinking and feeling—hope and trust, empathy and connection, as I've been putting it, without getting stuck in the negative. It should look to the possible and positive, and nudge and coach and persuade. It should be about bouncing back.
Resilience is a buzzword in the current military. Early on in the wars in Afghanistan and Iraq, with service members surviving their physical injuries at rates unparalleled in the history of warfare, it became all too clear at the highest echelons of the Pentagon that minds and not just bodies had to endure. Schooling in mental toughness and the ability to face cumulative psychological stress needed to be a formal component of pre-deployment training. Alarming peaks in suicide within the military made the issue all the more urgent. Under the directive of the Army Chief of Staff, George Casey, the Army brought on board Martin Seligman, the pioneer in positive psychology at University of Pennsylvania, to help design a pre-deployment resiliency program. Positive psychology, with its starting point not pathology or the treatment of post-traumatic stress, but "the study of strength and virtue" attracted the Army's leadership. And so a 145-million dollar Army-wide Comprehensive Soldier and Family Fitness program was unrolled in 2009, with an Army surgeon, Brigadier General Rhonda Cornum, (herself a poster woman for resilience as a former POW shot down during a medical rescue mission in the first Gulf War and survivor of breast cancer) helping on the Army side to stand the program. Its focus, as Cornum and her deputy described it to me, is not "post-adversity," but "preventive," "to teach everyone to better thrive."
Cornum who was retiring from the Army the week we spoke, had emptied her desk and shelves in her Crystal City office in preparation for its next occupant. But on the walls still hung the pictures of the Penn monthly graduating classes from the Master Resilience Training program, the Comprehensive Soldier Fitness core course. It's a train the trainer course in which groups of 180 combat vets, (typically Army captains and staff sergeants), gather at Penn (or in mobile units at military facilities) for a 10-day immersion in "active constructive" attitudes that are alternatives to the kinds of "passive destructive" attitudes Seligman and his colleagues warn against, such as "ruminating misery" and "catastrophizing." The Master Resilience Trainers (MRT's) bring the coping skills to their units, in informal problem solving that's the stuff of conversation and counseling, and more formally, to troops not yet deployed, in mandatory 2-hour teaching slots 4 times a year. All troops take a required, anonymous, online psychological assessment test annually, "the global assessment tool," or GAT, ambitiously aimed to test the psychological fitness of the force, as a whole.
The program has been severely critiqued from many camps as a quick and very expensive fix, not adequately tested with pilots on a combat troop population. Seligman's resilience work has been primarily with middle school children and their adjustment to school, not with troops facing day in day out war's detritus, where the exposure to killing in a death-saturated environment can affect the very vulnerability to post-traumatic stress and moral injury.
Others have implied that while the program is often promoted as asset-based, focused on fitness, wellness, thriving and flourishing, the real impetus and urgency for crafting such an expensive program had to be from the start prevention of negative outcomes, such as post-traumatic stress, depression, anxiety, substance abuse, and suicide. But if that is the case, then risk factors should have been more clearly articulated and targeted in order to empirically assess the efficacy of the interventions. Equally, some clinicians worry that the program may only worsen the stigma attached to seeking mental health treatment within the military. For if an individual goes through the program and returns from war with post-traumatic stress, then it may just exacerbate the sense, already prevalent in the military, that PTS has to do with one's own deficits and weaknesses rather than war's stressors. Moreover, failure to screen for post-traumatic stress in the program, on the grounds that it might be suggestive and draw attention to the symptoms, plays into a deeper view some hold within the military that post-traumatic stress is only a psychological phenomenon with no neurobiological basis, and so easily fabricated. That view can betray a mixed messaging within the Army about its mental health mission.
Around the same time Comprehensive Soldier Fitness was unrolled, the Army Vice Chief of Staff General Peter Chiarelli began to convene a monthly review board at the Pentagon to review fatalities due to suicide. The board was a part of the massive campaign to stem the suicide epidemic in the Army and destigmatize attitudes about seeking mental health treatment. Chiarelli, an infantry commander who headed coalition forces during the Iraq war, took on a new battlefield of brain research, biomarkers, and mental health advocacy. I met with Chiarelli's staff several times and attended some of those two-hour late afternoon meetings. The meetings were brutally depressing, filled with harrowing details. Colonels and generals on "whose watch" a recent suicide occurred sat at a massive conference table in high-backed leather chairs or in many cases, were video-teleconferenced in on large screens from bases in Iraq, Afghanistan, Fort Bragg, Fort Hood, Korea, and beyond. Each commander, flanked by a team, reviewed the known facts of the case, the risky behavior, the proximate causes—prescription pain killers, family disputes, troubles with mortgage payments, infidelities, a spouse's health problems, the death of an uncle, tensions with command, disappointment in being passed over for promotion, a parole– a raft of real life issues, some with little to do with war. At moments it was easy to think that here or there or at this juncture or that a good, well-placed buddy might have made all the difference. As Chiarelli listened to the cases, one, and then another, and another, and another–a litany of details without clear patterns, his impatience at times flashed through as he demanded of his commanders after each review, "What are the lessons learned?" In truth, there were few unifying factors other than humiliation, hopelessness, alienation, at home or on base, and too many weapons or drugs to carry out the deed.
Reprinted fromAfterwar: Healing the Moral Wounds of Our Soldiers by Nancy Sherman, with permission from Oxford University Press, USA. © Nancy Sherman, 2015.
If you enjoyed this excerpt, purchase the full book here.
Want more updates on great books? Sign up for our email newsletter!