Weekend Reader: 'Notorious RBG: The Life And Times Of Ruth Bader Ginsburg'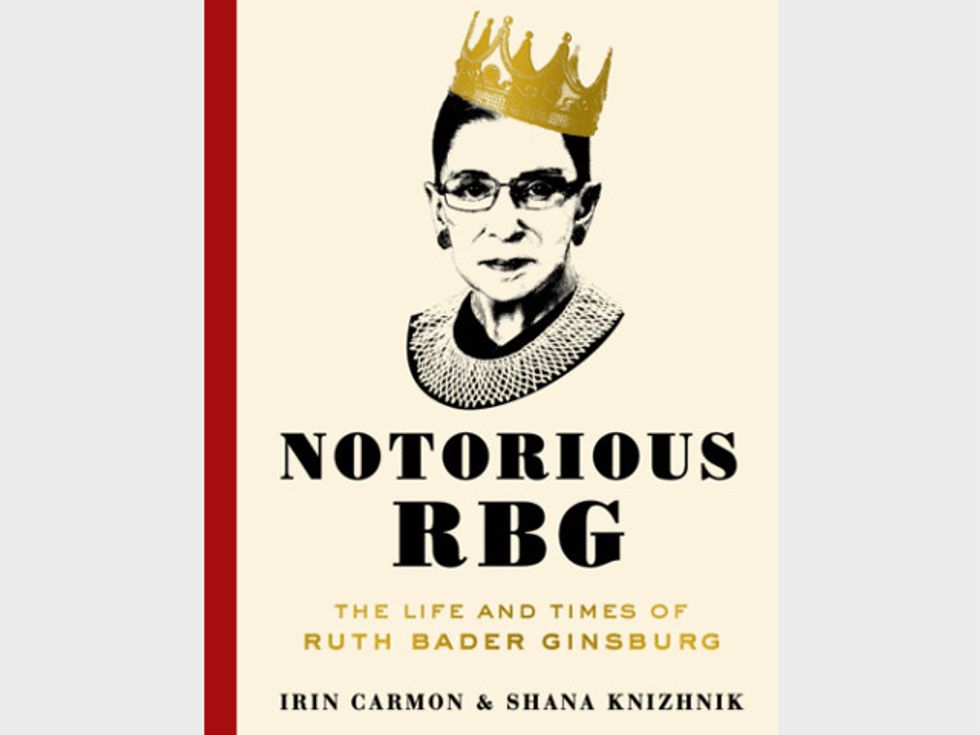 Adding one more item to her already considerable résumé, a few years ago Ruth Bader Ginsburg became the first Supreme Court Justice to attain the status of Internet meme. Notorious RBG: The Life and Times of Ruth Bader Ginsburg by Irin Carmon and Shana Knizhnik, is an joyful exploration of the life and career of the woman behind the diadem-topped icon that launched a thousand Halloween costumes.
To those who know Ginsburg as a meme first and a Justice second, Carmon and Knizhnik's cannily researched book serves as an invaluable introduction to an extraordinary women, written with admiration, savvy, and wit. To those already well versed in RBG's legal and judicial accomplishments, it's a delightful and elegantly designed visual guide to the cultural impact one determined warrior for social justice can have when she becomes the stuff memes are made of.
You can read an excerpt below. The book is available for purchase here. Read our full review of the book here.
—
Of all of her clients, RBG was fondest of Stephen Wiesenfeld, a single father whose wife had died in childbirth. Bringing his case to the Supreme Court was a chance to show that sexism hurt everybody. While Stephen "played homemaker," as the letter that brought him to RBG's attention put it, his wife, Paula, had worked as a teacher and paid into Social Security. But only widows could get "mother's benefits." The law, RBG wrote in her brief to the Supreme Court on Wiesenfeld's behalf, "reflects the familiar stereotype that, throughout this Nation's history, has operated to devalue women's efforts in the economic sector."
Her argument went even further. "Just as the female insured individual's status as breadwinner is denigrated," RBG wrote, "so the parental status of her surviving spouse is discounted. For the sole reason that appellee is a father, not a mother, he is denied benefits that would permit him to attend personally to the care of his infant son, a child who has no other parent to provide that care." Then she twisted the knife. Their young son, Jason Paul, RBG wrote, was another victim of a law that "includes children with dead fathers, but excludes children with dead mothers."
RBG found out she won her case by flipping through her car radio on her way to Columbia. "My first reaction was that I have to get hold of myself or I'll have an accident," she told a reporter that day. "Then when I got to Columbia, I went running through the halls kissing the students who had worked with me on the case. And I am normally a very unemotional person." She told another friend it had made her cry.
"Given the purpose of enabling the surviving parent to remain at home to care for a child, the gender-based distinction of [the law] is entirely irrational," Brennan wrote. Rehnquist, still a women's rights skeptic, concurred, saying he was voting to strike down the law because it harmed the baby. At least he had taken that half step. RBG wrote of the case, "Wiesenfeld is part of an evolution toward a policy of neutrality—a policy that will accommodate traditional patterns, but at the same time, one that requires removal of artificial constraints so that men and women willing to explore their full potential as humans may create new traditions by their actions."
She had perplexed and even angered some of her allies by bringing so many cases with male plaintiffs. After all, it was the Women's Rights Project, not the men's rights project. Much later, people would say RBG was a genius for presenting the male-dominated court with their brethren. The truth was more complicated. The choices men like Stephen Wiesenfeld made baffled, even angered the justices. Why would he want to act like a woman? In a way, it was easier to understand why a woman would want to act like a man. RBG firmly believed that for women to be equal, men had to be free. Decades later, an unnamed guest at a dinner party told the New York Times that RBG had fiercely interrupted another guest who mentioned she'd worked on behalf of "women's liberation." "She turned on him and said, 'It is not women's liberation; it is women's and men's liberation.' I'd never seen her exercise such strength and vehemence."
Nor was she interested in letting only one or two women into the old boys' network. RBG firmly believed that more women in public life would benefit everyone, including men. "Men need to learn, and they do when women show up in their midst in numbers, not as one-at-a-time curiosities," RBG remarked at the twenty-fifth anniversary of women at Harvard Law School in 1978. "Men need the experience of working with women who demonstrate a wide range of personality characteristics, they need to become working friends with women."
—
Excerpted from Notorious R.B.G.: The Life and Times of Ruth Bader Ginsburg by Irin Carmon and Shana Knizhnik, published in October 2015 by Dey Street Books. Copyright © 2015 by Irin Carmon and Shana Knizhnik. All rights reserved.
If you enjoyed this excerpt, purchase the full book here.
Read our full review of the book here.