We've Made Progress, Only To See It Undone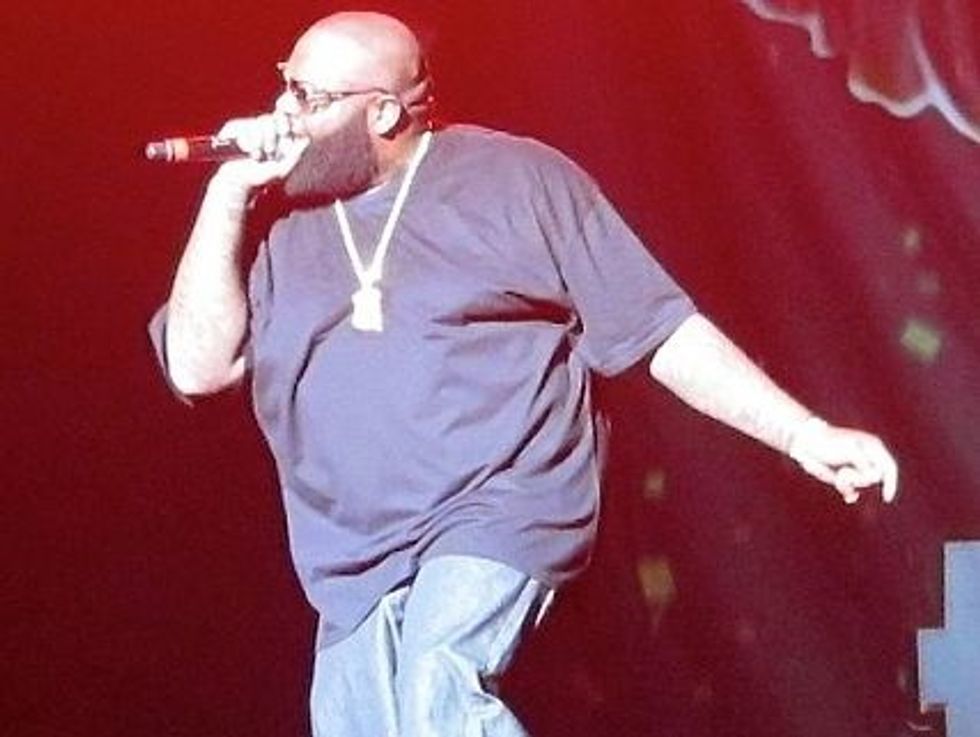 What we have here is a failure to communicate. Or at least, that's Rick Ross' story, and he's sticking to it.
The Miami rapper has ignited a prairie fire of controversy with a song called "U.O.E.N.O.," its title a phonetic spelling of an ebonic pronunciation: "You don't even know." In it, Ross raps as follows: "Put molly all in her champagne/She ain't even know it/I took her home and I enjoyed that/She ain't even know it."
"Molly" is the street name for the drug methylenedioxymethamphetamine (MDMA), better known as ecstasy. It is a stimulant and hallucinogen. It also lowers a user's inhibitions. The lyric, then, describes date rape.
Women and those who love them have reacted angrily. UltraViolet, a women's advocacy group, is pushing Reebok to drop its endorsement contract with Ross. A group called the Parents Television Council is calling on the Federal Communications Commission to "investigate" any radio station playing the song. At least one station, WUVS-LP in Muskegon, MI, isn't waiting. Program director Paul Allen Billings told Billboard magazine that he has pulled all Rick Ross songs off his air.
Ross says they've got it all wrong. In a recent interview with a New Orleans radio station, he explained how, ahem, the people who heard the song made a mistake.
"Woman," he said, "is the most precious gift known to man. It was a misunderstanding with a lyric, a misinterpretation. The term rape wasn't used. I would never use the term rape in my records. Hip-hop don't condone that, the streets don't condone that. Nobody condones that. So I just wanted to reach out to … all the sexy ladies, the beautiful ladies that have been reaching out to me with the misunderstanding. We don't condone rape and I'm not with that."
As if not saying "rape" prohibited him from describing rape.
Amazing. Just … wow.
And one hopes "the sexy ladies, the beautiful ladies," are not also the staggeringly naive ladies. For a bigger pile of horse manure, you'd have to visit a stable.
Perhaps you're old enough to remember when, as a culture, we decided to take rape seriously. If you recall public service announcements telling you that "no means no," if you saw police implement policies aimed at more sensitive treatment of rape victims, if you were paying attention when the boss chasing the secretary around the desk ceased to be a comic staple, perhaps you can appreciate what strange times we find ourselves in.
Perhaps you find yourself saying: Didn't we already have this conversation?
Perhaps you have felt the profound disconnect of hearing would-be senator Todd Akin seek to explain the biology of rape.
Or would-be senator Richard Mourdock discussing how God wants women to get pregnant through rape.
Perhaps you were stunned how two boys in Steubenville, Ohio, raped a drunken girl and it was documented in text messages and cellphone pictures.
Or how students at Yale paraded around chanting, "No means yes! Yes means anal!"
Perhaps it made you feel — and this feeling is depressingly common lately — as if yesterday's achievements are eroding like sandcastles in the surf. Ignorance, in remission for years, returns like a stubborn cancer.
We should have known.
Progress has no finish line. Once won, it must be protected and renewed. At 37 years of age, Rick Ross grew up in the era after the "no means no" lectures, when we apparently assumed people would "just know" things the rest of us were painstakingly taught. The fallacy of that is testified to in a song celebrating date rape by a man who has not the faintest clue at darn near 40 years of age.
So take "U.O.E.N.O.," as a cautionary tale, a remix of the old axiom about eternal vigilance being the price of freedom. Turns out, it's the price of enlightenment, too.
(Leonard Pitts is a columnist for The Miami Herald, 1 Herald Plaza, Miami, Fla., 33132. Readers may contact him via email at lpitts@miamiherald.com.)