What? Attorney General Nominee Outlined Case For Impeachment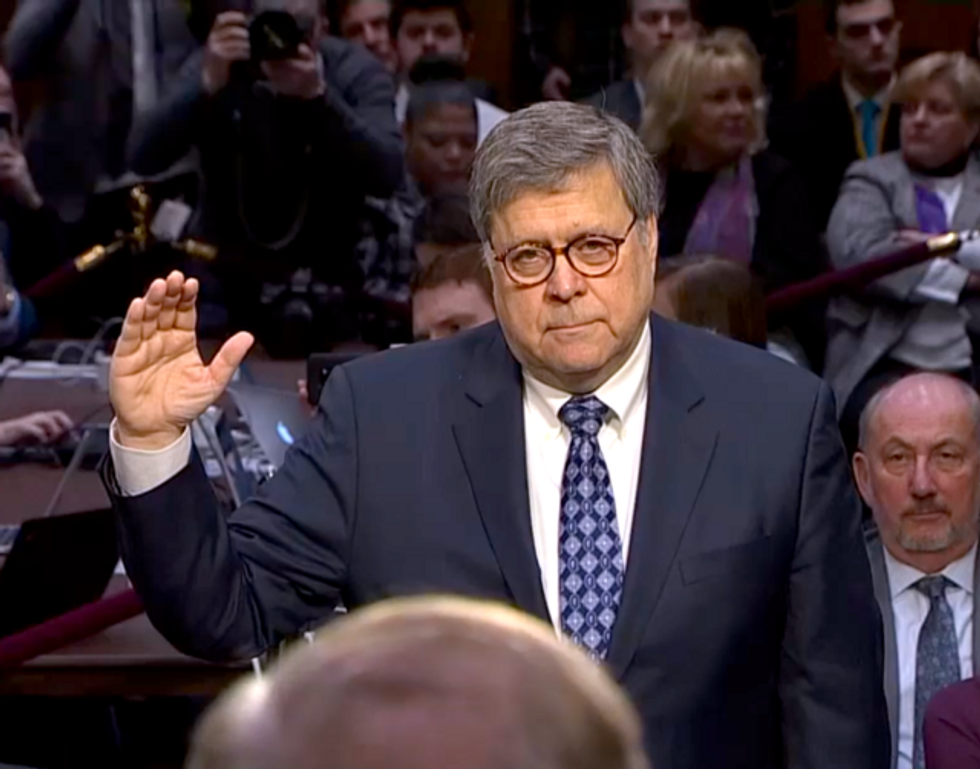 Reprinted with permission from AlterNet.
Because President Donald Trump has been so forthright about his belief that the U.S. attorney general should serve to protect him, his nomination of William Barr to head up the Justice Department terrified many political observers.
But despite the fact that there were a slew of disturbing elements of Barr's confirmation hearing on Tuesday, there were also some indications that he may, at some point, be willing to stand up to Trump.
At one point, it even seemed that Barr made a compelling case for impeaching Trump — though it's not clear how intentional this was.
"If a member of the president's family, or a business associate or something, was under investigation and he tries to intervene — he's the chief law enforcement office, and you could say, 'Well, he has the power.' But that would be a breach of  his obligation under the constitution to faithfully execute the laws," said Barr. "So in my view, if he attempts — if a president attempts to intervene in a matter that he has a stake in to protect himself, that should first be looked as a breach of his constitutional duties. Whether it also violates a statute [depends] on what statute comes into play depends on what all the facts are."
As MSNBC's Chuck Todd pointed out later, "He just outlined a case for impeachment!"
Reporter Katy Tur added: "In hearing him say that, 'intervene in a matter that ha has a stake in' — the president has been doing that over and over and over again for the past two years! He's on Twitter all the time intimidating witnesses. He's talking about how Manafort or Roger Stone or whomever should 'stay strong' — basically implying that he might be giving them pardons down the road the line. He's been doing this!"
Conservative writer Jennifer Rubin agreed — noting that Burr's analysis applied to one of the inciting incidents to Mueller's appointment.
"Wow," she said on Twitter. "Barr says if Trump intervened in a case in which he had a personal interest that is a constitutional violation. THAT is what he did re Flynn."
According to former FBI Director James Comey, Trump asked him to drop the investigation into former National Security Adviser Michael Flynn. Flynn has since pleaded guilty to lying to the FBI, was implicated in another federal case, and has cooperated extensively with Mueller and other investigators.
Trump has denied asking Comey to drop the Flynn case but also said that if he had made the request, he wouldn't have done anything wrong. Barr, it seems, disagrees — in his view, it would appear to constitute an impeachable offense. Likewise, Trump's decision to later fire Comey (as well as Jeff Sessions) because of the Russia investigation would also be an impeachable offense.
It's not clear if Barr would agree with any of this substantive analysis, but it follows directly from his professed view. This view would also make it difficult for him to defend the president if Trump were to take steps that many fear he will as Mueller closes in — such as, for example, pardoning his children or family members should they be indicted.