What Did Billionaire Donor Get Out Of His Relationship With The Clintons? An Education, He Says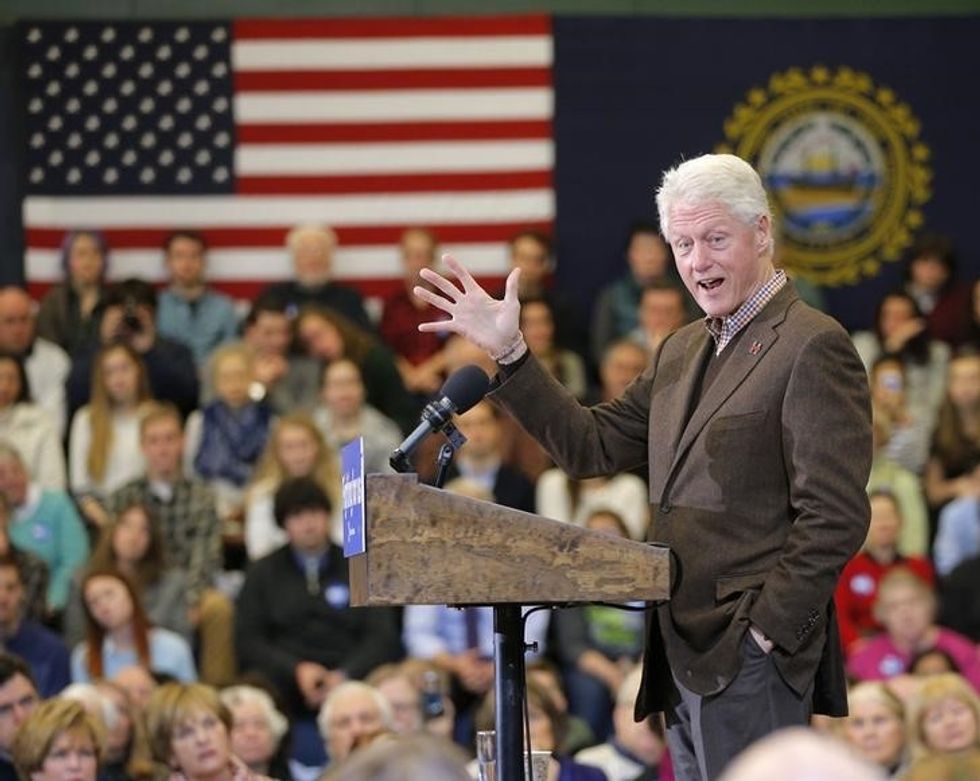 By Evan Halper, Tribune Washington Bureau (TNS)
WASHINGTON — Befriending Bill and Hillary Clinton — and giving them access to his private 757 jet — gave Ron Burkle more insight into world affairs than any graduate program might have.
At one point the billionaire businessman was on half of all the trips the former president made abroad. Burkle says he met 47 world leaders in 47 countries. There was a private meeting Clinton held with Nelson Mandela that went on for hours; Burkle was in the room.
Burkle, who never finished college, says he found the travel so enlightening that he structured his son's schooling around it, arranging for a private tutor to join them on the jet so his child could join the international trips with Clinton.
"I'm not a political junkie," Burkle said. "I'm not trying to become an ambassador or be in the middle of every election every cycle. … A lot of people are in it because they want to go to the parties or be on the Kennedy Center Board. It is not about that for me."
Burkle talked about the experiences during an expansive interview with the Los Angeles Times this week, in which he also expressed ambivalence about Hillary Clinton's candidacy, reflected on his now-dissolved $15 million business partnership with Bill Clinton and explained why he is cohosting a fundraiser for Republican presidential candidate John Kasich.
The trips became a springboard for the billionaire jetsetter to put his own mark on international affairs. UCLA is home to the Burkle Center for International Relations, now prominent on the circuit of world leaders and diplomats visiting Los Angeles.
The investor talks about politics as a kind of entryway to more interesting people and pursuits.
In the case of Sen. Dianne Feinstein, D-Calif., his enthusiasm for her career led him into a friendship with her husband, Richard Blum, a fellow billionaire who also has a taste for adventure and international exploration.
"I just think her husband is a fascinating and complex guy," Burkle said. "He spends time with the Dalai Lama. He has a foundation in the Himalayas. … He and I just became friends."
Burkle, who is perhaps the world's most successful supermarket magnate, says he began working in his dad's store at an early age and spent his life singularly focused on working and investing until well into his 30s.
"I wasn't curious about anything but work and making money," he said. "Then I got curious about art. I got curious about politics and international relations."
Like most big donors, he says there was nothing transactional at all about his plunge into high-stakes political giving. And as is typically the case, such protestations are met with skepticism. The close political relationships have been undeniably good for his business.
Burkle has boosted the careers of politicians who went on to control pension funds that invest massive amounts with his firm, Yucaipa. He's had a former president on his payroll, ostensibly able to open doors nobody else can.
When Burkle did not want embarrassing details in his divorce records available to the public, California lawmakers and a governor, Arnold Schwarzenegger, to whom he had been donating generously passed a state law allowing him to seal them.
Burkle insisted the legislation was not crafted at his behest, but it became known in Sacramento as the "Burkle bill" nonetheless.
Now, his value to Democratic politics lies not just in his checkbook — but also in his house.
The property known as Greenacres, once owned by silent film star Harold Lloyd, is host to some three dozen fundraising events each year, often for Democrats or progressive causes.
Burkle estimates more than $200 million has been raised there for candidates and nonprofits since he moved in in the 1990s.
Even fellow high-rollers in Hollywood, who grumble that Burkle never stepped up to write multimillion dollar checks to super PACs the way other liberal billionaires have, lament that Hillary Clinton does not currently have access to the fundraising machine that is Greenacres.
"I bought a house that has its own life, independent of me," Burkle said.
He became enamored with the property when he attended a fundraiser there. The event, he recalls, was very much an introduction to life on the high-stakes political fundraising circuit, particularly in Los Angeles.
"The first time I went to a fundraiser there, the tickets were $1,000 and $5,000," he said. "I asked, 'What's the difference?' They said, 'Parking.'"
Burkle's ambivalence about Hillary Clinton's candidacy is puzzling to other Democratic power players.
The Clintons are known to value loyalty. And Burkle may ultimately test whether he can step back in the inner circle after stepping so far out of it. He's raising money for Kasich but leaving open the possibility that he will rejoin the Clintons soon enough.
©2016 Tribune Co. Distributed by Tribune Content Agency, LLC.
Photo: Former U.S. President Bill Clinton addresses a campaign rally for his wife, Democratic presidential candidate Hillary Clinton, in Nashua, New Hampshire January 4, 2016. REUTERS/Brian Snyder