What Do We Tell Our Children?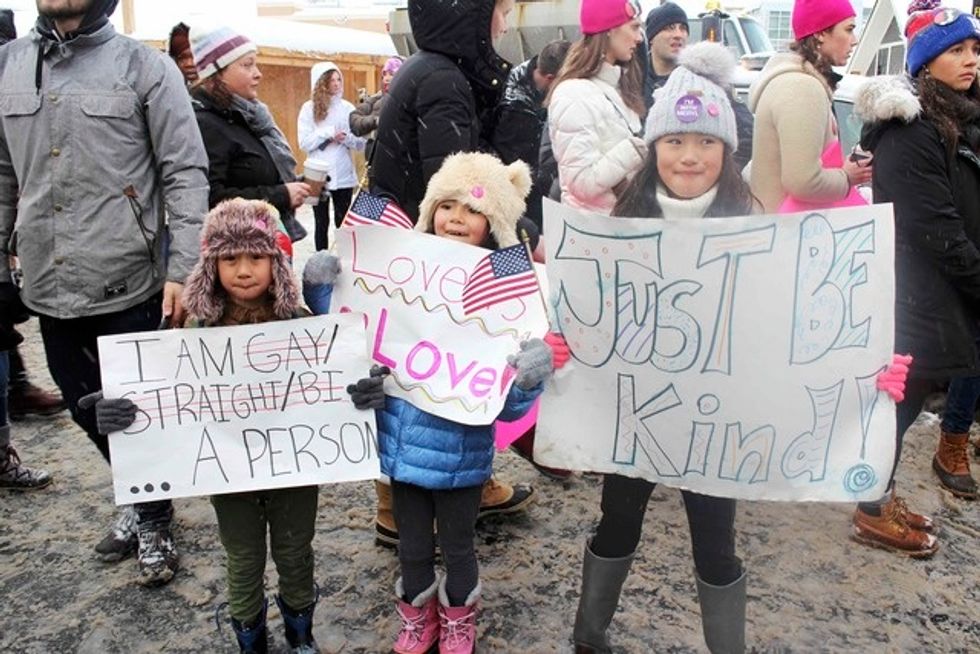 Twenty-six hours has passed since I led a discussion with about 100 women of the Sisterhood at B'nai Jeshurun Congregation on the east side of Cleveland.
Twenty-six hours later and I am still thinking about the question from a woman whose 10-year-old nephew wanted to know whether his friends could be deported.
He is Jewish, and one of his friends is black. He apparently worries that too many will see him as "the other" — which is true only if one thinks an American must not only be born here but also be white and so-called Christian. I qualify that claim to Christianity because I am bone-weary of people who profess to share my faith, but wield God and their Bibles as weapons of mass destruction. Their intolerance bears no resemblance to the God I know.
This is not the first time I've been asked in recent weeks by a stranger what we should tell our children in the wake of Donald Trump's election.
My habit, when I meet someone for the first time, is to shake hands and say, "Tell me about yourself." In the past, people usually told me what they do. In recent weeks, they are more likely to tell me how they feel. They are worried. They are scared. Women, in particular, voice concern about the children in their lives, for the most obvious of reasons.
Trump has been behaving, in word and deed, in ways that most of us raise our children to understand are unacceptable.
We do not lie.
We do not bully.
We do not hate.
When I wrote about this concern during the presidential campaign, some readers insisted that if we're worried about the tender souls of our children and grandchildren, the solution is obvious: Don't let them watch TV.
It's not that easy to protect children from the world around us. The grown-ups talk. Tabloids fill stands at checkout counters. Televisions blast cable news in waiting rooms and airports across the country.
I wrote a few months ago about walking through the Miami airport with my 8-year-old grandson. I lost sight of him just long enough — seconds, not minutes — for him to stop in front of a television screen broadcasting a series of Trump's most egregious moments, including his racist comments about Mexicans.
My grandson lives in a U.S. territory. His life is full of children who do not look like him, but are his closest friends. He stared at the screen, his eyes narrowing as he watched. I coaxed him away, but we spent the next hour surrounded by people who did not look like us as we waited for his flight and talked through his questions.
Why, he wanted to know, would that man run for president? Why would he say such awful things about people he doesn't even know?
At one point, I told him, "This is why it's so important that this man not become our president."
Oh well.
Twenty-six hours ago, I answered that woman's question as best I could. We must assure the children of our country that there's no such thing as one kind of American — and we have the photos to prove it. Show them pictures of the millions of women and the men who love them who marched in Washington and in cities around the country the day after the inauguration. Show them images of the diverse group of Americans protesting at airports across the U.S. last weekend in support of immigrants and refugees.
Even as I spoke, I could see the woman's kind face clouding. I needed no explanation for her response. Her expression said it all: How can this be? How can this, all of it — the lies, the bullying, the targeting of innocent people — be happening in the United States of America?
How do we explain this to our children?
Well, we tell them what we've always told them.
We do not lie.
We do not bully.
We do not hate.
Because we are Americans, and this is our country to save.
Connie Schultz is a Pulitzer Prize-winning columnist and professional in residence at Kent State University's school of journalism. She is the author of two books, including  "…and His Lovely Wife," which chronicled the successful race of her husband, Sherrod Brown, for the U.S. Senate.
IMAGE: Kona Burton, age 5, Maile Burton, age 7, and Keilani Burton, 9, (L-R) from Midway, Utah, hold their signs during a protest against new U.S. President Donald Trump during the Sundance Film Festival, in solidarity with the Women's March protests being held around the world, in Park City, Utah, U.S. January 21, 2017. REUTERS/Piya Sinha-Roy