What Isn't Donald Trump Hiding?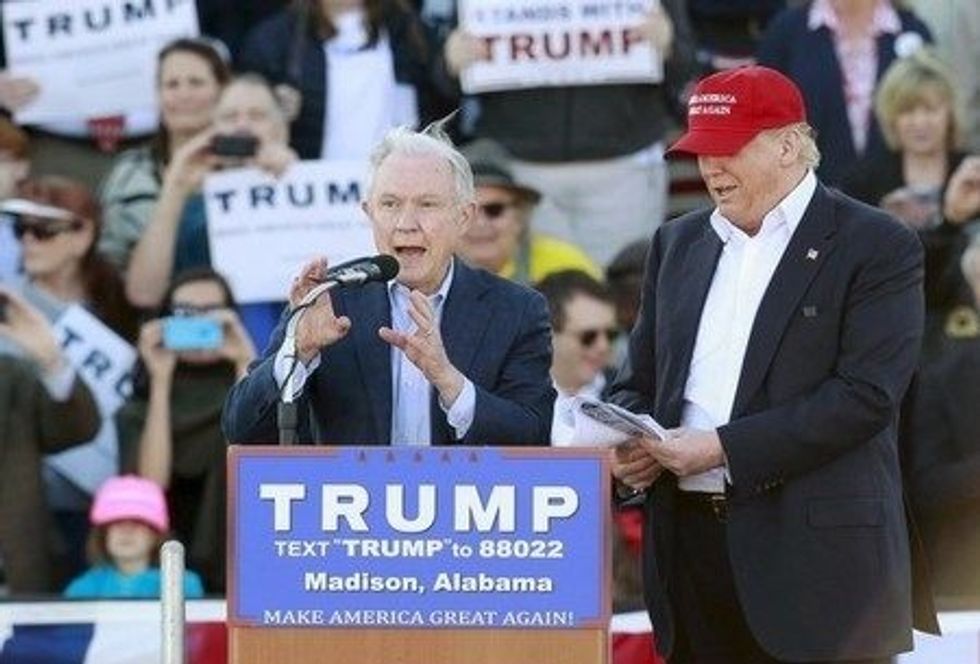 Given all that he's hiding — including his tax returns , the reasoning behind his campaign's contacts and possible coordination with Russia, the visitor logs for the White House, and his private lobbying theme park Mar-A-Lago as well as the details of nearly all his economic proposals — it's amazing what Donald Trump isn't hiding.
Let's start with his impressive ignorance.
After years of insisting at every chance he got that China is ripping off the United States, Trump informed the Wall St. Journal that Xi Jinping, the president of the world's most populous nation, had schooled him — on North Korea.
"After listening for 10 minutes, I realized it's not so easy," Trump said . "I felt pretty strongly that they had a tremendous power [over] North Korea. … But it's not what you would think."
If by "you" he means "Donald Trump," that's true.
No one — except people who only learn about politics by watching themselves on Fox News — thought resolving our conflicts with North Korea would ever be simple, especially after it became a nuclear power during the George W. Bush administration. But this is still a remarkable admission — like Trump's admission that he had no idea how complex health care reform would be.
It's also the kind of revelation that illustrates the divide in American politics. To Trump voters, this might make him more relatable, while indicating he has the strength to be flexible. To the majority of Americans who didn't vote for Trump, it might confirm their worst fears about electing a self-satisfied and self-obsessed doofus to become the most powerful person alive.
But even more remarkable than the admission that Trump had listened to someone else speak for ten minutes was for him to then shake off his campaign promise to label China a currency manipulator — a Trump fixation  that many experts believe is rooted in the past . And the president says he is doing this because China is helping us with North Korea.
Why he suddenly trusts a country he was sure was ripping us off is something he has not explained. But sometimes a con man is the easiest mark.
Then there's his obsession with sucking up to the elite.
In a interview this month with the New York Times , Trump bragged about his tax reform plan by dropping a name that once represented, in his own rhetoric, the swampiest of the elite swamp zombies, slowly dining on our sweet America First brains.
"We have some very, very good people," he said . "This man was the president of Goldman Sachs. I mean, he was, like, the president of Goldman Sachs."
The investment bank is now basically Trump's farm team , but during the campaign Goldman Sachs CEO Lloyd Blankfein served as his whipping boy, a personification of globalist — cough, Jewish, cough — bankers.  And Trump used the bank to tar Ted Cruz, Bernie Sanders, and Hillary Clinton as corrupt.
Why would he brag about becoming the Goldman Sachs Bannon Trump Kushner administration?
Yes, Trump campaigned on draining a swamp full of elites. But we shouldn't be so naive as to believe that he we speaking about all the elites. He meant just the elitists who want to help minorities at the expense of you — meaning, the good people who are sick of not being wished "Merry Christmas" by everyone you meet.
Trump's right-wing version of populism, as The Nation 's Jedediah Purdy explains , "often punches both up and down: It attacks those at the top of the economic and political ladder, but it also targets the disenfranchised, whether racial minorities, the poor, or immigrant groups."
If Trump supporters assume the is using the power of the elites — co-opting them, as his supporters often say — to help you and not them , everything will be fine in Trumpland.
And Trump is giving his supporters plenty of reason to believe that he is still obsessed with going after them, even if it doesn't help you economically .
There's been wishful bleating, fed by that the blasts of war that cable news loves, insisting that Trump is somehow becoming more centrist, because he doesn't want to immediately break up NATO and put tariffs on everything except the products he and his daughter import. But if reality is forcing him to drop some his more disruptive pledges, he is still pursuing sickening nativism while nurturing some of the most bigoted policies in recent American history.
Trump is learning, as The Washington Post 's Greg Sargent notes , that if he pleases the plutocrats with more predictable approaches to existing international alliances and trade agreements, he can keep feeding his followers super-sized nativism.
"The administration continues to defend the travel ban in court and remains fully committed to building the Mexican wall. On deportations, the reign of fear is kicking in," Sargent wrote. " Parents are yanking kids from day care out of fear of removal; longtime residents with no other offenses are getting deported ; the administration continues to try to strong-arm sanctuary cities into enforcing the federal immigration crackdown. As ABC News reports this morning: "The deportation force looks like it's coming together – just more quietly than anticipated."
Trump definitely isn't hiding his Attorney General Jeff Sessions — who is doing his best to reverse nearly every effort the government makes to help minorities vote, settle in America, or stay out of prison.
This includes reviving the War on Drugs to its fullest, most destructive vaience , which means destroying lives of people — disproportionately black and brown people, if history is any guide — for smoking pot.
Trump feels no need to hide his comical ignorance and his even more comical admiration for the "globalist" elites. This could be because he and Jeff Sessions have a unique sense of what his voters want.
Perhaps that's an America where only they feel welcome. It seems that antipathy for a nation that seeks to accommodate an increasingly diverse population is something they're sick of hiding, too.