What To Expect From California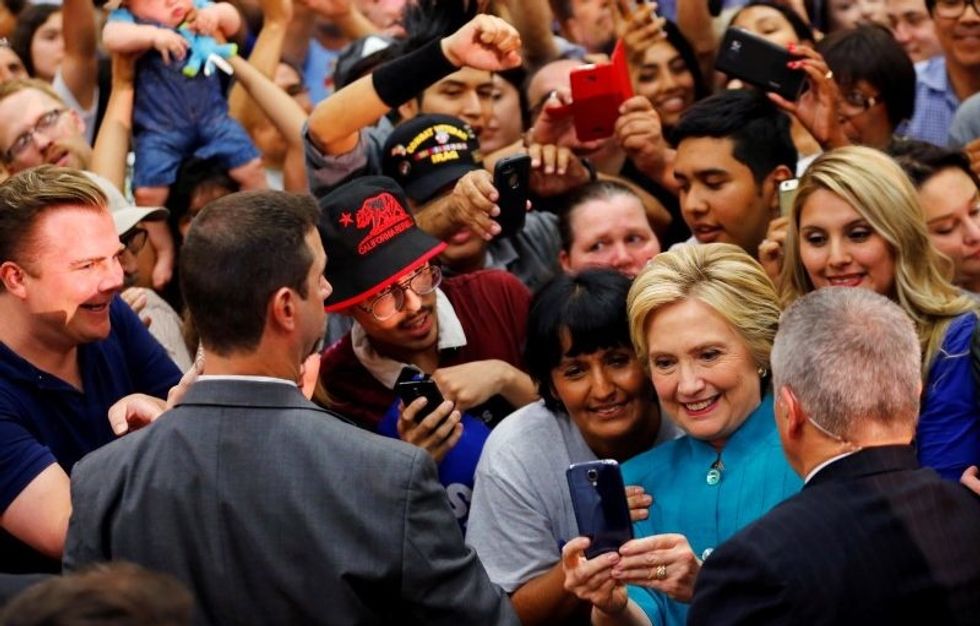 On Tuesday, Democratic candidates Bernie Sanders and Hillary Clinton will square off in eight states for the last big primary day of the election cycle.
In California, the state that recently set the stage for highly-publicized violence from the anti-Trump protestors, the latest polls show the Vermont senator and the former Secretary of State nearly neck-and-neck. A CBS News poll released Sunday found Clinton ahead of Sanders by just two points, at 49 to 47 percent, respectively, and the final pre-election Field poll found 45 percent supporting Clinton and 43 percent backing Sanders.
Although Clinton has a significant delegate lead over Sanders, which she is likely to maintain unless the Vermont senator is able to convince hundreds of superdelegates who have declared their preference for Clinton to back him instead, Sanders has resolved to keep fighting, arguing that a big California victory could turn tides in his favor. Clinton is well aware of how bad a California loss would look for her campaign, as she still needs Democrats to believe she's the right person to take on Donald Trump in November.
Immigration is a critical factor in California. The Hill reports 43 percent of voters say it is "very important," and 39 percent say "somewhat important." The Golden State's large Latino population, which surpassed that of the state's non-Hispanic whites in 2014, will be a decisive demographic in the state. Keeping with a national trend, young Latinos prefer Sanders to Clinton, who has been running a 30-second ad in Spanish in the state.
"I am a diehard Clinton supporter. I have wanted her to win since 2008," said Kathryn Ramírez, a teacher and school board member, in and interview with The Hill. Ramírez, whose entire family supports Clinton, said the former Secretary of State is "very qualified and she really cares about moving us forward."
Recent high school graduate Tomás Mier will vote for the first time on Tuesday. Mier, the son of Mexican immigrants, told The Hill he is "definitely a Sanders supporter."
"I like his position on immigration. He has a plan for immigration reform," said Mier. "And he's talking about raising the minimum wage. I feel like he's rooting for us (young people). I don't have any experience voting before, but I feel that this election has been like no other election before. We are very enthusiastic about voting."
Despite his preference for Sanders, Miers is not among the "Bernie or Bust" faction of the Vermont senators' support. If Clinton gets the nomination, Miers says he will back her.
"This is about making sure that Donald Trump doesn't become president," he said. "We can't have someone like him. I fear that my family will be separated if he becomes president."
Professor of Mexican American Studies at San Jose State University Phil Tabera is still undecided.
"I'm leaning toward Sanders because I sympathize with what he's trying to do," Tabera said, "but I'm not sure it would work, especially if there is a Republican House and Senate. I do understand things have to change, but Hillary Clinton knows the system. I'm real torn between the two."
Clinton, who this weekend won the Virgin Islands caucuses and the Puerto Rico primary, is reportedly less than 30 delegates shy of a majority and is expected to win most of New Jersey's 142 delegates on Tuesday.
On CNN's "State of the Union," Clinton said she is very proud of her California campaign, and that she believes by Tuesday she "will have decisively won the popular vote" and "will have decisively won the pledged delegate majority."
Based on the delegate math, campaign war chest, and her popular vote advantage, Clinton's allies assert the race for the Democratic nomination is over. But Sanders insists he will fight until July's Democratic convention in Philadelphia.
"It is extremely unlikely that Secretary Clinton will have the requisite number of pledged delegates to claim victory on Tuesday night," Sanders said at a conference Saturday in L.A.'s Little Tokyo, where he voiced disdain for the media's counting of superdelegates in their tallies.
"At the end of the nominating process, no candidate will have enough pledged delegates to call the campaign a victory. That will be dependent upon superdelegates. In other words, the Democratic National Convention will be a contested convention."
The Field poll found much greater enthusiasm for Sanders than for Clinton in California. Nearly two in three voters backing Sanders, 65 percent, say they are enthusiastic in their support of his candidacy; less than half of Clinton supporters feel the same way. And while both Democrats are viewed favorably by the probable Democratic primary electorate, 76 percent have a favorable opinion of Sanders, compared to 64 percent for Clinton.
Field reports this as a "relatively new development and is due to a decline in the proportion of likely Democratic primary voters who have a favorable opinion of Clinton over the past four months."
Advisors told CNN that while Sanders fully intends to fight until the Democratic convention, he has also not forgotten his duty to help keep Donald Trump out of the White House. At this point though, they said, the Vermont senator hasn't thought past the convention.
The Clinton and Trump campaigns are already aiming for each other's Achilles heels, with Trump dredging up scandals from the 1990s and Clinton targeting Trump's racism, instability, and business failures. The numbers reported by The Hill show in California, 33 percent of voters say being reminded of the 1990s and the Clinton White House makes them feel more negative than positive about Hillary Clinton's campaign, while 52 percent reported that hearing about Trump's past business dealing gives them a negative impression of the presumptive GOP nominee.
Clinton leads Trump by a wide margin among California voters in a hypothetical November election, 48 to 33 percent. The prospect of casting ballots against their candidate's opponent is fueling many voters' drive to the polls, with 42 percent of Sanders' supporters looking forward to voting against Clinton and 41 percent of those backing Clinton excited to vote against Sanders.
Photo: U.S. Democratic presidential candidate Hillary Clinton takes a picture with supporters during a campaign stop in Fresno, California, United States June 4, 2016.   REUTERS/Mike Blake