What We've Learned About Jeb Bush So Far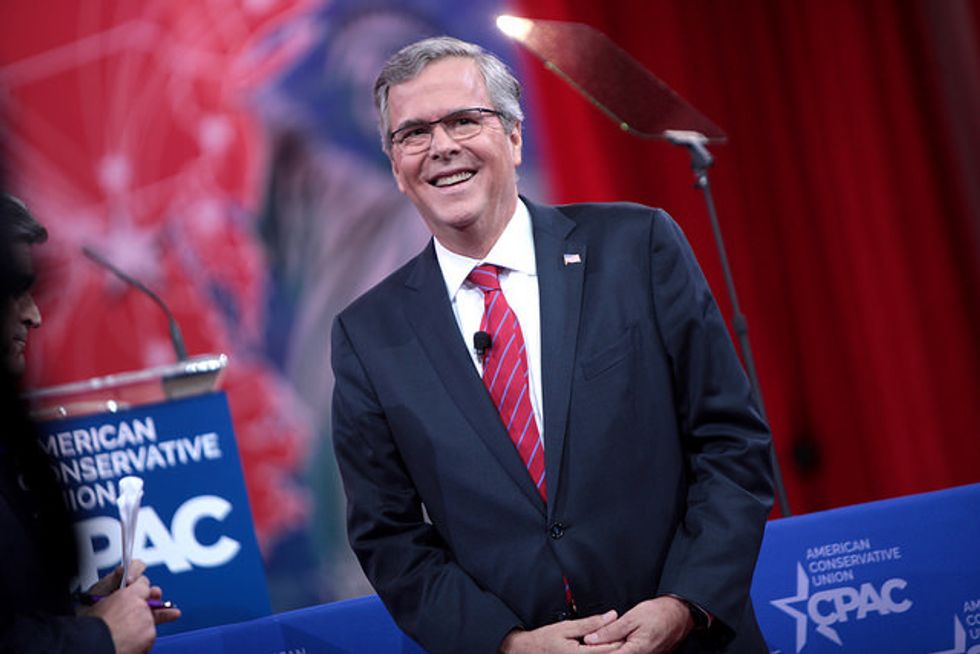 By Michael C. Bender, Bloomberg News (TNS)
Before this month, Jeb Bush hadn't engaged with voters on his own behalf since 2002, when he won his second, and final, four-year term as Florida governor. Then, over the course of 17 days, the likely presidential candidate changed that by campaigning in each of the four states that hold the earliest presidential nominating contests. Bush's team packed 400 supporters into a northwest Las Vegas community center. He introduced himself (but didn't partake) at a pizza buffet in Iowa, attended a New Hampshire house party, and met with Republicans for breakfast at a Brazilian steakhouse in South Carolina.
The jaunt came as Bush eased off the gas of his fundraising blitz. (Bush is back at it this week, raising money in Philadelphia on Tuesday; in Dallas on Wednesday with his brother, former President George W. Bush; and in Houston on Thursday with his father, another former president, and mother.) Reporters were welcomed at six of the events over 11 days this month, and Bloomberg Politics was one of the few organizations to attend them all.
The whole swing had an old-home-week feel to it. The 62-year-old Bush has been campaigning in these states off and on since he was in his 20s, when his father, former President George H.W. Bush, was exploring a White House run. At the end of the four-state excursion, I asked Jeb Bush — who has never had much stomach for questions verging on psychoanalysis — about what he'd learned. "I'm learning along the way," he said. "I'm determined to do it."
What have we learned about the man and his burgeoning campaign? Here are a few scribbles from the notebook.
He doesn't want to be a rock star.
Bush's entourage is limited to the number of staff that fits into a rented SUV. Unlike many candidates who prefer the back seat, the 6-foot-4 former governor rides shotgun. There's no law enforcement motorcade, no blaring music before he's introduced. These seemingly benign details provide some insight into Bush, and an early strategy.
For one, Bush is low key. He's described himself as an introvert and joked during an event in Myrtle Beach, S.C., that he struggles to promote himself out of fear that he'll appear to be bragging, thereby invoking the wrath of his mother, former First Lady Barbara Bush.
"She's back there, isn't she?" Bush said, pointing behind himself without turning to look, as a couple hundred Horry County Republicans laughed. "I see her looming. Barbara Bush, with the gray hair and the pearls, is that her? She's about ready to whack me across the ear, saying, 'Don't brag about yourself.' I've got to overcome this and start doing what people in public life do, more often then they should."
What's clear is that this phase of the Bush campaign, or as he puts it, the "seriously-considering-the-possibility-of-running-for-president" stage, matches well with his personality. Bush's team is leveraging his strengths and he's positioning himself as a low-key policy leader. It also creates a favorable contrast with President Barack Obama, who conservatives contend is more of a celebrity than a leader, and his brother, who never sold himself as a policy wonk and traveled with a sizable staff from the start of his first presidential campaign.
He's smart, and that could be a weakness.

First, the clear upside. Bush fielded at least 50 questions from audience members over the course of the six days, plus 20 or so from reporters, including one in Las Vegas who asked her questions — and got her answers — in Spanish, and there is basically no blooper reel.
Bush generally answered each question as thoroughly as he could, and there were exactly zero gaffes, certainly nothing resembling the missteps on vaccinations or Obama's patriotism that his theoretically more practiced potential rivals have had to clean up.
If there was a miscalculation, it was a sartorial one. On St. Patrick's Day in the exceedingly charming South Carolina city called, ahem, Greenville, Bush showed up to the first event without wearing anything approaching a shade of emerald, chartreuse or lime. By that afternoon, heading into a news conference with Governor Nikki Haley, Bush had swapped out his bright blue tie for something more appropriate.
It bears mentioning that Bush's performance came before mostly friendly crowds. Few national reporters attended his first retail event at the Mountain Shadows Community Center in northwest Las Vegas, after his team sent out a news release with only about 24 hours notice. One question Bush took at that event came from a woman who asked him to please repeat awonderful answer she saw him give on Fox News a few days earlier.
The slight risk with Bush's wonkiness is that crowds can zone out when he answers policy-driven questions with granular detail. That happened when Bush was asked about net neutrality during an event at the Pizza Ranch in Cedar Rapids, Iowa — many in the audience where starting at the ceiling or fidgeting with their phones after a few minutes.
"The idea of regulating access to the Internet with a 1934 law," Bush said, "is one of the craziest ideas I think I've ever heard." Regardless of where you fall on net neutrality, it's hard to imagine many who would include anyFCC policy in alist of craziest-things-ever.
What you see …

There's no question Bush is skilled, in his own way, on the stump. He's been through these early states many times as a "blocking guard," as he described it, for other presidential candidates, including his brother and father.But there's a reason he spends more time answering questions from the crowd than trying to deliver a stem-winder. (In Greenville, he spoke for only about five minutes before opening it up to questions.) He's never been that great at the rousing, inspirational speech, even as governor. "If you've ever seen me read a TelePrompTer, I'm pretty stinky at it," Bush said in Myrtle Beach. "This is all I got."
Yet there was no real awkwardness as Bush spent a few minutes at each event shaking hands and smiling for selfies. He did his best to charm, slapping backs with supporters and saying, "God bless you," to those who say they voted for his father or brother. It's an open question the last time that Bush frequented a pizza buffet, but in Iowa, he asked several times about where to find the chow. (Bush, who has shed weight in preparation of a campaign thanks to the Paleo Diet, left the event with some takeout salads, but no pizza.)
And Bush showed he's not out of practice when it comes to delivering a solid quote, a skill that makes reporters happy and can stick in the minds of audience members. Here are a handful:
"I got to act on conservative principles, not just yap about 'em." — Bush speaking in Las Vegas about his record as Florida governor from 1999 to 2007.
"Don't insult me, I'm a governor." — Bush, also in Vegas, after a member of the audience addressed him as "Senator."
"We were goin' and blowin', let me tell you." — Bush in Urbandale, Iowa, describing the long list of education changes he pushed through the Florida Legislature, including the nation's first statewide school voucher program that was ultimately deemed unconstitutional.
"It's going to be the Cookie Monster that you can't stop." — Also in Iowa, Bush characterized how debt service and entitlements may eventually consume the federal budget.
"The horns kind of subsided in me." — Bush describing in Dover, N.H. how, after losing the governor's race in 1994, he visited 250 schools and built relationships in the education world.
"The center needs to be rebuilt." — Bush in Greenville, S.C., lamenting the partisan gridlock in Washington.
Bush also used these early state visits to try out a likely applause line for the lofty, emotional speech that he'll have to give sooner or later."If we fix a few big things," Bush said after speaking for 15 minutes in Las Vegas, "this could be the greatest time to be alive in America's history. And I honestly believe that. And I hope you do. And I hope that you urge, and beg, and cajole — however you want to do it, I hope you urge elected officials to begin to lead again."
By his last public appearance in South Carolina, Bush had it streamlined.
"If we get this right, we can restore American greatness," he said, "We can create an opportunity society again. It doesn't matter where you came from, where you started in life. You can pursue the American dream just like everybody else. That's worth fighting for."
(c) 2015 Bloomberg News, Distributed by Tribune Content Agency, LLC
Photo: Former Governor Jeb Bush of Florida speaking at the 2015 Conservative Political Action Conference (CPAC) in National Harbor, Maryland. (Gage Skidmore/Flickr)