What World Leaders Have Been Saying About Donald Trump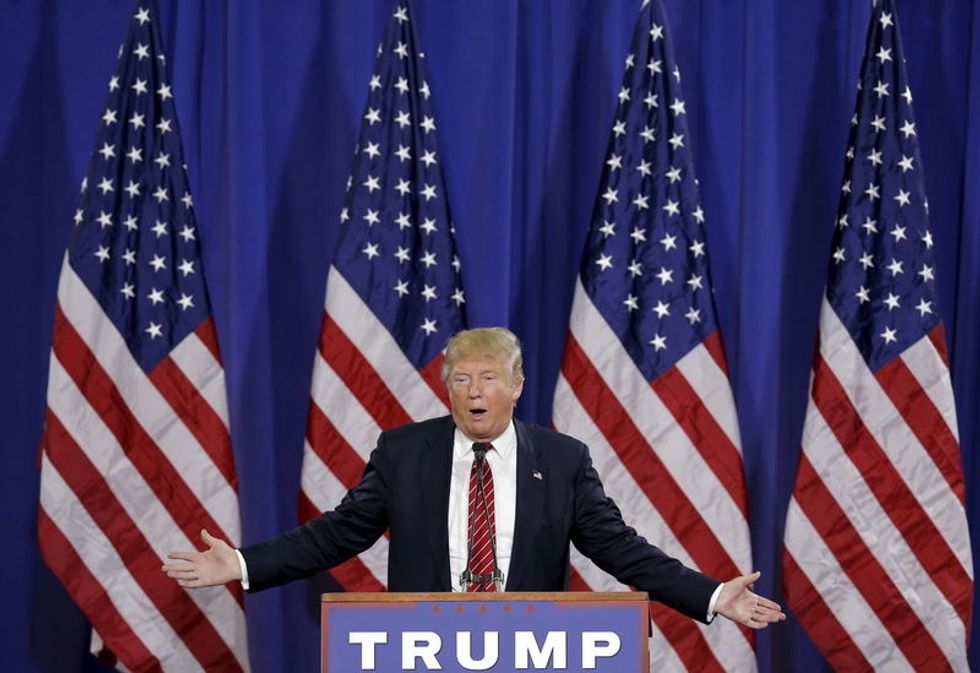 While Donald Trump has been deeply polarizing at home, foreign leaders and dignitaries have a near-unanimous view of him. Outside of his increasingly fascistic rallies, the rest of the world is shocked by the antics of the Republican Party's lead candidate.
Let's start with Canada, now led by a Liberal government after a decade of divisive Conservative leadership. Canadian Prime Minister and internationally renowned heartthrob Justin Trudeau has avoided getting caught in Trump's mud-slinging crossfire. "I don't think it comes as a surprise to anybody that I stand firmly against the politics of division, the politics of fear, the politics of intolerance or hateful rhetoric," he said during a town hall last December with Maclean's, a Canadian weekly. He has made a point of showing the differences between his "sunny ways" and Trump's blatant racism, especially in light of the fear-driven and racist election strategies used by the incumbent Conservative Party during the October 2015 elections.
What about Trump's favorite punching bag, Mexico? The unwilling treasury of The Great Trump Wall has a long, frequently unhappy history with its powerful northern neighbor. Former Mexican president Vincente Fox summed up what seems like a common sentiment — "I'm not paying for that fucking wall!" — and current Mexican President Enrique Peña Nieto, perhaps demonstrating a sense of diplomatic civility for Trump's sake, condemned his comments but wouldn't go any further: "Some have hoped for the president to take a position on what Trump has said. The government […] fully discredits and condemns any expression of a discriminatory character and [any expression] that specifically hurts Mexicans," he said.
The Europeans are, frankly, unamused. "I think his remarks are divisive, stupid and wrong, and I think if he came to visit our country, I think he would unite us all against him," said British Prime Minister David Cameron a week after Trump made his infamous proclamation to ban Muslims from entering the U.S.
French Prime Minister Manuel Valls, whose country suffered terribly during the Paris attacks, took on Trump's race-baiting. "Mr Trump, like others, stokes hatred: our ONLY enemy is radical Islam," he tweeted shortly afterwards. His sentiment was not necessarily shared by all French politicians. French far right leader Jean Marie Le Pen, founder of the far right National Front Party who later kicked him out because he was so racist, has been upbeat about Trump's candidacy. In a tweet, he wrote, "If I were American, I would vote for Donald Trump." The endorsement came only days after Trump pretended to not know who David Duke was, after the former KKK Grand Wizard endorsed him.
German Vice Chancellor and Economic Minister Sigmar Gabriel compared Trump to Marine Le Pen and Geert Wilders, two notoriously right-wing politicians in Europe. "Whether Donald Trump, Marine le Pen, or Geert Wilders–all these right-wing populists are not only a threat to peace and social cohesion, but also to economic development," he said only days ago. All were guilty of making unrealistic promises to their followers, he said, but he acknowledged that globalization needed to be reformed in a more equitable way. The loss of working class jobs among white Americans to cheaper labor markets has fueled much of Trump's support this election.
Russian President and noted strongman Vladimir Putin has had positive words for Trump. "He is a bright and talented person without any doubt," Putin said in December 2015. He added that Trump is "an outstanding and talented personality." It's only natural that Trump would be attracted to the leadership qualities of Putin, who has had political rivals killed or exiled.
In Egypt, the state's official religious body said that "Trump's hate rhetoric towards Muslims as a threat to the American community is totally erroneous since Islam exhorts peace and coexistence among all humans and it is unfair to blame all Muslims for the actions of a minority that manipulates the fundamentals of the religion." (Although it's unclear whether or not the body was equally as outspoken when Egyptian general-turned-president Abdel Fattah Sisi's forces killed hundreds of Muslim Brotherhood supporters after he overthrew Egypt's only democratically elected government.)
As the American election draws nearer, more international leaders will likely speak out against Trump, especially if he wins the Republican nomination. Whether or not his supporters realize the threat he presents to the rest of the world, they're all making an effort to let us know.
Photo: Donald Trump speaks at a campaign rally in Cadillac, Michigan, March 4, 2016. REUTERS/Jim Young