What Would The 2016 Republican Hopefuls Do With An Iran Deal?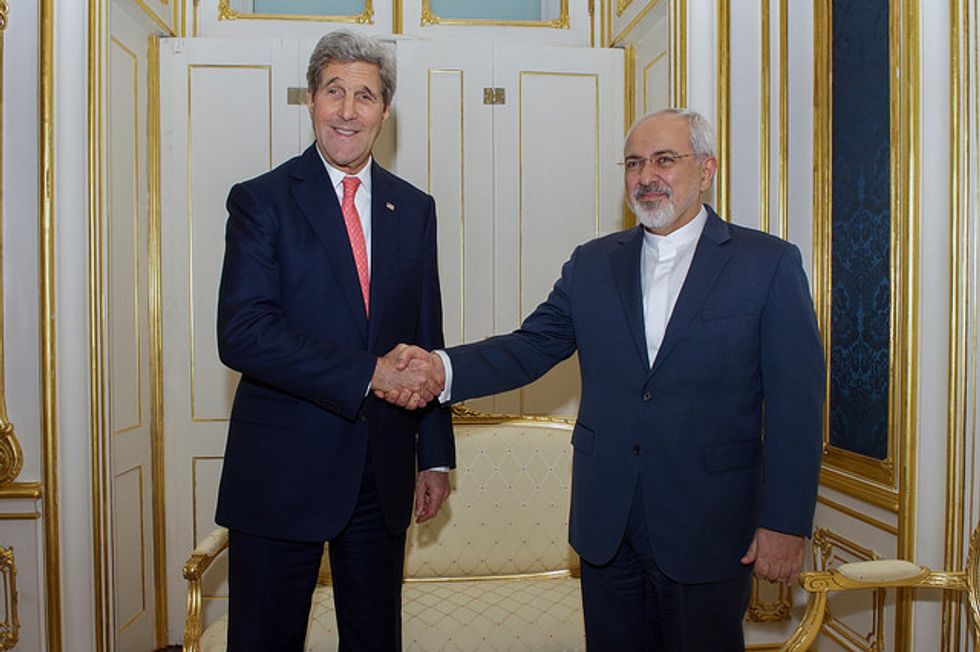 By Ben Brody, Bloomberg News (TNS)
WASHINGTON — On Wednesday, Scott Walker became the latest potential Republican presidential candidate to say he would reject a nuclear deal between the U.S. and Iran if it's not approved by Congress. Speaking on Hugh Hewitt's radio show, the Wisconsin governor said he would "absolutely" reverse course on a deal on "day one" of his presidency, even if it were signed by President Barack Obama.
The ongoing negotiations have been a rallying point for 2016 contenders; the four Republican senators who are thinking about a presidential campaign — Ted Cruz, Lindsey Graham, Rand Paul, and Marco Rubio — all signed Senator Tom Cotton's (R-AR) letter to Iran's leaders warning that the next president could reject a deal. Here's what the contenders have said:
TED CRUZ
The Texas senator, the only major Republican to have declared a run, told a New Hampshire audience on March 16 that they should press all the candidates on whether they'd "be willing to repudiate" an Iran deal that didn't have congressional approval. "Any candidate, in my view, who will not say 'yes' to that is not fit to serve as commander-in-chief of this country," Cruz said, according to CNN. He said that if the United Nations Security Council lifted sanctions on Iran, it "dramatically increases the likelihood that a new president in 2017 will face no other choice but launching military strikes against Iran to stop them from acquiring nuclear weapons."
LINDSEY GRAHAM
The South Carolina senator, who chairs the Senate Appropriations Committee's subcommittee on State, Foreign Operations, and Related Programs, wouldn't wait to be elected president. He has said he would "absolutely" use his position to cut funding to the United Nations if it lifted sanctions on Iran. "Twenty-two percent of the funding for the United Nations comes from the American taxpayer and I'm in charge of that account," Graham said March 20. "I'm not going to allow the United Nations to be used as a way to get around the United States Congress for a deal that affects the very existence of Israel and our own national security."
MARCO RUBIO
The Florida senator has repeatedly said he would revoke a deal, and he reiterated it on Hewitt's show Tuesday, a day before Walker spoke. "Yes," Rubio said when Hewitt asked if he "would revoke that deal." "It's not an enforceable deal," Rubio said. "It won't survive this president."
RAND PAUL
On January 25, the Kentucky senator asked Cruz and Rubio if they were "ready to send ground troops into Iran" or bomb the country. He said he was "a big fan of trying to exert and trying the diplomatic option as long as we can" and that votes for sanctions in the middle of negotiations could ruin them. He then signed on to the March eighth Cotton letter, which the White House said undermined the negotiations. Paul later explained his signature, telling a New Hampshire crowd on March 20 in New Hampshire that he did so because he wants "the president also to negotiate from a position of strength. I want him to be able to go to the Iranians and say, 'Congress is going to have to vote on this, because Congress put these sanctions in place. To remove them, Congress will have to vote on it, so you will have to give up more.' "
BOBBY JINDAL
The Louisiana governor endorsed the Cotton letter on March tenth. "Make no mistake — any Iran deal that President Obama makes is not binding on a future president," he said in a statement at the time.
RICK PERRY
"If President Obama signs an agreement that the Congress cannot support, our next president should not be bound by it," the former Texas governor said in a March fifth video.
MIKE HUCKABEE
Speaking to Newsmax TV on March 19, the former Arkansas governor said a widely reported deal provision that would allow Iran to maintain 6,000 centrifuges "is the equivalent of saying, 'All right, we got a pyromaniac in our neighborhood. We're not going to let him have a 50-gallon drum of fuel and a cigarette lighter, but we are going to let him have a 10-gallon gas can and a book of matches. That way we'll just hold him back and he can't burn as much down.' Would anyone in his or her right mind allow that? Of course, we wouldn't. This is the true essence of insanity." He did not weigh in on what he would do with the deal if it were signed.
JEB BUSH
In an essay published Wednesday in the National Review, the former Florida governor called the deal "a potentially risky agreement that may well allow Iran to intimidate the entire Middle East, menace Israel, and, most of all, threaten America," but he did not say what he would do if Obama signed it.
RICK SANTORUM
"I am grateful that the U.S. Senate is exercising their constitutional prerogative to stop this reckless diplomacy by the Obama-Kerry-Clinton foreign policy team," the former Pennsylvania senator said on March tenth.
JOHN KASICH
The Ohio governor said the deal should get congressional approval in a visit to New Hampshire this week, according to the Columbus Dispatch. He also attended the March third address to Congress by Israeli Prime Minister Benjamin Netanyahu, who urged the U.S. to reject a deal.
CARLY FIORINA
"Republicans need to continue to work toward a bipartisan, veto proof majority of senators who will demand their rightful and constitutional place in the negotiation approval process," the former CEO of Hewlett-Packard told the Huffington Post on March tenth.
Photo: U.S. Emabassy in Vienna via Flickr