What You Should Know About Khashoggi: 5 Key Facts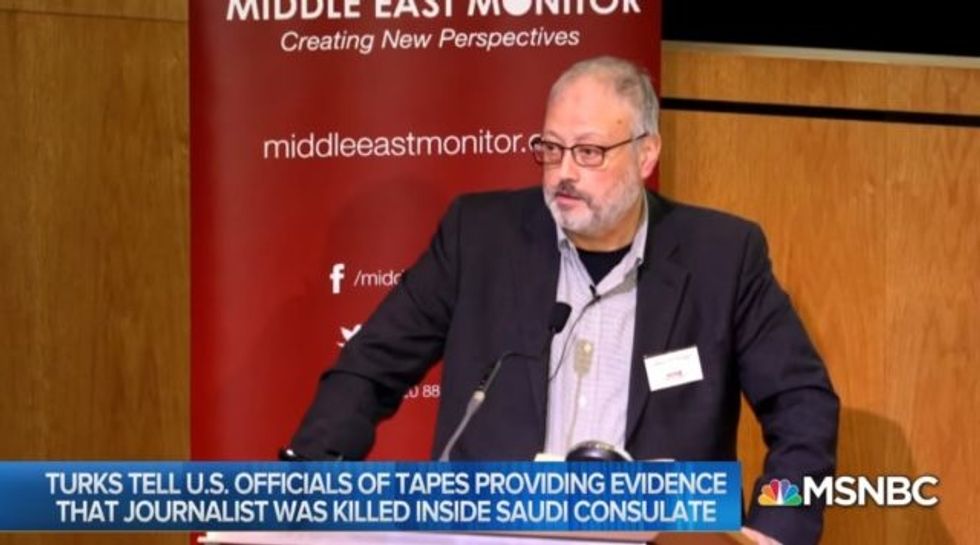 Reprinted with permission from AlterNet.
The disappearance of Saudi journalist and Washington Post columnist Jamal Khashoggi in Istanbul, Turkey on October 2 and allegations of foul play have inspired considerable outrage, with everyone from Sen. Bernie Sanders on the left to journalist Max Boot on the right demanding answers. Turkish government officials are alleging that Saudi government officials lured Khashoggi to the Saudi Consulate in Istanbul with the intention of harming him—and that there are video and audio recordings proving that after he was beaten, tortured and killed inside the Consulate, the body was dismembered.
The Saudi government has denied the allegations, insisting that Khashoggi left the Consulate unharmed that day. But there are no videos of the journalist exiting the Consulate, only entering it.
Khashoggi, who was 59 at the time of his disappearance, was an accomplished journalist who was fluent in both Arabic (his native language) and English. Here are some interesting facts about Khashoggi's history.
1. Khashoggi Interviewed Osama bin Laden Several Times
Long before the 9/11 terror attacks, Khashoggi knew Osama bin Laden—and he interviewed the notorious al-Qaeda leader on several different occasions. Khashoggi first met bin Laden back in the 1980s, when bin Laden was fighting the Soviets in Afghanistan. At that point, bin Laden hadn't become so obsessively anti-American. Khashoggi, reportedly, tried to persuade bin Laden to renounce terrorism—and Saudi intelligence hoped that Khashoggi could talk bin Laden into making peace with the Saudi royal family. But bin Laden became more and more extreme and bloodthirsty as the 1990s progressed, and his fanaticism reached a horrifying peak on September 11, 2001.
After the al-Qaeda terrorist's death in May 2011, Khashoggi was interviewed by CNN and explained that the methods bin Laden adopted were a perversion of Islam. Looking back, Khashoggi said that when he knew bin Laden back in 1985, he couldn't begin to imagine that he would resort to such "ugly" and "horrific" methods in the future.
2. Khashoggi Was Fired from Al Watan for Allowing Criticism of Ibn Taymiyya
After serving as editor in chief of Arab News (a major English-language newspaper in Saudi Arabia) from 1999-2003, Khashoggi became editor-in-chief of the Saudi daily Al Watan. But after only about two months at Al Watan, he was fired for letting a columnist criticize Ibn Taymiyya—a Sunni theologian who lived from 1263-1328, according to historians, and was a controversial figure in Islam. Taymiyya was an influence on the extreme, ultra-fundamentalist Wahhabi sect, and his belief that it is OK to wage jihad against other Muslims influenced the ideology of al-Qaeda and other far-right Islamists.
3. Khashoggi Was a Major Critic of Saudi Crown Prince Mohammad bin Salam
Writing for the Washington Post, Khashoggi was a frequent critic of Saudi Crown Prince Mohammad bin Salam, a.k.a. MBS—and because of that criticism, he feared he would be arrested in Saudi Arabia as part of MBS' crackdown on human rights. Khashoggi, since 2017, lived in exile in Virginia and was a legal resident of the United States. U.S. intelligence has intercepted communications in which Saudi government officials plotted against him, but they were unable to lure him back to Saudi Arabia—and according to Turkish officials, they lured him to Istanbul instead and murdered him on October 2.
4. Khashoggi's Uncle Was Arms Dealer Adnan Khashoggi
Born in Medina, Saudi Arabia on October 13, 1958, Khashoggi came from a very wealthy family. His grandfather was Mohammad Khashoggi, a Saudi doctor who served as the personal physician of King Abdulaziz al Saud—the first monarch of the modern-day Kingdom of Saudi Arabia. And his uncle was the late billionaire arms dealer Adnan Khashoggi, who was involved in the Iran/Contra scandal in the 1980s.
5. Khashoggi's Connection to the U.S. Spanned Decades
Khashoggi had a long history of writing in both Arabic and English, and he received his education in both languages as well. As a young adult, he moved to the United States and attended Indiana State University in Terre Haute in the late 1970s and early 1980s. But he didn't major in journalism, and Khashoggi graduated with a BA in business administration in 1982.
Cody Fenwick is a reporter and editor. Follow him on Twitter @codytfenwick.