At WHCA Dinner, Michelle Wolf Infuriates Thin-Skinned Trumpists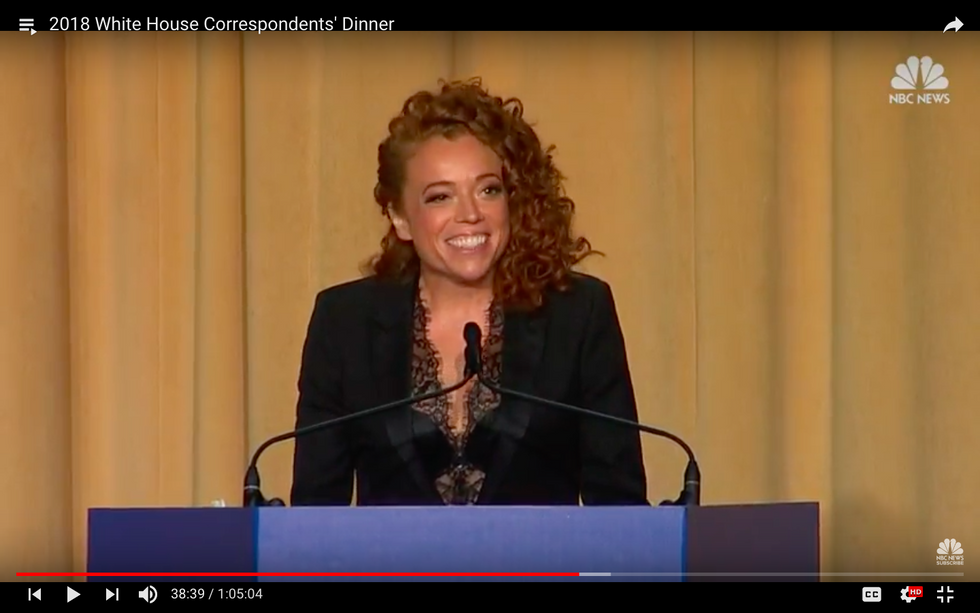 "Like a porn star says when she's about to have sex with Donald Trump: 'Let's get this over with.'"
As Michelle Wolf's opening joke at the White House Correspondents Dinner, that line drew laughs and gasps. Funny or not, it captured the feelings of many of the snowflakes in the audience long before the ceremonies concluded. Several angry Trumpists walked out while Wolf was still speaking.
The defenders of a president best known for his coarse, mean, and mocking style were offended by the comedian's relentless stream of harsh humor directed not only at him but his retinue. The female Trump enablers came in for especially tough treatment, including press secretary Sarah Huckabee Sanders, communications aide Kellyanne Conway, and daughter/hustler/presidential assistant Ivanka Trump.
While Conway and Sanders were both present, Trump skipped the festivities for the second year in a row. Notoriously unable to take the kind of treatment he regularly dishes out, the president has yet to recover from the jokes at his expense delivered with verve at a previous correspondents' dinner by Barack Obama himself.
Opinions among the journalists in the room were divided. Maggie Haberman, celebrated White House reporter for The New York Times, posted a tweet expressing offense at the treatment of Sanders, claiming that she had endured "intense criticism of her physical appearance." But David Corn of Mother Jones noted that the Trumpists whining about Wolf's pointed humor "live in a very thin glass house."
Wolf went after Sanders, sitting nearby on the dais, with strong feminist gusto.
"I have to say I'm a little star-struck," she said. "I love you as Aunt Lydia in The Handmaid's Tale," the cable series based on Margaret Atwood's novel of a totalitarian and misogynist America. "Mike Pence, if you haven't seen it, you would love it."
She went on (and on and on): "I actually really like Sarah. I think she's very resourceful. She burns facts and then she uses that ash to create a perfect smoky eye. Like maybe she's born with it, maybe it's lies. It's probably lies….And I'm never really sure what to call Sarah Huckabee Sanders, you know? Is it Sarah Sanders, is it Sarah Huckabee Sanders, is it Cousin Huckabee, is it Auntie Huckabee Sanders? What's Uncle Tom but for white women who disappoint other white women? Oh, I know. Aunt Coulter."
Turning to the first daughter, she said, "There's also, of course, Ivanka. She was supposed to be an advocate for women, but it turns out she's about as helpful to women as an empty box of tampons. She's done nothing to satisfy women. So, I guess like father, like daughter."
As for Conway, Wolf quipped: "She has the perfect last name for what she does, Conway … You guys have got to stop putting Kellyanne on your shows. All she does is lie. If you don't give her a platform, she has nowhere to lie. It's like that old saying, if a tree falls in the woods, how do we get Kellyanne under that tree? I'm not suggesting she gets hurt. Just stuck. Stuck under a tree."
To offended audience members, the 32 year-old comic mockingly suggested that they "should have done more research" before inviting her to host. But by last night it was far too late: "It's 2018 and I'm a woman so you cannot shut me up. Unless you have Michael Cohen wire me $130,000. Michael, you can find me on Venmo under my porn star name — Reince Priebus."
Complete video of the dinner proceedings can be found on Youtube, with Wolf's standup beginning at about 38:00.. Below is a clip reel of selected snarks from the Washington Post.