Don't Look Now, But The Presidential Campaign Is Upon Us
@LucianKTruscott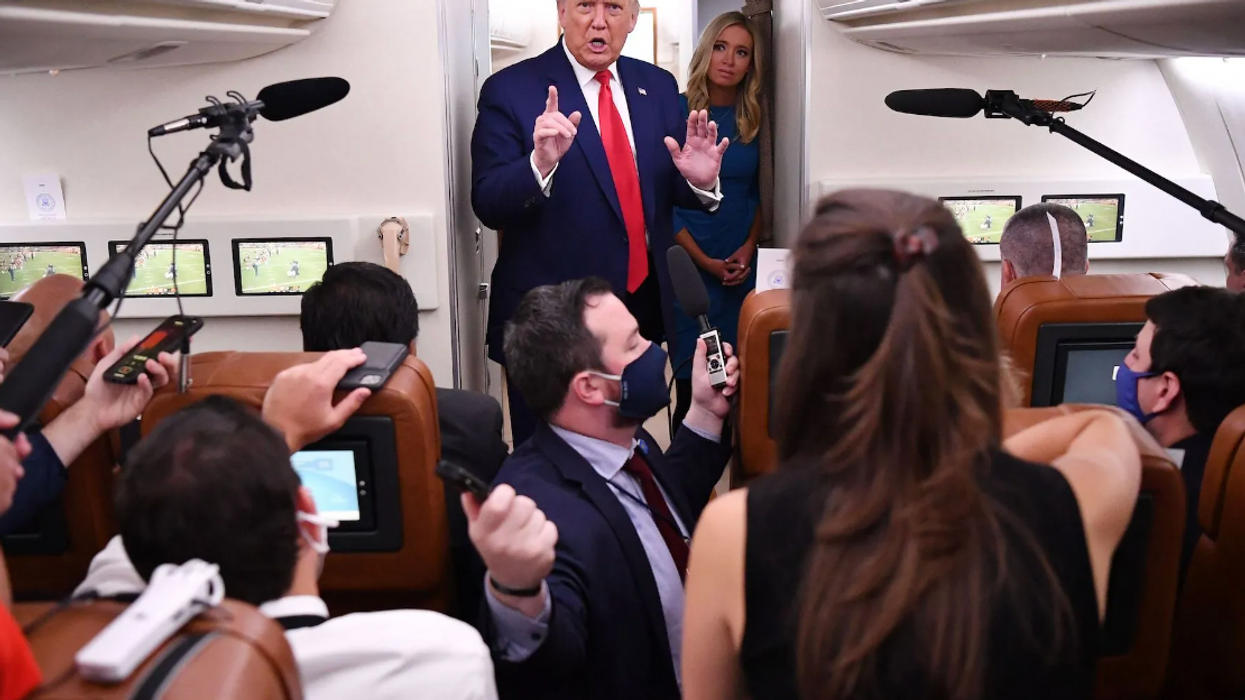 This is the first of what is sure to be way too many campaign columns to come. If you'd like them to land in your email inbox every time I write one, please buy a subscription.
There is very little I dislike more than covering electoral politics, but here I am, filling up my tank this time with coffee, not gas, getting ready to follow the bus once again. The bus, in case you are wondering, is a reference to the gang of political reporters who cover political campaigns. Tim Crouse's epic The Boys on the Bus, which was about the experience of covering the 1972 presidential campaign between Richard Nixon and George McGovern, introduced non-professionals to the cloistered world of the gang – and yes, they were all male back then – of political reporters covering that campaign.
I covered, in my own fashion, the presidential campaign that year, chiefly by writing a 6,000 word article on the Republican National Convention in Miami for the late-lamented Saturday Review. I have no idea how or why the editors of that relatively straight-laced journal reached down into the so-called underground press, of which The Village Voice was the presiding Grande Dame, and gave me that plum assignment. The underground press, for those born after I-don't-know-what-year, was the group of newspapers and some magazines like Creem and Rolling Stone which occupied the dark space beneath the sunlit mainstream press like the Washington Post, New York Times, Boston Globe, Los Angeles Times, Baltimore Sun, Chicago Tribune – not to mention CBS, NBC, and ABC, all of which had reporters on the bus covering the Nixon and McGovern campaigns.
Needless to say, I wasn't on the bus that year or any other, thus I followed the bus, as it were, covering, in addition to the Republican convention, lesser campaigns such as John Kerry's losing run for Congress in '72 in Lowell, Massachusetts. The most fascinating campaign I covered that year was for a seat on the county board of supervisors in White County, Illinois, far enough south in the state that the nearest "big" cities were Evansville, Indiana, and Paducah, Kentucky. In that race, "Pud" Williams, the Democrat, was running against "Fat" Ziegler, the Republican. The story I wrote for the Voice covering Pud's campaign was called "Pud and Oop vs. Fat."
A fellow farmer, Oop Gardner, was Pud's campaign manager, whose job chiefly consisted of driving out to whatever field Pud was plowing or planting. Oop would pull up on a farm road and run out to Pud's tractor and give him the news about Fat's latest lie or vote-buying scheme, and together, Pud and Oop would decide how best to counter Fat's most recent political move, and Pud would go back to plowing or planting, and Oop would drive over to the nearest general store that had a pay phone and issue orders to friends of the two men who were serving as campaign workers, and they in turn would man the rumor mill that was centered in cafes and gas stations and spread the word about Fat's scams and questionable promises, which mainly consisted of assuring voters that he would endeavor to get them jobs on the county road crew.
It was politics at its most basic, county level, but Pud's campaign involved everything that was being covered on the national campaign press bus – issues, turnout, appeals to the youth vote, attempts to manipulate voting laws, buying votes, personalities, grudges dating to old campaigns, families split down the middle politically – you name it, that campaign in the rich, flat farmland of southern Illinois had it all. The bus was a borrowed pickup truck, the hotel was a spare room in my friend David Vaught's house, and best of all, the candidates were not named Nixon or McGovern.
Oh, for the days when presidential campaigns started the year of the election with the two parties' state primaries followed by a general election that didn't really get going until the day after Labor Day. It's depressing to think that the current presidential race is already underway. If you read online stuff like Politico Playbook and Axios and if you watch MSNBC, the campaign has been underway since the last one ended, covering national political campaigns having turned into a full-time job at least a couple of decades ago. They were running presidential polls practically the day after Biden's inauguration.
It is called the horse race for reasons that are at once obvious and disgusting -- the whole who's ahead in the polls, who's raising the most money, who's talking about running, who's "putting out feelers" – so you know not only what's coming but what's already here. This year's horse race was centered on the questions of will he or won't he followed by when will he – about Donald Trump announcing, naturally. As questions go, they didn't amount to much, but then the political pros in the journalism game don't require questions when raw speculation, informed or not, is always there waiting for a few hundred words in a column or a few flapping lips on the cable news shows. But don't you wish they'd come up with somebody new to interview? I mean, James Carville was Bill Clinton's campaign manager 30 years ago, and Steve Schmidt held the reins for John McCain 15 years ago.
And now the horse race has begun again. Every time Ron DeSantis gets indigestion, there are political reporters nearby to report what key he's burping in. Chris Christie – remember the Governor of the George Washington Bridge? – chirped on one of the talk shows recently about Republicans who might announce for president, and it was like Moses had Fed Exed the tablets to a hundred newsrooms. If another story appeared about Trump's "stalled" campaign, I was ready to turn off my newsfeeds and throw a comforter over my head and hide out for the duration.
You had to be deaf not to hear the collective sigh of relief by political journalists when Trump scheduled his first two official campaign appearances over the weekend. He spoke at the New Hampshire Republican Party's annual meeting in some burg called Salem and then shot down to Columbia, South Carolina, where he introduced his state campaign leadership team, according to a report on PBS. Coverage of the South Carolina appearance centered on how many state Republican officals the Trump campaign wasn't able to turn out, apparently because some were holding out for Nikki Haley, who is said to be considering a run for president herself.
Listen to some of the coverage: PBS interviewed Dave Wilson, president of conservative Christian nonprofit Palmetto Family, about support for Trump in the state. I have never heard of him either, but steel yourself, because we're in for many more interviews with minor characters and political hangers-on as the year progresses. Anyway, Dave was good enough to tell PBS that while "Trump did some phenomenal things when he was president," conservative voters in South Carolina weren't happy with Trump's recent comment that Republicans who don't want exceptions for rape or incest in the anti-abortion laws sweeping the country were responsible for the dismal election returns suffered in the midterms last November.
The Washington Post covered Trump's appearance in New Hampshire by emphasizing that some Republicans at the convention "would prefer a new face in 2024." Karen Umberger, a delegate to the convention, told the Post that "it's time for a younger person or someone new to have their time."
New York Times, in covering Trump's New Hampshire appearance, said "his speeches carried a typically Trumpian timbre." Among other promises, "Trump [said] his candidacy was a shield for the country from communism and Marxism and vowed to keep transgender athletes out of women's sports."
"I am more angry now and I am more committed now than ever," Trump told the Republican delegates. The paper went on to note that "on his social media platform, Truth Social, Mr. Trump has been posting videos about his policy positions, including plans to protect Social Security and Medicare and ban Chinese citizens from owning U.S. farmland or telecommunications, energy, technology or medical supply companies." Online, the paper even went so far as to enable the words "policy positions" if you clicked on them to link you to the streaming website Rumble where you can watch Trump on short videos pitching his policy promises.
Wow. That's some news right there, isn't it? I mean, I've waited two long years to hear what Trump has to say about communism and Marxism, haven't you?
In all the coverage of the launch of his campaign, as "low key" as it was, I could find only one gentle mention, on CNN, of Trump being under investigation by the Department of Justice for his mishandling of classified documents at Mar-a-Lago and for, as CNN carefully put it, "parts of the January 6, 2021 insurrection at the U.S. Capitol."
Of course, CNN immediately added that classified documents were found at President Biden's personal residence and that Merrick Garland has appointed a special counsel to investigate the matter.
So get ready for it, folks. The august members of the national political press have taken their seats in the bleachers and the horse race is now officially on. Just don't look for them to acknowledge that a suspected felon who faces grand juries in Washington, New York, and Georgia is running against a man who has never been accused of a felony, who has never been sued by a porn star, and who has never claimed to have grabbed women or anybody else for that matter by their nether regions.

Frequently Asked Questions (FAQ)
What are the major issues being discussed in the current presidential campaign?

Ans: The major issues discussed in the current presidential campaign include the COVID-19 pandemic, racial justice, the economy, healthcare, climate change, and national security.

How has the process of covering national political campaigns changed over the years?

Ans: The coverage of national political campaigns has evolved with new technologies and media platforms, allowing for easier access and wider reach for both candidates and media.
Lucian K. Truscott IV, a graduate of West Point, has had a 50-year career as a journalist, novelist, and screenwriter. He has covered Watergate, the Stonewall riots, and wars in Lebanon, Iraq, and Afghanistan. He is also the author of five bestselling novels. You can subscribe to his daily columns at luciantruscott.substack.com and follow him on Twitter @LucianKTruscott and on Facebook at Lucian K. Truscott IV.
Please consider subscribing to Lucian Truscott Newsletter, from which this is reprinted with permission.