When Police Brutality Goes Viral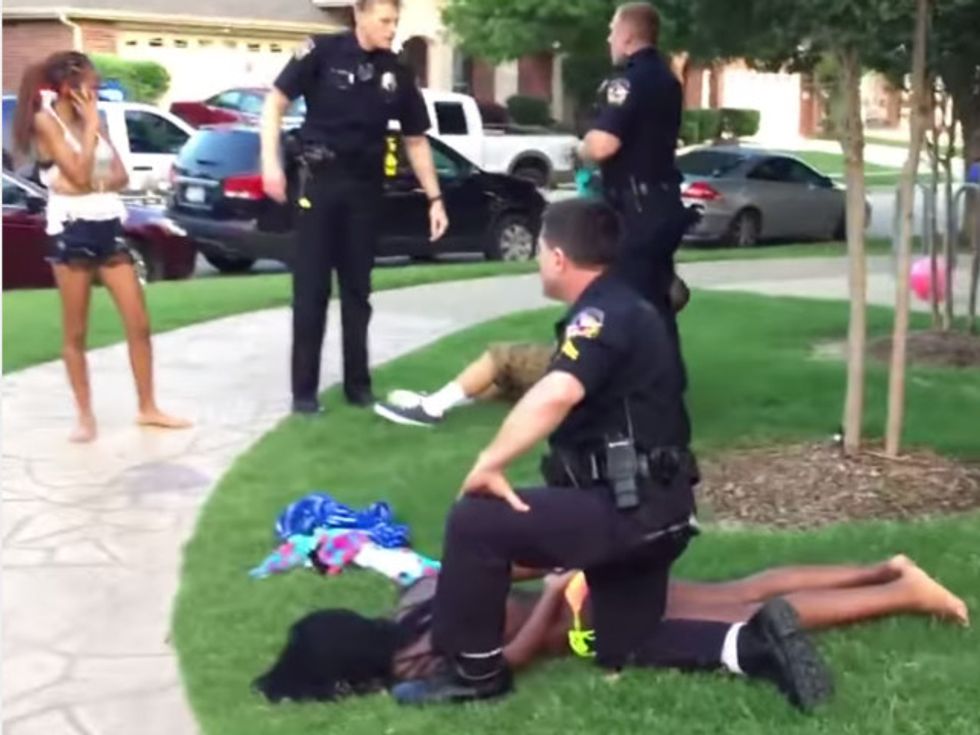 One might find little reason to hope after seeing a video of a white police officer in suburban Dallas terrorizing a bunch of African-American high-schoolers at a pool party. It was the latest in a string of videos to reveal the gross misconduct and institutionalized bigotry among police officers that African-Americans routinely face. In light of yet more evidence, how could anyone hope for a future in which racism stopped being so destructive?
But there is reason, abundant reason, to hope.
Not too long ago, an episode in which a white cop manhandled an African-American girl and drew his sidearm on African-American boys would have boiled down to points of view: what the kids said happened and what the cops said happened. In past courts of law, as well as past courts of public opinion, deference was almost always paid to police officers, who, as we are reminded, lay their lives on the line every day in the name of duty.
That's no longer the case.
The ubiquity of digital video cameras has worn down—in mere months—the monopoly on information, and high levels of public trust, that police departments have historically enjoyed. In years past, no one would have doubted that Michael Slager, a police officer in North Charleston, South Carolina, was forced to kill a black man in self-defense. But thanks to video evidence, we know Slager shot Walter Scott in the back in cold blood. He was indicted by a grand jury on a murder charge on Monday.
Over the weekend, social media networks erupted in outrage after video emerged of a police officer in McKinney, Texas, slamming to the ground a black teenager calling out for her mama, and pointing his pistol at black teenage boys fleeing in terror. On Monday, McKinney's police chief denounced Cpl. Eric Casebolt's behavior as "indefensible" and launched an investigation. On Tuesday, Casebolt resigned in disgrace. Depending on the results of the investigation, he may face criminal charges.
There's more good news.
Casebolt was responding to a report of a fight breaking out at the pool. The fight is alleged to have been started by two adult residents of the McKinney subdivision, a white man who is reported to have told the African-American students to go back to the ghetto, and a white woman who was video recorded punching one of the teenage girls in the head.
BuzzFeedreported that the man, Sean Toon, had slandered the students before later claiming that he feared the worst (he won media attention for holding up a sign thanking "McKinney PD for keeping us safe"). The Guardian newspaper this week revealed Toon's criminal history of assault with a deadly weapon and torturing barnyard animals for kicks.
The Dallas Morning News, meanwhile, reported that the woman accused of starting the confrontation, Tracey Carver-Allbritton, had been furloughed by Corelogic, a financial data firm that contracts with Bank of America, because it was embarrassed by her behavior. It told The Dallas Morning News that it "does not condone violence, discrimination or harassment and takes conduct that is inconsistent with our values and expectations very seriously. … We have placed [Carver-Allbritton] on administrative leave while further investigations take place."
Video evidence has unveiled to white Americans what is blindingly familiar to nonwhite Americans. With each revelation comes new levels of distrust, even among white Americans, who historically have little reason to suspect being suspected; and with each viral video comes a new opportunity to forge multiracial alliances to effect political change.
And that change is coming.
Since Michael Brown's death last summer, criminal charges have been brought against cops in South Carolina, in Baltimore and, most recently, in Cleveland, where a judge on Thursday found that probable cause existed to charge two city police officers with murder and negligent homicide, respectively, in the shooting death of 12-year-old Tamir Rice.
In less dramatic though no less important circumstances, a state's attorney in Cook County, Illinois, brought perjury charges against four police officers who claimed reasonable suspicion in arresting a 23-year-old man on drug possession charge. Video evidence, however, contradicted their claims, infuriating a circuit court judge. "All officers lied on the stand today," she said. "All their testimony was a lie."
In responding to a disturbance, Cpl. Eric Casebolt made a decision. Confront the white adults bringing violence to black high-schoolers swimming in the community pool or confront the black high-schoolers. Casebolt, like many cops before, took the path of least resistance.
For someone in a position of power, someone accustomed to having a monopoly on information, someone whose public statements are rarely questioned, it's plainly easier to push around a bunch of black kids, whose word does not carry as much weight as his, whose accusations of police brutality would scarcely raise an eyebrow in the court or the media.
Confronting black kids, even drawing a weapon on them, is much easier than confronting white adults about their rank and ugly racism. And in the past, there was nothing for a police officer to lose. Not so now.
Thanks to a video taken by a white boy shocked to witness such hostility toward his friends, there is much at stake. In this new age of ubiquitous video, cops should think twice before choosing the path of least resistance.
—
John Stoehr (@johnastoehr) is a lecturer in political science at Yale. Follow him on Twitter and Medium.