Where Midterms Stand In 5 Key States
@alexvhenderson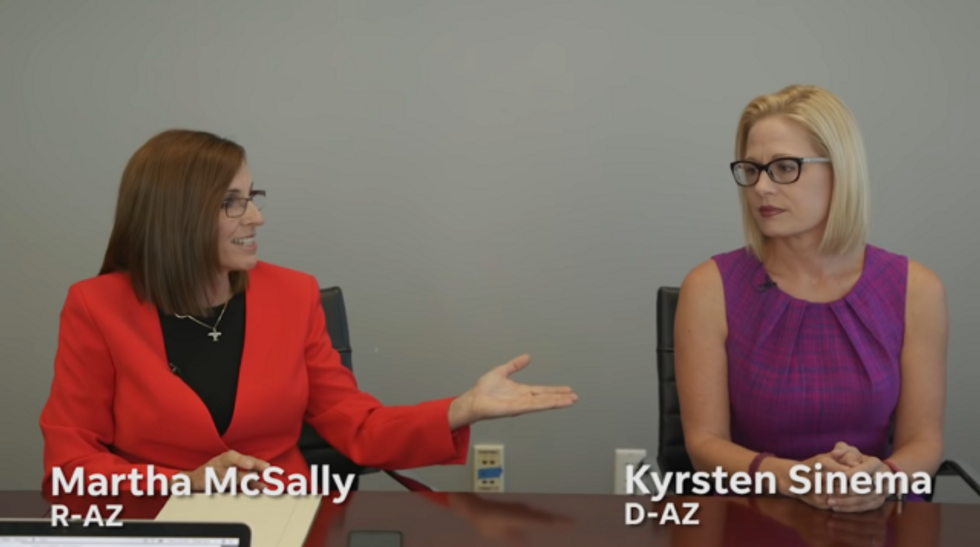 Reprinted with permission from AlterNet.
Donald Trump has turned out be an even more divisive and polarizing president than George W. Bush, openly declaring that members of the Democratic Party are not the loyal opposition, but enemies of the Constitution. The 2018 midterms, which are only two weeks away, will largely be a referendum on his presidency and underscore the U.S.' bitter partisan divide. Some politicians will be able to cross party lines: Massachusetts Gov. Charlie Baker is a modern-day Rockefeller Republican who has distanced himself from Trump and appears to be headed for a landslide reelection in a very Democratic state where Sen. Elizabeth Warren (a blistering critic of Trump's policies) is wildly popular and was leading Republican Geoff Diehl by 25% in a recent UMass Lowell poll. But in many parts of the U.S., voters will be either expressing their enthusiastic support for Trump's policies or their total disdain for those policies—and whether the outcome on Tuesday, November 6 is more favorable to Republicans or Democrats will be determined, more than anything, by which party does a better job of driving turnout.
Only 14 days before the 2018 midterms, here is where things stand in five important swing states.
1. Florida
Florida is a state where Democrats can perform well but have to be especially aggressive: Barack Obama carried Florida in the presidential elections of 2008 and 2012, yet Hillary Clinton lost Florida to Trump in 2016. A major upset in Florida politics occurred this year when Tallahassee's decidedly liberal/progressive mayor, Andrew Gillum, won the Democratic gubernatorial primary over the centrist Gwen Graham—and Gillum has generally been performing well in recent polls. A CNN poll released on October 22 found Gillum leading his Republican opponent, far-right Trumpista Ron DeSantis by 12% and incumbent Democratic Sen. Bill Nelson leading Gov. Rick Scott by 5% in the Florida Senate race. For Democrats, heavy turnout in South Florida is crucial—and the heavier the turnout in Broward County and Miami-Dade County, the better off Gillum and Nelson will be on November 6.
2. Pennsylvania
Democratic strategist James Carville was not joking when he famously described Pennsylvania as Philadelphia in the east, Pittsburgh in the west and Alabama in between. Trump is wildly unpopular in Philly—a city so Democratic that it hasn't had a Republican mayor since Bernard Samuel left office in January 1952—yet in Central Pennsylvania, he enjoyed enough support to become the first Republican to carry the Keystone State in a presidential election since George H.W. Bush in 1988. But this year, two Democratic incumbents in major races have been enjoying double-digit leads in polls: Sen. Bob Casey Jr. and Gov. Tom Wolf. Their GOP opponents, meanwhile, are far-right Trumpistas (gubernatorial candidate Scott Wagner and Senate candidate Lou Barletta). And while worshipping Trump can be an advantage in Altoona or Johnstown, it isn't a recipe for success in the Philly suburbs—where Republicans tend to be more Rockefeller-ish and less extreme.
3. Arizona
Arizona is not a red state, but rather, a southwestern swing state that is more likely to go Republican than neighbors New Mexico, Colorado and Nevada. Hillary Clinton lost Arizona by 3.5% in 2016 compared to losing deep red Nebraska by 26%. And in 2018, Democrats have had high hopes for Senate candidate Kyrsten Sinema—who has been in a tight race with Republican nominee Martha McSally. A New York Times/Siena poll released on October 22 showed McSally leading Sinema by 2%, while Sinema was ahead by 3% in a CBS News/YouGov poll released earlier in the month. And a Data Orbital poll released on October 19 (following McSally and Sinema's testy debate) found Sinema leading McSally by 6%. But with Trump's low approval ratings in Arizona (only 39%, according to CNN) and McSally's willingness to embrace Trump, Sinema should have a comfortable lead in all polls.
4. Nevada
Nevada's Dean Heller, the only Republican senator seeking re-election in a state that Clinton won in 2016, has often been described as 2018's most vulnerable incumbent GOP senator. And given the fact that, in 2017, Heller voted to overturn the Affordable Care Act and deprive millions of Americans of health insurance, Nevada residents should be happy to throw him out of office—especially in light of how many small business owners there are in Las Vegas who desperately need individual health plans. But Heller led Democrat Jacky Rosen by 2% in New York Times/Siena and NBC News/Marist polls released earlier this month and by 7% in an Emerson College poll conducted October 10-12. Rosen, like Sinema, is going to need a heavy Latino voter turnout on November 6 if she is going to pull off a victory in what has been a very competitive race.
5. Virginia
Thirty years ago, no one considered Virginia a swing state. Virginia was hardcore Republican, and Lynchburg was the home of the late Rev. Jerry Falwell and his theocratic Moral Majority (who played a major role in the Christian Right's takeover of the GOP). But Democrats have carried Virginia in the last three presidential elections (Obama in 2008 and 2012, Hillary Clinton in 2016), and incumbent Sen. Tim Kaine appears to be heading for a double-digit victory over Republican nominee Corey Stewart—the Trumpista, white nationalist and all around embarrassment who has been running around praising Confederate soldiers. But the House race with incumbent Dave Brat and Democratic challenger Abigail Spanberger has been much tighter, with Brat ahead in some recent polls and Spanberger slightly ahead in others.
Alex Henderson is a news writer at AlterNet and veteran political journalist. His work has also appeared in Salon, Raw Story, Truthdig, National Memo, Philadelphia Weekly, Democratic Underground, L.A. Weekly, MintPress News and many other publications. Follow him on Twitter @alexvhenderson.