White House Accuses Russia Of Anti-U.S. Propaganda War In Ukraine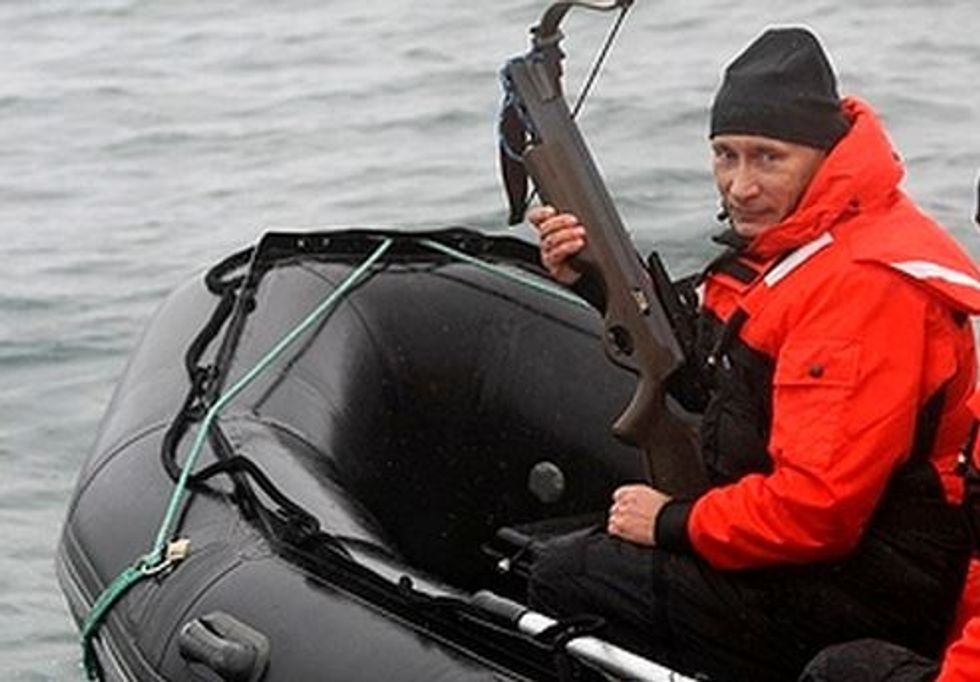 By Paul Richter, Tribune Washington Bureau
VIENNA — The Obama administration's dispute with the Kremlin over the unrest in Ukraine has turned to a new controversy: whether heavily armed men in a grainy image are trigger-happy American mercenaries in Ukraine — or a police SWAT team in New Orleans after Hurricane Katrina.
Russia has warned for weeks that American security contractors like those accused of killing 14 unarmed Iraqi civilians in 2007 have been ordered into Ukraine to guide the interim government's crackdown on Russian-speaking separatists.
This month, corroboration seemed to appear in a photo that showed five men dressed in black and carrying assault weapons on a featureless city street. State Department officials say the men were New Orleans cops or contractors trying to prevent looting after the 2005 hurricane. The photo, they say, was doctored by "Kremlin-sponsored websites" to remove the sign of an American fast-food joint.
They did not identify the websites, but the photo has rocketed around social media.
"The Internet is a wonderful thing, and eventually people can find out where photographs came from," said Daniel Baer, the U.S. ambassador to the Organization for Security and Cooperation in Europe. "The allegations that there are somehow 'U.S mercenaries' operating in Ukraine are false."
The clash is the latest fallout from what U.S. officials call Russia's propaganda war in Ukraine. Russian officials and news organizations have been promoting stories, many either misleading or lacking verification, that depict Washington as "puppet masters" of a "fascist junta" that ousted pro-Russian president Viktor Yanukovich in February.
U.S. officials deny those charges, saying Yanukovich fled a popular uprising and that the West supports Ukraine's presidential election scheduled for Sunday.
"The effort is to delegitimize the authorities in Kiev, to say that people with blood on their hands are calling the shots from behind the scenes," said Andrew Weiss, a specialist on Russia and Ukraine who is vice president for studies at the Carnegie Endowment for International Peace. "This is a high priority for them and they've pursued it very aggressively."
In the latest flap, Sergei Lavrov, Russia's foreign minister, told the Bloomberg news agency May 14 that reports of U.S. mercenaries in Ukraine "might be true." Similar allegations came from Andrei Kelin, Russia's ambassador to the OSCE, a 57-nation group that is trying to monitor developments in Ukraine.
The tabloid Bild am Sonntag, the largest-selling German national Sunday newspaper, reported that German intelligence officials had informed the office of Chancellor Angela Merkel that 400 American mercenaries were on the ground in eastern Ukraine. The men were hired from Academi, a corporate descendant of the defunct Blackwater security firm, the article alleged.
The White House labeled the stories "nonsense." German officials neither confirmed nor denied the account, saying they didn't comment on intelligence matters.
U.S. diplomats can expose such manipulations of the truth, but they're not likely to deter Moscow from trying to make its case, according to the Carnegie Endowment's Weiss.
"This is cardinal to the way Russia pursues foreign policy," he said. "We're in a relentless propaganda war of attrition."
Want more Ukraine news? Sign up for our free daily newsletter. 
Photo: wobbitz via Flickr