White House Hopeful Embraces A Dirty Word In U.S. Politics – 'Socialist'
@reuters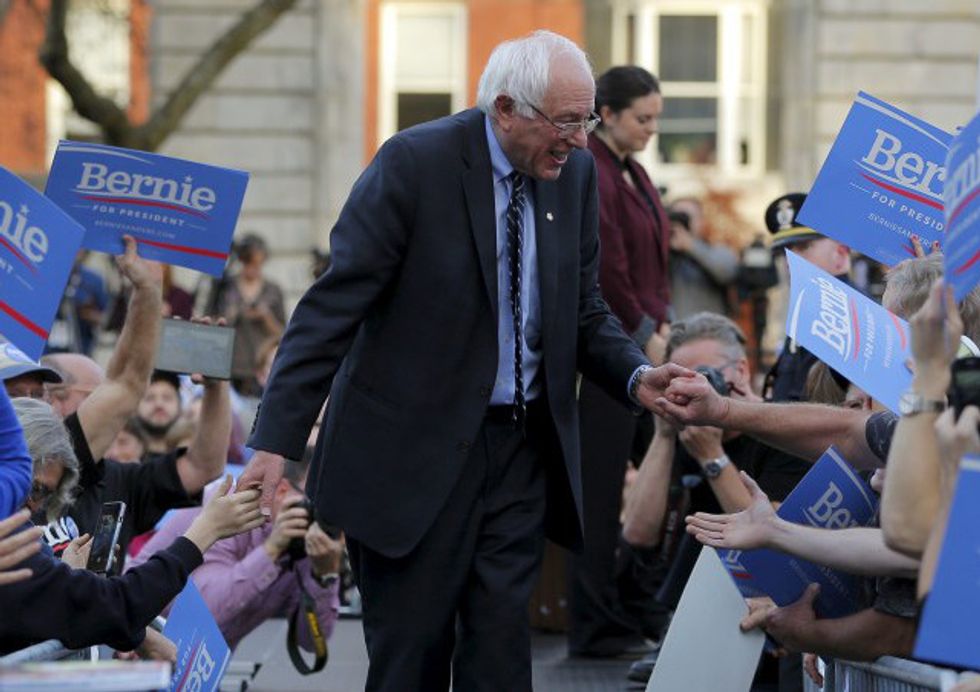 By John Whitesides
WASHINGTON (Reuters) – "Socialist" has long been a dirty word in American politics, a slur thrown at liberals that evokes Cold War-era images of bread lines, government-controlled economies and authoritarian regimes.
But 2016 Democratic White House hopeful Bernie Sanders has not shied away from describing himself as a democratic socialist. In fact, his platform of eradicating income inequality and curbing corporate power is attracting large crowds of liberal activists.
The question though is whether the independent Vermont senator can persuade a broader swath of Democrats to accept his version of socialism, a term he acknowledges makes many people "very, very nervous."
In the next few weeks, Sanders, who is trailing Democratic front-runner Hillary Clinton in polls, will try to take the sting out of the label with a speech aimed at explaining his democratic socialist views.
Selling the "socialist" tag remains a steep hurdle for a presidential candidate in the United States, where polls indicate it is still a negative for many voters and would be a major hindrance in a general election campaign.
"Socialism is what makes him different. That one word makes him appealing to the party's left wing," Democratic strategist Dane Strother said.
"It won't be a problem in the Democratic primary," he said, although if Sanders pulls off a political miracle and wins the nomination "it would be a tougher sell in a general election."
Sanders-style democratic socialism is a far cry from the classic Soviet-style system featuring government ownership of private industry. He compares it to mostly capitalist economies in western Europe such as Denmark and Norway, which feature more regulation and a broader social safety net than the United States.
Sanders pushes plans such as free college tuition, single-payer healthcare, higher minimum wages, better retirement benefits and jobs programs to rebuild the national infrastructure – all liberal versions of a populist Democratic agenda.
For Sanders, democratic socialism would create a more fair and equitable society and tilt an economic playing field that he says favors the wealthy back to benefiting primarily the lower and middle classes.
A GOVERNMENT FOR ALL
"To me, democratic socialism means democracy. It means creating a government that represents all of us, not just the wealthiest people in the country," Sanders said last month.
Sanders says Americans misunderstand the socialist label and do not recognize its principles in popular federal programs such as Social Security or even local institutions such as public libraries and fire departments.
But to old-school socialist activists like Greg Pason, national secretary of the Socialist Party USA, Sanders is no crusader for the cause. Pason said Sanders sounds more like a liberal Democrat and he suspects most of his supporters in the Democratic race will eventually back Clinton.
He said it has been refreshing, however, to hear public debates about socialism. He has heard the word bandied about by his neighbors in New Jersey and strangers at a bus stop.
Sanders has avoided a barrage of political attacks over the label primarily because Republicans, who have described Democratic President Barack Obama for years as a "socialist," have not taken him seriously as a general election threat.
Still, some have raised the issue. Republican presidential candidate Lindsey Graham joked in a recent debate that Sanders had honeymooned in the Soviet Union "and I don't think he ever came back," and Republican front-runner Donald Trump called Sanders "a socialist slash communist, because that's what he is."
Opinion polls show socialism is still a broadly unpopular label in the United States, but they also show a generational change in attitudes as young people who did not live through the Cold War are far less likely to be scared of the tag.
A Reuters/Ipsos poll published on Friday found that 47 percent of Americans were somewhat or much less likely to support a candidate for president who was a socialist, while 37 percent said it would not matter.
A GENERATIONAL DIVIDE
A Gallup poll this summer showed 69 percent of Americans between ages 18-29 would have no problem putting a socialist in the White House, compared to just 34 percent of those above the age of 65.
"For people who came of age politically before 1989, the word socialism is associated with the Soviet Union or Mao's China, and that doesn't sound like a very good thing," said Samuel Goldman, a political scientist at George Washington University.
"For younger people, socialism tends to be associated with Sweden and Norway and Denmark, and those are much more appealing societies than the Soviet Union," he said.
Roland Racevskis, a Sanders supporter in Iowa City, Iowa, said Sanders' embrace of the socialist tag had helped endear him to liberal backers who see him as a different kind of U.S. politician.
"It's an indication of his authenticity that he doesn't shrink from the term," said Racevskis, a French professor at the University of Iowa.
"I think he can change people's views of socialism, but I'm not so starry-eyed to think it will be easy or he won't be attacked for it," he said.
 (Editing by Paul Thomasch and Ross Colvin)
U.S. Democratic presidential candidate Senator Bernie Sanders greets supporters at a campaign rally outside the New Hampshire State House in Concord, New Hampshire November 5, 2015. REUTERS/Brian Snyder