White Nationalists And Nativists Want Americans To Pay To Keep America White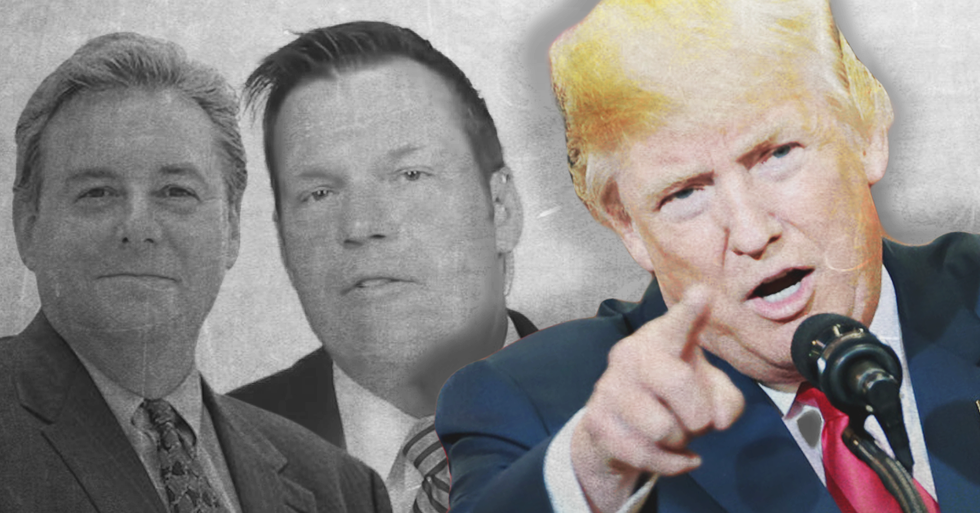 Reprinted with permission from Media Matters for America.
Media should be aware that white nationalist and anti-immigrant groups are rallying around President Donald Trump's new executive orders on immigration. Republicans like Kansas Secretary of State and radio host Kris Kobach and Alabama Sen. Jeff Sessions have embraced these nativist groups and pushed their colleagues in the GOP to prioritize costly anti-immigrant enforcement measures over traditional fiscal conservatism, and that means Americans will have to foot the extremely high bill of trying to keep America white and immigrants out.
On January 25, Trump signed two executive orders which, along with a third that's expected soon, seek to ban immigrants from predominantly Muslim countries in the Middle East and Africa from entering the United States, begin efforts to build a wall on the United States' southern border with Mexico, re-establish programs that allow local law enforcement officials to act as de facto immigration agents, and threaten federal government funding of so-called "sanctuary cities," which, according to The New York Times, are "jurisdictions that limit their cooperation with federal authorities seeking to detain unauthorized immigrants."
None of these ideas are new. Tightening border enforcement measures, attacking pro-immigrant cities, and pushing local law enforcement to act as immigration police are all ideas that have been promoted by the anti-immigrant, nativist, and white supremacist right for decades, but now they've finally found an ally in the Oval Office.
This should come as no surprise, as several of the biggest proponents of these harsh immigration policies are advisers to Trump or nominees to his cabinet. According to The Wichita Eagle, Trump adviser and Kansas Secretary of State Kris Kobach was involved in the early stages of drafting  the executive orders. According to the Southern Poverty Law Center (SPLC), Kobach has served as counsel to the legal arm of the Federation for American Immigration Reform (FAIR), known as the Immigration Reform Law Institute (IRLI), since 2004. On January 23, officials announced that Julie Kirchner, the former executive director of FAIR, an SPLC-designated hate group "whose leaders have historical ties to white supremacists and eugenicists," was also joining the Trump administration, as chief of staff at U.S. Customs and Border Protection.
FAIR is also a favored organization of Sen. Jeff Sessions (R-AL), Trump's nominee for attorney general. In 2007, Sessions was the keynote speaker at the group's advisory board meeting and publicly thanked the organization for helping defeat a bipartisan immigration reform plan. Sessions is also a regular at other events hosted by the organization, including its annual lobby day on Capitol Hill, dubbed Hold Their Feet To The Fire.
FAIR, the Center for Immigration Studies (CIS), and NumbersUSA — three of the biggest nativist groups in the country — have made thinly veiled attempts to hide their nativist and white supremacist ties. While media outlets often highlight them as groups that merely favor increased immigration enforcement or want to crack down on undocumented immigrants, that's far from the whole story. According to SPLC, CIS has distributed anti-immigration articles from Jared Taylor of the white nationalist website American Renaissance and Holocaust denier John Friend, and held events with Charles Murray, a white nationalist who wrote a book "that uses racist pseudoscience and misleading statistics to argue that social inequality is caused by the genetic inferiority of black and Latino communities." FAIR and NumbersUSA have also courted white supremacists and white nationalists, including via FAIR president Dan Stein's association with the nativist hate journal The Social Contract and NumbersUSA's courting of the white supremacist Council of Conservative Citizens.
With Trump's victory, these anti-immigrant nativists are finally getting an opportunity to attempt to fulfill their dream of keeping America white and immigrant-free by pushing government to spend potentially $31.2 billion on a flawed border wall and unnecessarily deputizing local law enforcement to crack down on immigrants, even though no evidence shows that the policy has ever actually deterred crime. And the real kicker is that taxpayers are going to have to foot the bill for these costly, unnecessary, and flawed plans that a majority of them don't support.
Now, as Republicans are faced with funding a multibillion-dollar wall that is not supported by a majority of Americans, and most likely won't be paid for by Mexico, will they fulfill the nativist and white supremacist dream, or will they stay true to their supposed roots of fiscal conservatism?
Research intern Katherine Hess contributed research to this piece.
IMAGE: Media Matters