White Nationalists Split In Extramarital Blowup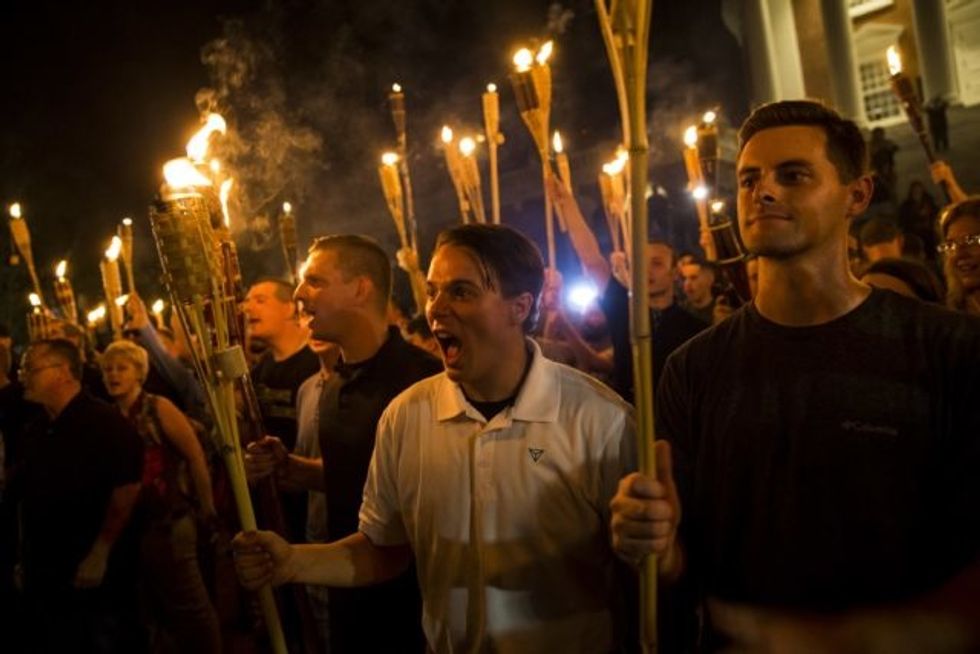 Reprinted with permission from AlterNet.
A white nationalist leader has resigned from the Traditionalist Worker Party after he was cuckolded — and then beaten up — by the head of the group he co-founded.
TWP spokesman Matt Parrott called police about 1 a.m. Tuesday from a Walmart parking lot in southern Indiana, where he told officers that TWP president Matthew Heimbach had attacked him and his wife, reported the Southern Poverty Law Center.
The 36-year-old Parrott recently learned Heimbach and his wife had been having an affair, which they insisted was over.
Parrott's wife and stepdaughter lured Heimbach to a setup at their Paoli trailer to see if he would agree to continue the affair, and Parrott and the stepdaughter waited outside and watched through a window.
Heimbach and Parrott then confronted each other, and the cuckolded husband said the other man wrestled him to the ground.
"He grabbed and injured my hand after I poked his chest then choked me out with his arm," Parrott told police in a handwritten statement. "Then he chased me to my home and did it again."
He then fled to a nearby Walmart with his stepdaughter and called police, who overheard Heimbach and his own wife arguing and then get into a "scuffle."
Heimbach's wife said her husband grabbed her face and threw her onto the bed, and police said Parrott's stepdaughter recorded the attack on her cellphone.
All four adults involved in the incident told police their occupation was "white nationalist."
Heimbach, who pleaded guilty to assaulting a black woman at a Trump rally in Kentucky and was involved in the Charlottesville racist rally, was charged Tuesday with battery in the alleged attack on his own wife.
Parrott, who had been recently distancing himself from the TWP, resigned afterward from the group he co-founded with Heimbach.
"I'm done. I'm out," Parrott told the Southern Poverty Law Center. "SPLC has won. Matt Parrott is out of the game. Y'all have a nice life."
Travis Gettys is an editor for Raw Story.