Who Could Defend Trump's Comments About The Khan Family? Well…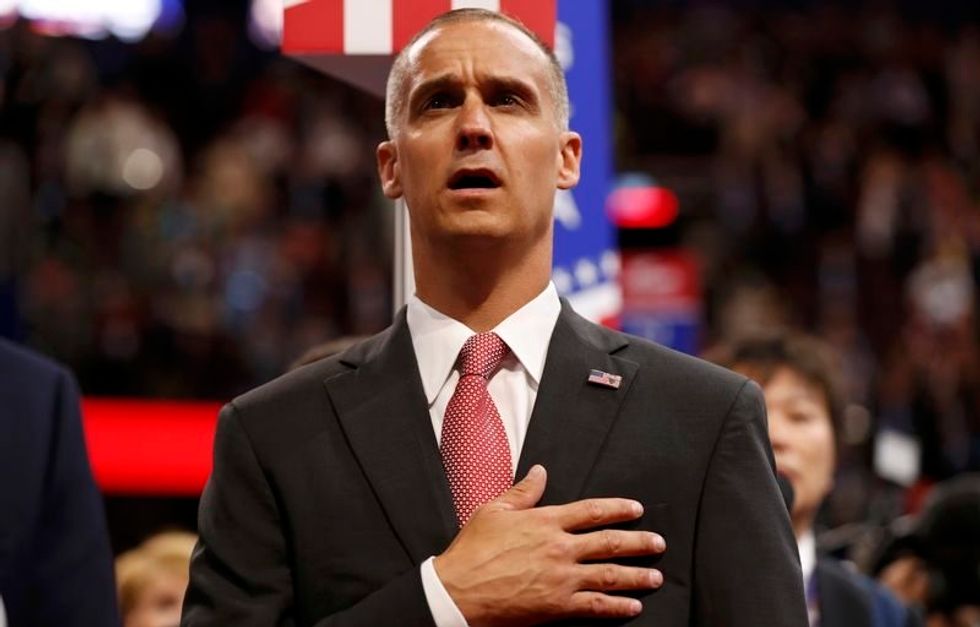 Republican presidential nominee Donald Trump spent all weekend licking his wounds after the father of a fallen Muslim American soldier, Khizr Khan, gave a powerful rebuttal to his candidacy during a speech at the Democratic National Convention last week.
Trump fought back by attacking Mr. Khan's wife for not speaking during her husband's remarks and claiming that the sacrifices he made as a businessman were similar to the Khans'. The attacks against a grieving military family were so out of line that Republican big wigs who support Trump, like Paul Ryan and John McCain, were forced to denounce them, though they continue to support Trump's candidacy.
Naturally, with a lack of Republican leadership coming out to defend Trump, a handful of bottom-feeder Trumplicans stepped up to, once again, defend the indefensible.
Longtime Trump adviser and "dirty trickster" Roger Stone, as usual, had the lowest response to Mr. Khan's speech. Stone took to Twitter to share his newest conspiracy theory — that Mr. Khan is a double agent working with the Muslim Brotherhood.
https://twitter.com/RogerJStoneJr/status/759941783098761216?ref_src=twsrc%5Etfw
Roger Stone's tweet links to an article on a low-budget conspiracy site that accuses Mr. Khan of having links to groups planning a "military conquest" of the U.S., and shamelessly suggests that Mr. Khan's son, Humayun Khan, may have been planning a suicide attack on his fellow soldiers.
Stone, like Trump, has made a career of accusing Liberals of being "anti-American" and not respecting the troops and military. Stone has spent the Obama years accusing the president of not being a "loyal American" because of his non-existent "Muslim ties."
This unfounded theory about Mr. Khan is a continuation of a another ridiculous accusation Stone made, against Hillary Clinton aide Huma Abedin.
After the Orlando shooting at the Pulse nightclub, Stone stated that Trump would "benefit" from the tragedy and that there was now going to be a  "new focus" on what he claimed are disloyal Americans like Abedin. Stone then encouraged everyone to ask themselves about Abedin's "troubling past."
"Do we have a Saudi spy in our midst? Do we have a terrorist agent?"
Stone told Breitbart that "There's going to be a new focus on whether this administration, the administration of Hillary Clinton at the State Department was permeated at the highest levels by Saudi intelligence and others who are not loyal Americans."
Jeffrey Lord, CNN's favorite pro-Trump talking head, defended Trump's attacks on Mr. Khan by saying it was all "politics" and that the family was "opening themselves up to disagreement" when they agreed to go on stage at the DNC.
He also tweeted what seemed like an attack on Hillary Clinton for not enlisting in the military herself.
The word is "enlist"…there was no prohibition against women in the military. She could have volunteered – she didn't. Giving her a pass…

— Jeff Lord (@realJeffreyLord) August 1, 2016
The word is "enlist"…there was no prohibition against women in the military. She could have volunteered – she didn't. Giving her a pass…

— Jeff Lord (@realJeffreyLord) August 1, 2016
Former Trump campaign manager and current CNN commentator Corey Lewandowski defended Trump's attacks on the Khans by alleging that "If Donald Trump were the president, Captain Khan would still be alive today because we would have never entered the Iraq War."
Like Stone, Lewandowski has previously accused Obama of being anti-American. Back in May, he linked aggressive behavior towards police officers to the president, and slammed what he said was Obama "apologizing for America to foreign countries."
"That's not what the American people want." Lewandowski said to Breitbart. "They want you to focus here. For us to go and apologize for something…that's a blight on the administration,"  he added, before emphasizing how important it is to be proud to be American.
Fox News anchors Steve Doocy and Brian Kilmeade tried to belittle the overwhelming response to Mr. Khan's speech by erroneously claiming that "no networks covered" Patricia Smith's speech blaming her son's death at Benghazi on Clinton at the Republican National Convention. They argued that "There is a double standard," because  "the mainstream media is paying all the attention to the Khan family."
Actually, their own network, Fox News, was the only news network to not cover Smith's full speech. They aired a phone interview with Donald Trump instead.
Photo: Khizr Khan speaks during the last night of the Democratic National Convention in Philadelphia