Why Bernie Sanders Has Risen To The Top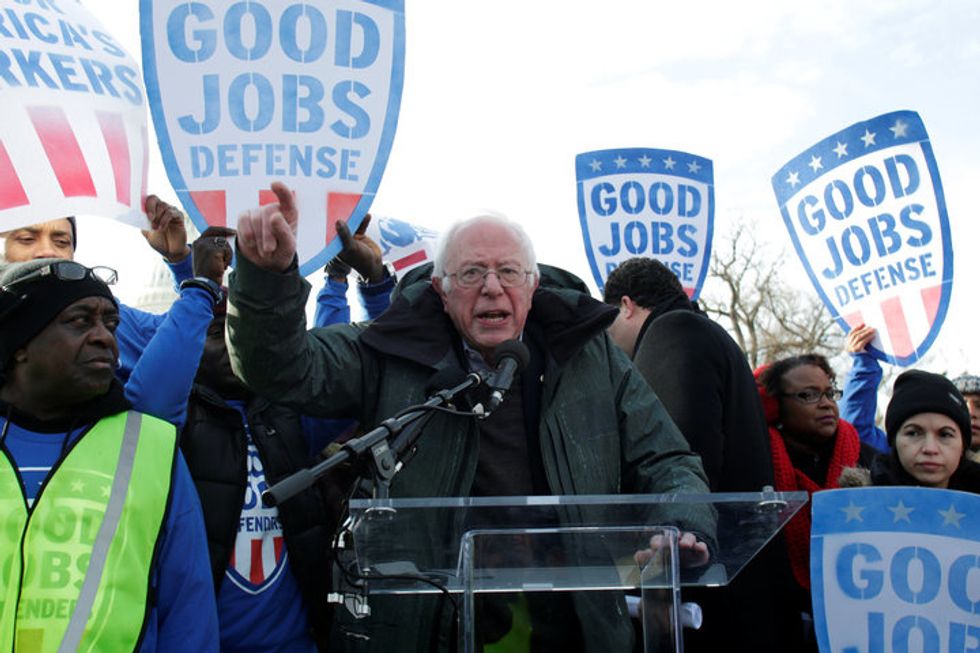 Reprinted with permission from Alternet.
Congress is wildly unpopular and for good reason, but there are some exceptions. According to a new poll from Morning Consult, Bernie Sanders is still riding the wave of popularity he enjoyed as a presidential contender, and ranks as the country's most liked senator. Patrick Leahy came in second on the list, making Vermont the state that's happiest with its Senate representatives. Sanders and Leahy got the thumbs-up from 75 and 70 percent of Vermont voters, respectively.
So what's with all those basement-level Senate approval numbers? Turns out, Senate Majority Leader Mitch McConnell is doing more than his fair share to drag down the mean by adding his unpopularity to the collective mix. In a recent interview, McConnell fretted that Donald Trump's historically low approval ratings might crush Senate Republicans' chances for reelection. Turns out his own approval ratings aren't much higher than Trump's.
McConnell was voted the country's most disliked senator in the Morning Consult poll, with 47 percent of Kentuckians saying they disapprove of the job he's doing, which consists mostly of ensuring obstructionism, inefficiency and gridlock are held as GOP virtues. McConnell has been the most unpopular man in the Senate for years, and his unfavorability numbers have actually lessened since September 2016.
Sanders has capitalized on his popularity in recent months, publishing a book, going on a press tour, speaking at various events and holding cable TV town halls. He's also the host of an eponymously titled talk show and podcast. Check out the first episode of the show below, or stream the audio-only version on iTunes.
Morning Consult polled 85,000 voters around the U.S. in its latest survey. Rounding out the top 10 most popular senators in the poll were John Barrasso (R-WY), Michael Enzi (R-WY), Angus King (I-ME), Susan Collins (R-ME), John Thune (R-SD), Brian Schatz (D-HI), Thomas Carper (D-DE), Ron Wyden (D-OR), and John Hoeven (R-ND). Check out all the totals.
Kali Holloway is a senior writer and the associate editor of media and culture at AlterNet.
This article was made possible by the readers and supporters of AlterNet.