Why Calling Hillary Clinton 'Grandmother' Is Not A Smear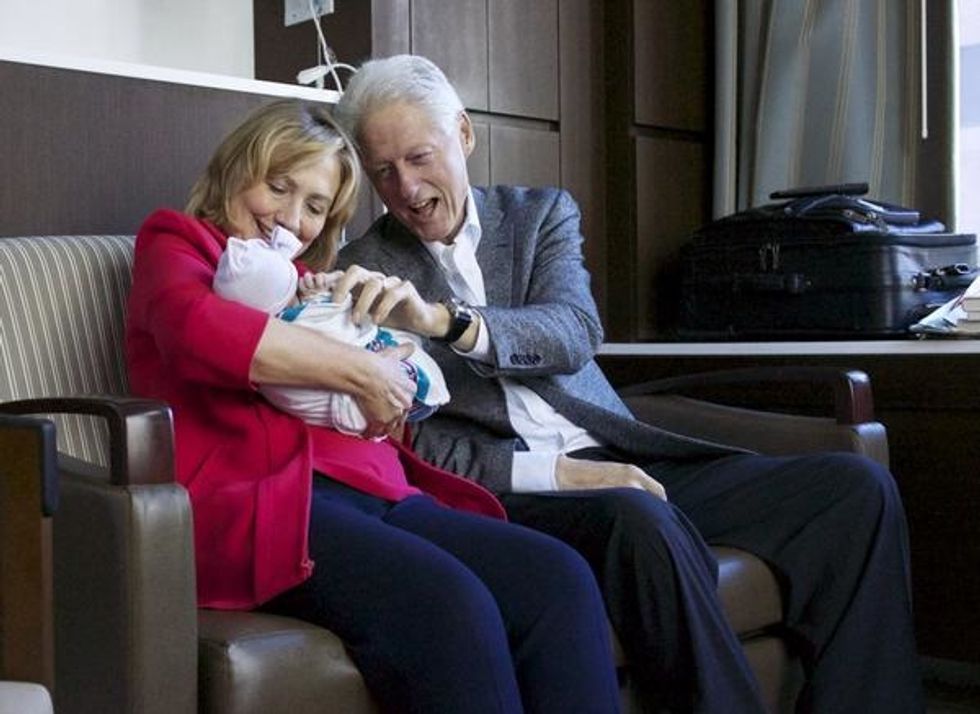 Did you know that Hillary Clinton is a grandmother?
You probably did. After all, the birth of daughter Chelsea's own daughter, Charlotte, was covered with nearly as much fanfare as some other famous female offspring, like Kim Kardashian's North West, or Beyoncé's Blue Ivy.
Out of the other candidates running for president in 2016, do you know who else is a grandparent?
No?
Try Jeb Bush and Rick Perry.
Do you know the names of any of their grandkids?
Didn't think so.
And why hide it? While there are some cries of "sexism" to Hillary positioning herself as a grandmother, it's become part of her political strategy.
Chris Lehane, a Democratic strategist and alum of President Bill Clinton's White House, told Politico, "When she offers a theory of government and connects it to her biography, in particular being a mom and a grandma, and talking about intergenerational equity issues and the possibility to do right by your kids — the combination there is a really, really powerful way to communicate."
Clinton has been dedicated to family issues since she was a lawyer in the '70s, and has continued to push for legislation that protects women and children. Her résumé is filled with fights for policies that have benefited families, and her campaign has used her experience in both the political and personal arenas as assets.
"Grandmother" might be a term that other female politicians shy away from because it could conjure up thoughts of age. And no politician wants to be thought of as too old to run, especially Clinton, who will be 69 on Election Day 2016, just a few months shy of Ronald Reagan when he was elected to the White House in 1980. John McCain was dogged by criticism regarding his age when in ran in 2008; he was 72 at the time of the election.
Yet even though there are other grandmas in public office — Congresswoman and Minority Leader Nancy Pelosi, 75, is one of them — it's not a term that's readily used when referring to women running for office. Or ascending any sort of career ladder.
Grandfathers, by contrast, are almost never named as such. It's an afterthought in their biography. See, again, Jeb Bush and Rick Perry — or Mitt Romney.
So why is it an advantage?
"Like most grandmothers I know…"
"When you have this little baby, you spend a lot of time just staring at her," Clinton said in November. "You really resolve, as her parents and grandparents … [to] do whatever we can to make sure she has the opportunities she deserves to have."
Connie Schultz, a three-time grandmother herself, laughs at all the chatter associated with "grandma":
Like most grandmothers I know, I still get worked up about the same issues I've always cared about, from abortion rights to same-sex marriage. That's the thing about seeing your children get on with their lives and have babies. It's liberating, as if you've just been given permission to hone your focus with pinprick precision.
Following advice from former campaign strategist Mark Penn in 2008, Clinton shied away from being seen as a "mama in chief," preferring to be seen as tough, in the vein of Margaret Thatcher.
Since that tactic failed to win her the nomination and, in the intervening years, matters of women's health, equal pay, and reproductive rights became key issues in national politics, it makes sense for Clinton to highlight and truly own those parts of her identity and biography, rather than let opponents try to use them against her.
Her staff now is filled with women in many key roles, and 60 percent of her donors are female, too.
In fact, according to the Barbara Lee Foundation, which studies the role of women in politics, female candidates who play up personal experiences and emphasize their relationships can make them more relatable and therefore likeable, which is linked to electability — especially when they are perceived to be qualified.
And so it seems "grandmother" is less smear than imprimatur — why wouldn't Hillary Clinton use it in her campaign strategy?
Photo: World leaders — and grandparents. Bill Clinton via Twitter