Why DeSantis' Disney Vendetta Enrages True Conservatives
@alexvhenderson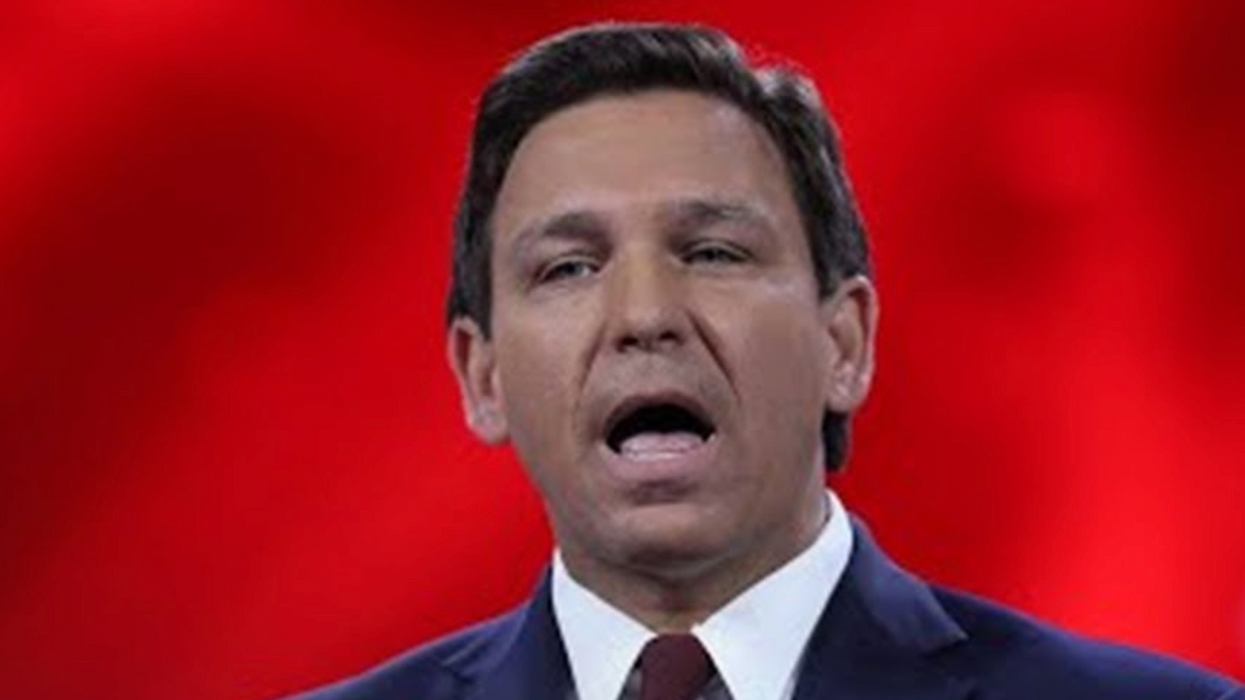 Youtube Screenshot
On Friday, April 22, Florida Gov. Ron DeSantis ended the special tax and self-governing privileges that Disney has enjoyed in the Sunshine State for 55 years — a move designed to punish Disney for coming out against the state's homophobic, transphobic "Don't Say Gay" law. DeSantis' vendetta against Disney is drawing criticism not only from Democrats, liberals, and progressives, but also, from some Never Trump conservatives —including journalists David French and Charlie Sykes.
French, in an article published by The Atlantic on April 22, slams the support that DeSantis' actions are getting from fellow MAGA Republicans as a total flip flop for the GOP. And Sykes, in his April 24 column for The Bulwark, argues that DeSantis' anti-Disney campaign isn't about "working class populism" as some are claiming — it's about revenge.
French recalls that when San Antonio Democrats went after Chick-Fil-A in 2019, Republican Texas Gov. Greg Abbott was quick to rise to the company's defense — in contrast to all the Republicans who, in 2022, have no problem with DeSantis punishing Disney.
"One of the bewildering things about being a conservative in a populist age is the sheer speed at which populists will shift their opinions, including on allegedly bedrock constitutional values, to satisfy the popular bloodlust of the moment," French writes. "I'm old enough, for example, to remember all the way back to 2019. In March (2019), the San Antonio City Council voted to bar Chick-fil-A from San Antonio International Airport. The reason? It opposed Chick-fil-A's alleged 'legacy of anti-LGBT behavior.'"
French continues, "Republicans were rightly furious at the decision…. Texas acted quickly to protect liberty, and in July 2019, Gov. Greg Abbott signed the so-called Save Chick-fil-A bill into law, declaring that 'Texas protects religious liberty,' and 'no business should be discriminated against simply because its owners donate to a church, the Salvation Army, or other religious organization.'"
French, known for his work with the National Review, argues that Abbott's defense of Chick-F-A in 2019 is quite a contrast to DeSantis and other Republicans wanting to "punish" Disney in 2022.
"Let's fast-forward three short years and move states, from Florida to Texas," French writes. "The Florida legislature raced to pass a law revoking the Walt Disney Company's special tax status. The reason? Florida, led by Gov. Ron DeSantis, is overtly and explicitly attempting to punish Disney for the company's opposition to Florida House Bill 1557, which bans 'classroom instruction' on 'sexual orientation and gender identity' in kindergarten through third grade and in a manner that isn't 'age appropriate or developmentally appropriate' in all grades, K–12. Florida became San Antonio, except on a much bigger scale, to thunderous online right-wing applause."
French notes that the Daily Wire's Ben Shapiro and radio host Hugh Hewitt are among the right-wing media figures who have been applauding DeSantis for attacking Disney, arguing that they are "dead wrong" on this issue.
"In their crackdown on 'wokeness,' they've become exactly what they once opposed — fierce partisan warriors who'll forsake the Bill of Rights to reward their friends and punish their enemies," French says of Republicans. "With the passage of Florida's bill targeting Disney, it's unambiguous now. As the right cheers Ron DeSantis, it is forsaking the First Amendment."
.@benshapiro warns "woke" companies to expect a "legislative 2x4" if they push a progressive agenda: "F around and find out!" https://mediaite.com/a/sfbsf\u00a0pic.twitter.com/c67YZ9owxG

— Mediaite (@Mediaite) 1650655403
If corporations choose to exit the free market by seeking media and legal dispensation from anti-market Leftists pushing radical social values, don't count on those of us who love free markets to defend you. F*** around and find out.

— Ben Shapiro (@Ben Shapiro) 1650545318
Corporations have an interest in lobbying on issues that directly impact their business. If they choose to engage in politics outside their purview, they will be treated with all the aggression inherent to the political sphere, and they will deserve it.

— Ben Shapiro (@Ben Shapiro) 1650545370
Like French, fellow Never Trumper Sykes is vehemently critical of DeSantis' anti-Disney move. Sykes, in The Bulwark, argues that it "massively misses the point" to say that DeSantis' willingness to go after Disney underscores the GOP's shift to a more "populist" outlook.
"Florida Republicans made no secret of their motivation here: it was payback, and a mailed-fist threat to other businesses who might engage in wrongthink," Sykes stresses. "Until about five minutes ago, conservatives were not merely pro-free market, but were adamant in their belief that corporations had constitutionally protected free speech rights; see Citizens United. Conservatives were rightly outraged when illiberal progressives kicked Chick-Fil-A out of airports because of the political activities of the restaurant's owners."
Sykes continues, "The cases of Hobby Lobby and Masterpiece Cake Shop were rallying points for the defense of conscience, and both businesses were vindicated in court. But the New Right has executed an extraordinary pivot: It is now fully on board with state retaliation against private companies who engage in disfavored political speech."
Printed with permission from Alternet.