Why El Paso Residents Blame Trump For Massacre
@alexvhenderson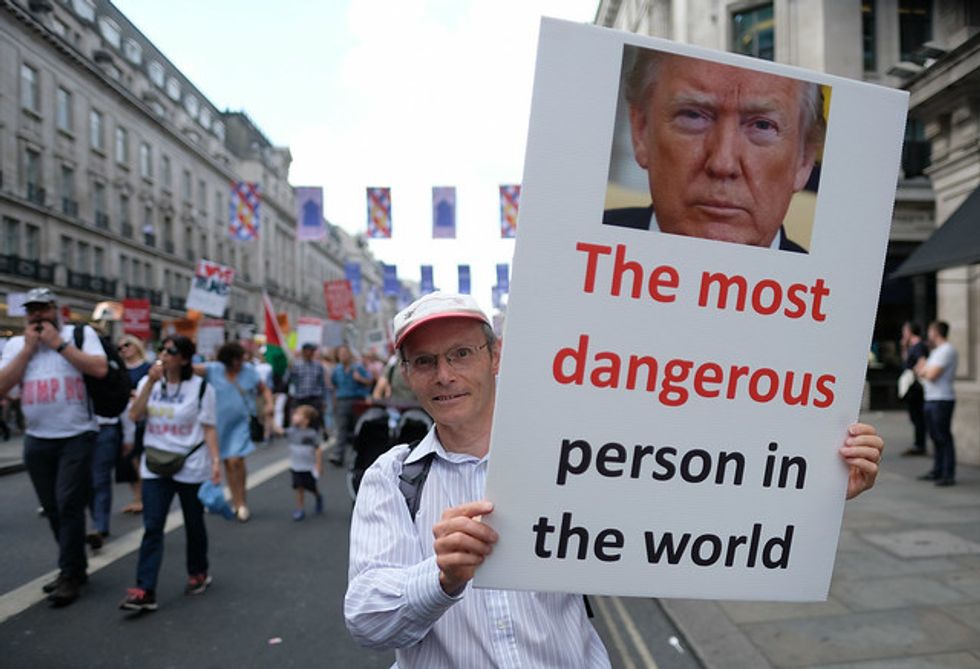 Reprinted with permission from Alternet
Although Texas is still considered a red state, President Donald Trump is not universally loved there. Texas' largest urban centers, from Houston and Austin to El Paso, are predominantly Democratic. And according to a report by Charles Bethea for The New Yorker, many El Paso residents are blaming Trump for the August 3 terrorist attack that has left 22 people dead.
The shooter, according to law enforcement, published a manifesto online not long before the attack in which he specifically mentioned his plan to target Latinos. El Paso, which is right across the border from Juarez, Mexico, is predominantly Latino — and Bethea reports that on Sunday night, August 4, a decidedly anti-Trump tone prevailed at a large demonstration/march in El Paso. One of the signs at the demonstration described Trump as an "accomplice" because of his anti-Latino rhetoric.
The demonstration was organized by the groups Las Americas Immigrant Advocacy Center and the Border Network, and Fernando Garcia (the Border Network's founder and executive director) made it clear to Bethea during an interview that he believes Trump's rhetoric is firing up white nationalists.
"Racism has a name, and that name lives in the White House," Garcia told Bethea. "That name is Donald Trump. His rhetoric brought this violence to El Paso."
Garcia added, "Today, we march in the streets. Tomorrow, it will be the elections. We will get this racism out of the White House."
Another one of the demonstrators was Jonna Perrillo, who shares Garcia's view that Trump's rhetoric is encouraging white nationalists. Perrillo, an English teacher at the University of Texas at El Paso, told Bethea, "There's an epidemic of white-male rage in this country, which our hateful president stokes. It's growing. It's everywhere. Communities of color are under attack. And it comes from the top."
Raul Amaya, another demonstrator, told Bethea, "Trump is a cruel, cruel man. He's a bad man. I don't believe in the devil, but if there's such a thing, it's him."
One of the people speaking at that demonstration was Democratic presidential candidate Beto O'Rourke, who shares the demonstrators' views that Trump has become a source of inspiration to white nationalists. The former congressman told the crowd, "We have a president right now who traffics in this hatred, who incites this violence, who calls Mexican immigrants rapists and criminals, who calls asylum seekers animals and an infestation."
Bethea writes that in El Paso, anti-Trump feelings "seemed to pervade the city in the wake of the shooting." And Mario Porras, a former aide to O'Rourke, fears that even if Trump isn't reelected in 2020, the climate of hate he has encouraged could remain.
Trump is "part of the problem," Porras told Bethea. "He's not part of the solution. But even if he's voted out next year, what's the lasting effect that he's had? That's what I fear, too."