Why LeBron's New Akron School Merits Praise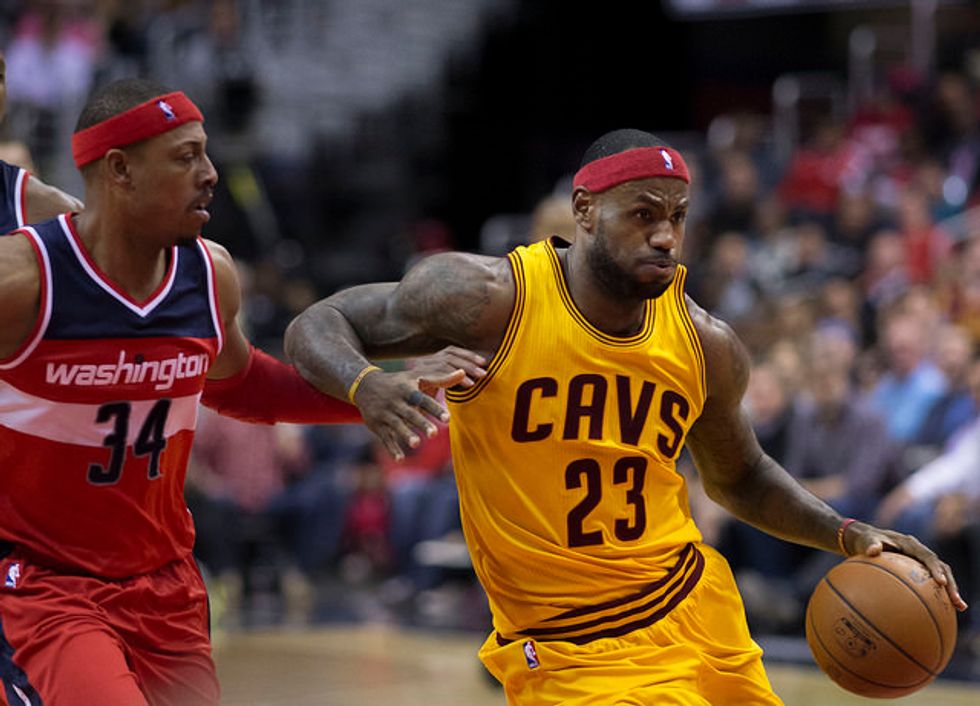 Reprinted with permission from Uexpress.
Basketball great LeBron James deserves every bit of the praise he's getting for opening a new public school, the I Promise school, in his hometown of Akron, Ohio. The academy, which started its first academic year on July 30 with third- and fourth-graders, aims to help academically challenged students by providing not only traditional educational programs but also a host of support services, including counseling and health checkups, to children and their parents.
This is just the sort of intervention and experimentation that public schools need. Supported by millions of dollars from James' charitable foundation, the school, which will eventually go through eighth grade, will have a longer academic day — and school year — than most. Administrators also plan smaller class sizes than most Akron schools and a seven-week summer school. That will help kids who are behind in needed skills, from reading to math, to catch up.
James, who is increasingly using his money and prominence for social and civic activism, has never been reluctant to talk about his troubled childhood. Reared by an impoverished teen mother who moved a lot and often lacked a car, he missed many days of school — 83, he tweeted, in the fourth grade alone, which would have been nearly half the year.
He was able to succeed anyway, but he knows most kids would not be able to overcome those obstacles. His I Promise school hopes to change that. For those who graduate, James has promised he will pay college tuition at the University of Akron.
Still, the naysayers — the "haters," in the parlance of popular culture — have weighed in. The head hater is President Donald J. Trump. Shortly after the basketball superstar was interviewed about the new school by CNN's Don Lemon, Trump tweeted: "Lebron James was just interviewed by the dumbest man on television, Don Lemon. He made Lebron look smart, which isn't easy to do. I like Mike!"
Never mind the president. Most voters know who the dummy is here. The president's tweet also had the effect, though, of setting off the right-wing mediasphere, which suddenly discovered that the new school will be largely funded by taxpayers. Breitbart shouted, "Akron Public Schools Paying Majority of Costs for LeBron's 'I Promise' School."
Well, yes. It is a public school. The public is supposed to pay for it. What's unfortunate is that public schools — especially those in poor neighborhoods — are so chronically underfunded that millionaires and billionaires need to step in to provide the additional money their students need.
On the other end of the ideological spectrum, commentators found much to cheer, including the fact that I Promise is not a charter school. Liberals, unfortunately, have lined up against charters, insisting that they are not public schools. Instead, many critics say, charter schools drain money from traditional public schools. But that is often the case when any new public school opens in a district that is losing students.
It is certainly the case with James' I Promise School. According to Cleveland's Plain Dealer: "I Promise will eventually cost about $8 million a year to run out of the districts' regular budget, covered mostly by shifting students, teachers and money from other schools, the district says." James' foundation will put in about $2 million a year, according to published reports.
For all the criticism of charter schools, much of it from teachers' unions, they have provided an essential platform for reform and experimentation. Their biggest advantage is that they are privately operated — meaning they are not run according to the rules and regulations of traditional school bureaucracies. They can hire the best teachers, even those without education degrees. They can operate with a longer school day. They can require parental involvement.
To be fair, some charter schools have performed poorly, especially those that are for-profit. Education Secretary Betsy DeVos has done more than most to ruin the reputation of the charter school movement with her insistence on pushing for-profit charters. In her home state of Michigan, those schools have been marked by scandal and poor academic outcomes.
But the essential work of trying to improve the public school classroom needs to continue, especially for poor children for whom education is the only way up and out. James deserves hearty applause for joining that work.