Why Many States Are Panicked By The Federal Clean Power Plan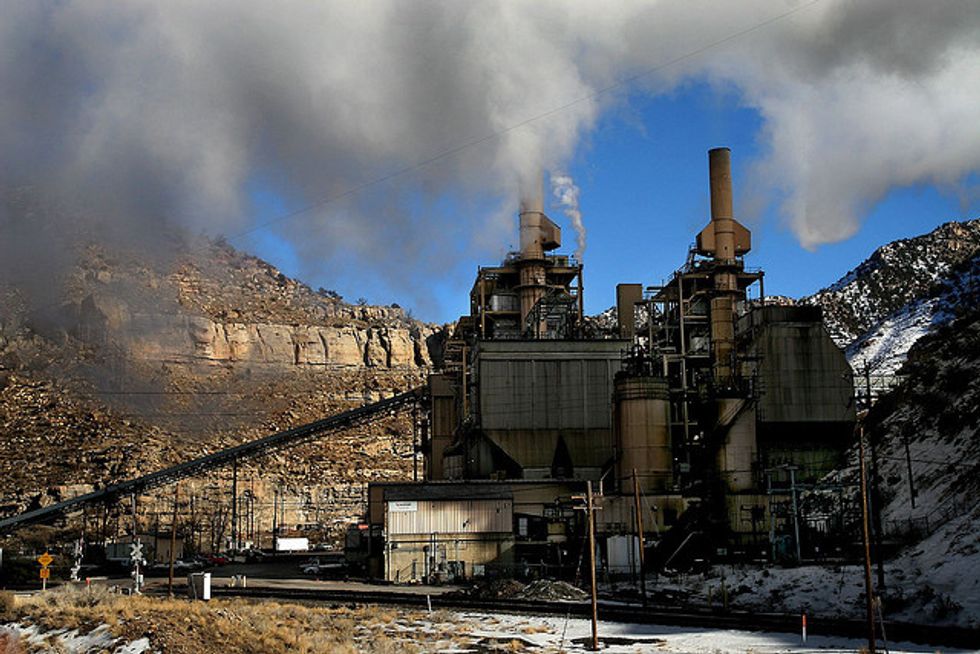 By Sophie Quinton, Stateline.org (TNS)
WASHINGTON — The four huge power plants that stand smoking in Colstrip, Mont., don't just employ hundreds of workers. They pay property taxes that allow the city of some 2,000 people to afford services other remote, rural communities lack, such as a parks and recreation department.
The electricity-generating plants consume almost all the coal mined at the Rosebud Mine, the second-largest coal mine in Montana. When the mine removes — or "severs" — coal from the earth, the mining company pays the state a severance tax on the value of the coal. Some of the money is invested into state trust funds, and some goes to support statewide services, such as public schools.
But new federal regulations for power plants threaten to put cities like Colstrip out of business. Puget Sound Energy, a part-owner of the Colstrip plants, already wants to close two of them. That would have a fiscal impact on the entire state. A 2010 University of Montana study found that the Colstrip operations contributed 4.5 percent of all state tax revenue and $104 million in state and local taxes.
Many states with significant reserves of coal, oil and natural gas depend on revenue from severance taxes on natural resources. In 2013, Montana's tax revenue from severance taxes was nearly 12 percent. In West Virginia it was 13 percent and in Wyoming it was 39 percent, according a Stateline analysis of U.S. Census Bureau data.
No wonder those states are so upset about federal Clean Power Plan regulations, President Barack Obama's bid to reduce the emission of greenhouse gases affecting the Earth's climate. The regulations, which take effect in December, will require states to reduce emissions from power plants. Coal emits more greenhouse gases than other energy sources, so one way for states to meet the federal goal is to shut down coal-fired plants.
State Rep. Duane Ankney, a Republican who represents Colstrip, said the federal rule would cost Montana dearly: "We're talking a $700 million to $800 million fiscal impact to the state, county and local governments."
Montana is one of 26 states suing to stop implementation of the regulations. But regardless of the outcome of the lawsuits, some communities that have depended on coal jobs and tax revenue may have to learn to live without them.
The energy industry is prone to boom-and-bust cycles, and right now, the coal and oil industries are going through a bust. A growing number of coal companies have declared bankruptcy in the past year. State budgets have tightened as the industry slides.
Last month, West Virginia's Democratic Gov. Earl Ray Tomblin announced a 4 percent, across-the-board budget cut to compensate for a deficit driven by a $190 million drop in severance tax collections. Wyoming's Republican Gov. Matt Mead announced $200 million in budget cuts, citing falling energy prices.
A boom in natural gas has created a cheaper, cleaner alternative to coal, while federal regulation has made coal-fired power plants more expensive. A 2012 mercury and toxic pollution rule, for example, has led operators to shut down plants or install new equipment.
States like California, New York and Washington, the home state of Puget Sound Energy, have made big, public commitments to fighting climate change by shifting their energy consumption to cleaner fuels. Washington's commitment is one reason why Puget Sound Energy wants to stop getting electricity from Colstrip.
"Coal reductions are happening in all 50 states," said Bruce Nilles of the Sierra Club, which along with its partners has helped to convince states and municipalities to shut down 206 power plants since 2010.
The U.S. Energy Information Administration expects coal-fired power plants to continue to shut down and for very few new coal-fired plants to replace them, even without the Clean Power Plan. That's a big deal, because more than 90 percent of the coal mined in the United States is burned to produce electricity, according to the EIA.
Analysts say the economic woes felt in some parts of coal country, such as southeastern West Virginia, are part of a long-term trend.
"This one's not cyclical. This is a permanent shift," said Evan Hansen, principal at Downstream Strategies, a West Virginia environmental consulting firm.
Hansen said Central Appalachia faces an additional challenge: digging for coal is more expensive there than in other regions of the country, partly because of federal mining regulations.
The Clean Power Plan gives each state a different emissions reduction target, depending on the mix of energy used in that state. California is well on its way to meeting its target; Montana may struggle.
"There is no wiggle room for Montana in this Clean Power Plan," Ankney said.
Montana has to reduce its carbon emissions by 47 percent of 2012 levels by 2030. Over half Montana's electricity is produced by burning coal, according to the EIA. Most likely, Ankney said, complying would mean shutting down eight small coal plants.
Ankney is trying to keep the Colstrip plants running. Last month, he traveled to Washington state to plead with legislators there who have to approve Puget Sound Energy's planned changes. As many as 400 jobs are at stake.
Ankney said there just aren't that many other good jobs in eastern Montana, a sparsely populated, rural part of the state. Colstrip is 30 miles from the nearest highway. The closest large city is Billings, a 120-mile drive away.
It's always tough for a small, isolated economy to lose its dominant industry. Consider steel mill and factory closures in the Rust Belt in the 1970s and '80s, or military base closures in the 1990s.
The coal industry has left Colstrip before, when trains switched from coal to diesel fuel in the mid-20th century. "Colstrip became pretty much a ghost town. There was no longer any reason for it to exist, other than that the school was here," said John Williams, Colstrip's mayor.
Some utilities and states that are moving away from coal have agreed to spend money to help workers transition, Nilles said. The Obama administration has set aside up to $35 million to help develop local economies and proposed additional funding for job training that Congress has yet to approve.
In states that rely on severance taxes, a struggling coal industry could have a bigger impact on tax revenue than on statewide employment levels, said Mark Haggerty, an analyst at Headwaters Economics, a research company based in Bozeman, Montana.
In Montana and Wyoming, coal mining raises a disproportionate amount of revenue. In Wyoming, coal mining employed about 1.8 percent of all workers, according to a University of Wyoming study in 2012, but generated about 11.2 percent of all government revenue.
The study's co-author, Robert Godby, hasn't had the chance to analyze the final Clean Power Plan rule yet. But in looking at the draft, he anticipated that Wyoming's combined natural gas and coal revenue could fall as much as 46 percent by 2030.
Severance tax money has allowed many energy-producing states to keep other taxes low. Wyoming, has neither a personal nor a corporate income tax.
The Clean Power Plan pushes states to invest in renewable energy sources, which could create a new source of revenue. Wyoming started taxing wind power in 2012, for instance. But wind power isn't much of a moneymaker. Wind is free, so all a state can do is impose sales and property taxes on wind farms, Godby said.
Coal-producing states could be forced to raise other taxes if severance taxes keep falling. Montana state Sen. Roger Webb, a Republican, raised the possibility last year in a newspaper column criticizing the Clean Power Plan — and not because he supported the idea.
"The president's carbon regulations create a giant, gaping hole in our state's budget picture," he wrote. "The most likely outcome of all this is going to be a huge property tax hike on Montana homeowners and small businesses to fill the gap."
Ankney doesn't expect lawmakers to seriously consider increasing taxes. Raising taxes, after all, is anathema to the state's conservative-leaning Legislature. Instead, he said, "It will be cuts rather than raising taxes."
Photo: New federal regulations for power plants threaten to put some tiny rural cities out of business. (Flickr/arbyreed)