Why Medicare-For-All Is An Ideal Discussion For Thanksgiving
@AlterNet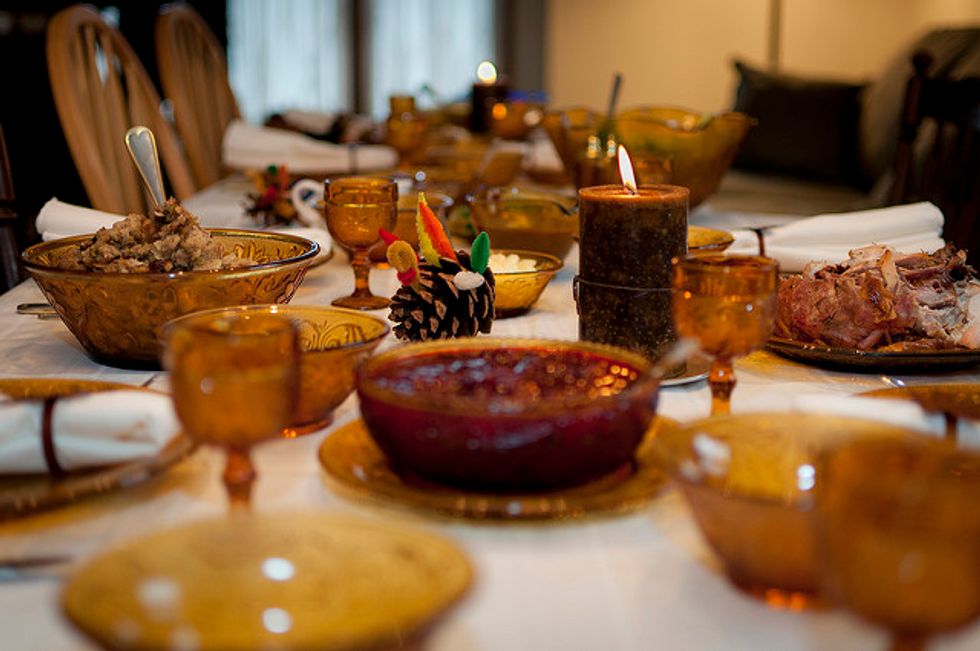 Reprinted with permission from  Independent Media Institute.
"Auntie, y'know what would go great with this sweet potato pie I brought? Medicare for All."
Despite the current political climate feeling ugly and infuriating, there is a lot for which to be thankful. To win their recent elections, more of our political leaders had to pay attention to our struggles with health care and demonstrate a willingness to fight for patients. In the recent midterm elections, Medicare for All was a part of more campaigns than in any election in our history.
But to make Medicare for All a reality, we must keep growing the movement for health justice. From our dining rooms to our break rooms, we need to have down-to-earth conversations that break the myths and gather support for our cause.
This Thanksgiving, I am serving up these responses to frequently asked questions about Medicare for All.
When your grandmother asks, "But won't giving Medicare to everybody mean less Medicare for seniors like me?"
Seniors are being lied to about Medicare for All threatening their health care. The Medicare for All policies in the House and Senate (specifically HR 676 and SB 1804) are actually enormously helpful for seniors. These pieces of legislation aim to expand Medicare benefits to include vision, hearing, and dental, which have never been covered before.
Medicare for All will also mean the end of co-pays and premiums, which take bigger and bigger bites out of our senior citizens' limited finances.
Another important improvement to Medicare is the power to negotiate for better prescription drug prices from big pharmaceutical corporations. Seniors will no longer be stuck with the false choice of picking between paying for their prescriptions or their groceries, utilities, and rent.
Since it was signed into law by President Lyndon B. Johnson in 1965, Medicare's success in caring for patients has been strengthened by timely improvements to the program. In 1972, President Nixon signed amendments to Medicare to cover patients with kidney disease and include physical therapy and speech therapy. During the 1980s, a series of upgrades were done for Medicare to cover hospice services for terminally ill patients and to set quality standards at nursing homes. Every generation improves upon Medicare, and while Medicare for All would be the biggest upgrade in American history, it would not be the first.
When your uncle asks, "How are you going to pay for Medicare for All?"
There are several ways to finance this program, and we must consider the monumental savings. By switching to Medicare for All, we save $500 billion every year just from administrative costs. With Medicare for All, we will stop paying the highest prices in the world for prescription drugs because we will negotiate with big pharmaceutical corporations. Fighting Big Pharma for cheaper drug prices will result in $113 billion saved yearly.
We live in the wealthiest country in the history of the world, and it's long past time for the wealthiest among us to pay their fair share. We must repeal the GOP tax scam from December 2017 and stop giving away trillions of dollars in tax breaks to mega-corporations, Wall Street, and Silicon Valley. Billionaires with more money than they could possibly spend in a lifetime (and gained on the backs of everyday working people) must pay their fair share in taxes, end their accounting games, and stop hiding their money offshore.
When your socially-liberal-but-fiscally-conservative cousin asks, "But don't people like their private health insurance?"
The status quo of American health care is fiscally unsustainable.
In 2018, the average worker contributed 260 percent more to their private health insurance than she did in 1999. Meanwhile, average earnings only increased by 68 percent over those two decades.
As a physician, I can tell you we are not doing anything in health care 260 percent better than we did in 1999. As a patient, are you 260 percent healthier after so much of your hard-earned income has been diverted to the private health insurance industry?
Let's be honest: We don't "like" our insurance. We tolerate it out of fear of financial ruin from medical bills.
To add insult to injury, under the current "system" of health care in America, there is still a reasonable chance you will turn to crowd-sourcing to pay for health care after using up your private health insurance plan. According to the CEO of GoFundMe, 1 in 3 of the campaigns on the site are to help people pay for medical bills. An increasing number of people are selling their possessions on social media to raise money for medical bills.
Rather than continue this unsustainable approach to paying for health care with debt and desperation, we should build a Medicare for All system rooted in sustainable fiscal fairness.
When your sister asks, "Won't doctors get paid less in Medicare for All?"
As a physician, I can tell you our pay is a complicated mess right now. Medicare for All would bring much-needed simplicity so we can focus on patients, not paperwork from insurance companies.
Currently, when physicians take care of uninsured patients, we have no idea if, how, or when we will be compensated for any of our work. For privately insured patients, the average physician in America spends about three weeks per yearcontending with insurance companies and their ever-changing obstacle courses from corporate bureaucracies. To put that time in terms of dollars, an average physician practice is spending about $83,000 on claims and billing, not patient care.
With Medicare for All, we stop wasting that time and money. Primary care physicians, in particular, are likely to see a potential pay raise while specialists might not see a significant change in their income.
Regardless of their field, physicians in a Medicare for All system would be able to spend more time with patients, enhance their education and skills, and probably reduce their risk for burnout.
When your so-called pragmatic brother-in-law asks, "Is Medicare for All realistic? How do you get all the votes you need in Congress?"
Challenge accepted. For legislation to pass Congress, we need 60 votes in the Senate and 218 in the House of Representatives. However, contrary to all of the political reporting out there, it is we the people, not Congress, where meaningful change begins in America.
For all the causes and values we care about, whether it's living wages for every worker, ending discrimination for our LGBTQ brethren, stopping police brutality and mass incarceration, expanding Social Security, compassionate immigration reform, confronting climate change, and so on, we have to start with ourselves.
What values do we want to live by? How do we stop accepting the unacceptable? Children should not hold bake sales to pay for their grandparents' medical bills. Physicians went to medical school to care for patients, not paperwork from insurance companies. Medicare for All represents the best of our values, and we the people must push Congress to pass policies making health care a basic human right for all of us.
The good news is the Medicare for All movement has gained significant momentum this year. This past summer we learned 70 percent of Americans support Medicare for All, including 85 percent of Democrats and 52 percent of Republicans!
Congress is paying attention. In July 2018, Representatives Pramila Jayapal (D-WA), Keith Ellison (D-MN), and Debbie Dingell (D-MI) launched the Medicare for All caucus, which rapidly grew to over 70 members, a third of House Democrats. There are 123 co-sponsors for the House bill for Medicare for All, HR 676. That legislation's counterpart in the Senate, SB 1804 by Senator Bernie Sanders, is co-sponsored by 16 senators. During the midterm elections, Democrat candidates supported Medicare for All in 52 percent of congressional races across the country. In the 41 toughest House elections, Medicare for All had the support of two-thirds of Democrat candidates.
There is no denying that Medicare for All faces political challenges and civic hurdles. But these are not insurmountable obstacles. We the people must keep growing the health justice movement and drive the cultural changes away from health care being a privilege for the "deserving." Realizing Medicare for All means reaffirming our values of justice, equity, and compassion. This movement grows in our communities and neighborhoods at backyard barbecues, nail salons, bus stops, barber shops, and kitchen tables where we have honest conversations about what it means to make health care a basic human right for all of us. This Thanksgiving, I'm grateful for everyone building Medicare for All.
This article was produced by the Independent Media Institute.
Dr. Sanjeev K. Sriram is the host of "Dr. America," an innovative podcast about public policy and health justice on We Act Radio. He also writes about connections between health policy, inequity, and social determinants of health. Dr. Sriram completed his medical degree and his pediatrics residency at UCLA, where he served as Chief Resident at the Department of Pediatrics. In June 2009, he earned his Master's in Public Health after completing the Commonwealth Fund Mongan Fellowship in Minority Health Policy at the Harvard School of Public Health. He currently practices general pediatrics in southeast Washington, D.C.