Why Only One Detention Center For Migrant Kids Might Survive Judge's Opinion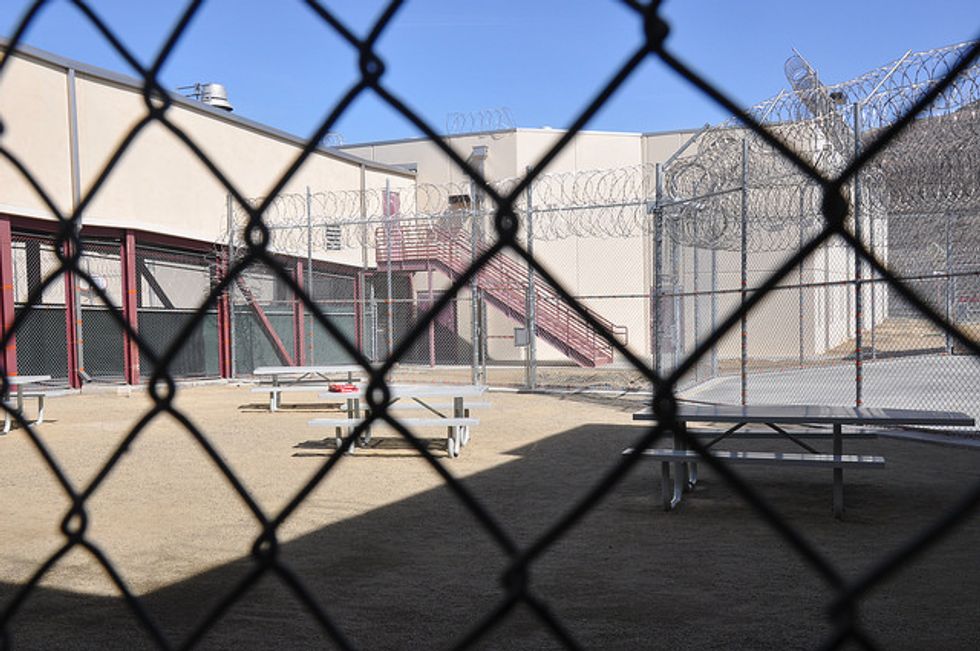 By Franco Ordonez, McClatchy Washington Bureau (TNS)
WASHINGTON — In a nondescript brick facility in rural Pennsylvania, several dozen migrant children and their mothers live inside, unable to leave, they say, while awaiting the outcome of their requests for asylum in the United States.
That facility, the Berks County Residential Center, could be a way for the Obama administration to maintain its practice of family detention — despite a tentative court ruling that questions the way the mothers and children are being held.
But immigration lawyers and advocates say state and federal officials are playing an underhanded game with the public — claiming that the 100-bed facility allows freedom of movement and therefore is fit to house families when, the advocates say, that's far from the reality.
On April 24, U.S. District Judge Dolly Gee in California distributed a 22-page tentative ruling to a small group of attorneys, concluding that migrant children and their mothers cannot be held in unlicensed, secure facilities, according to attorney memos that outline the tentative ruling and were obtained by McClatchy.
The case has large implications on the Obama administration's increasing use of family detention centers. The biggest: The two largest family detention centers, in the towns of Karnes City and Dilley, Texas, which house hundreds of mothers and children, may have to close.
Gee's tentative ruling requires immigration lawyers and government officials to take 30 days to negotiate an agreement about the family detention centers, according to the memos obtained by McClatchy. The ruling has not been officially filed to await the negotiations.
Advocates say they have growing confidence that the two family detention centers in Texas might eventually shut their doors, because both of those centers appear to clearly run as secure operations.
But elsewhere in the country, the advocates question what might happen in Pennsylvania — where a third, smaller facility has a state license. And state officials, at least, say the property is unsecured, which means children and their mothers are not physically blocked from leaving.
Gee's tentative ruling appears to require that if a child is going to be held, he or she almost always must be in a licensed, unsecure facility, according to the memos obtained by McClatchy.
Immigration lawyers say the Berks facility doesn't meet that standard.
"It's really a distinction in name only," said Carol Anne Donohoe, a Pennsylvania attorney who represents several clients at the Berks County Residential Center.
"It's really a license in name only. It's unsecure in name only," Donohoe said. "No matter what they (officials) say. There are so many things they're not complying with."
The disputes are part of a larger conversation within the immigration legal community in recent months about how to handle migrant children and their mothers. In the past year, overwhelmed by a surge of youngsters from Central America, the Obama administration has significantly increased its use of family detention. U.S. Immigration and Customs Enforcement officials say the facilities are safe and the best way to shelter families awaiting the adjudication of their cases.
But advocates and many of the mothers complain of poor conditions, that some migrant families have been put into isolation, and that they have no freedom of movement.
At this time last year, the Berks facility was the only center being operated to shelter migrant mothers and children. It was more of a transfer station, where migrants could stay for a few days or weeks while authorities found a relative with whom they could be placed. But that changed with the surge of thousands of both unaccompanied and accompanied minors who rushed to the United States last year fleeing violence and poverty.
Since July, more than 2,500 immigrants, mostly women and children, have been picked up and detained — sometimes for months — at four family detention centers. (One of those, in Artesia, N.M., was closed last year amid allegations of poor living conditions.)
Based on the most recent February state inspections report at the Berks facility, there were 43 children being detained, including ten with mental illness and one with a physical disability. Fifteen of the children were age five or younger.
While the state of Pennsylvania said there are no fences or locks blocking detainees from leaving, Donohoe said detainees cannot roam freely. There are guards stationed at all of the doors, and when guards are not present, the doors are locked, she said. Attorneys must be let into the building after going through security. Detainees are escorted to and from their living areas.
In response to the allegations that the facility is secured, Matthew Jones, the Pennsylvania director of human services licensing, said he had his staff visit the Berks County facility this week to confirm the facility was in compliance. The state regulations for a secure facility, he said, is one that has locks or perimeter fencing that prevents residents from leaving.
There is no fence, he said, and while there may be locks on the door, they're locked from the inside and not the outside. A key or code is needed to get in, but not to leave, he said. Asked whether detainees could leave, Jones said he could not give a simple answer.
"What I can say is that there are no locks and no fences that prevent them from leaving the facility," Jones said. "And therefore it's not a secure facility."
Michelle Brane, director of the Migrant Rights & Justice Program at the Women's Refugee Commission, a New York-based nonprofit advocacy organization, described the state's response as a bunch of "legal mumbo-jumbo." The point, she said, is the women can't leave and would be considered fugitives if they did.
"I would sort of equate it with minimum security prisons," Brane said. "There are minimum security prisons where there are no barbed-wire fences and you could, in theory, walk past the front desk and leave. But if you did so you would be in violation and be an escapee. And they would go after you."
Immigration and Customs Enforcement officials said the agency could not discuss pending litigation. ICE has contended that family residential centers are an effective and humane alternative by keeping families together as they await immigration hearings or are deported. Federal officials say the centers are critical to deterring more illegal immigration.
Bryan Johnson, a New York-based attorney who has demanded that the Pennsylvania attorney general and governor close the Berks County Residential Center, said there is no question that Berks is a secure facility.
Berks County describes the residential center on its website as a facility for families "mandatorily detained" during removal proceedings. It also specifies the facility is operated under ICE standards, which provide procedures to prevent detainees from escaping.
"It's clearly in reality the same type of facility as Karnes and as Dilley," Johnson said.
Photo: BBC World Service via Flickr