Why Republican Talk Of 'Invasion' From Mexico Is A Dangerous Lie
@DavidNeiwert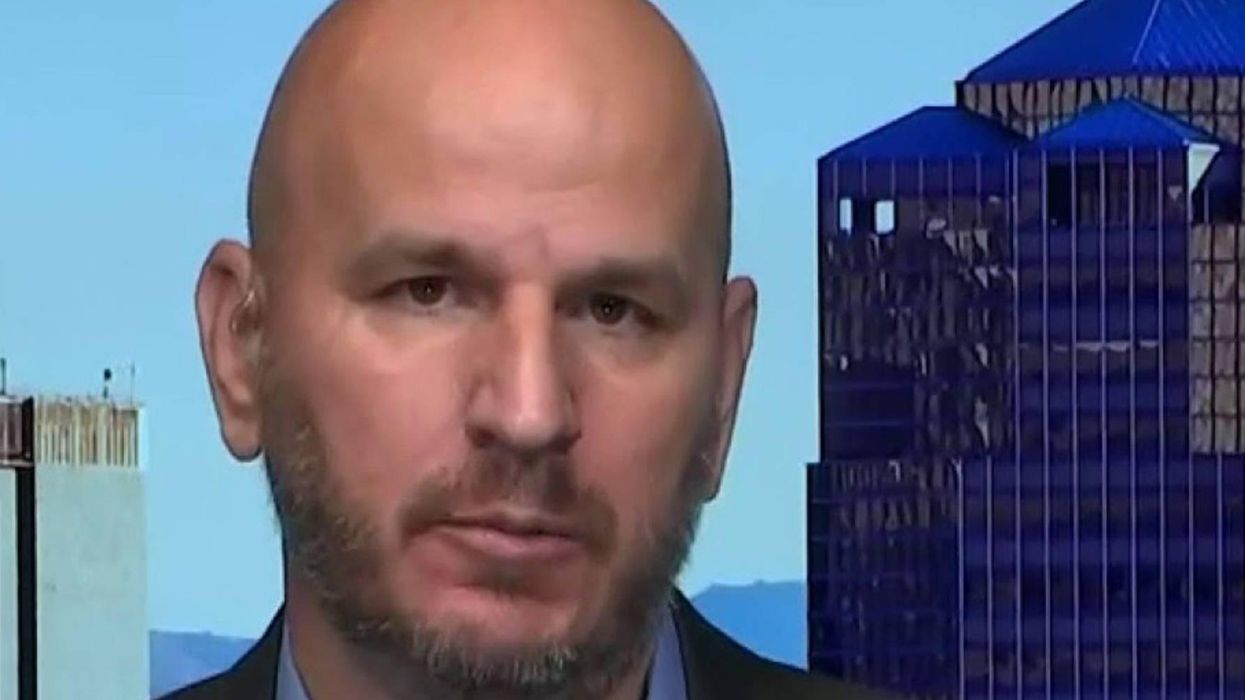 Youtube Screenshot
Republicans eager to concoct reasons to attack the Biden administration have spent the past month beating their well-worn drum about a nonexistent "invasion" at the U.S.-Mexico border by Latino immigrants. But this time around, the effect has been jarring.
That's because, since late February, the world has been seeing in real time what an actual invasion looks like, thanks to the attack on Ukraine by Vladimir Putin and the Russian Army. We've witnessed cities bombed into rubble, tanks rumbling through the countryside, suburbs turned into death camps, women and children murdered while waiting at railway stations.
When ordinary people think of invasions, they usually are referring to what we are seeing in Ukraine: One nation's government sending its armed forces across borders and attempting to defeat the other nation's military and ultimately depose its government. You know, what we did in Iraq. Planes, tanks, bombs, the works. Shock and awe.
They don't think of poor people trekking across the desert, looking to land hard labor in our farm fields and on construction sites, or at least escape persecution and seek political asylum, quite the same way. Unless, of course, they are Republicans.
As James Downie in TheWashington Postobserved:
Notice that McCaul didn't limit this comparison to traffickers or criminals trying to cross the border. No, every single person trying to cross—including the tens of thousands seeking asylum and the hundreds of thousands of families and unaccompanied children who are just seeking a better life—is in McCaul's framing no different from soldiers invading a sovereign nation.
The invasion rhetoric has become thick on the ground as Republicans prepare for the 2020 midterm elections in their usual fashion: ginning up as much fear about nonwhite immigration as humanly possible.
Donald Trump, as usual, has been leading the way. "We are being invaded by millions and millions of people, many of them criminals," he told the crowd at a rally in Washington Township, Michigan, on April 2, claiming that between 10 and 12 million undocumented people were waiting to cross the border. "We will be inundated by illegal immigration."
Congresswoman Elise Stefanik of New York, the House's third-ranking Republican, also called it an invasion. "Ending Title 42 will worsen the already catastrophic invasion at our Southern Border," she tweeted. "Joe Biden and his Far Left policies are destroying our country."
Steven Miller, Trump's white nationalist-friendly former senior adviser and the architect of Title 42, was even more dire: "This will mean armageddon on the border. This is how nations end."
Arizona Congressman Paul Gosar, who has become Republicans' go-to white nationalist in the House, joined in the hysteria on Twitter: "This is full scale invasion. This is 540,000 in one month. Putin sent 150,000 troops into Ukraine and we are ready to set fire to the world. Eliminating Title 42 will only add fuel to the fire. Madness."
Texas lawmakers have been especially frantic in pushing the "invasion" rhetoric. Some of them are even encouraging Gov. Greg Abbott to declare an "invasion" under the U.S. Constitution, and then use state personnel to deport immigrants.
Under the plan, Texas would invoke Article IV, Section 4, and Article I, Section 10, of the Constitution to exercise wartime powers and use state Department of Public Safety officers and state National Guard troops to immediately turn back migrants at the border. The plan is being pushed by a group of former Trump administration officials and the National Border Patrol Council (NBPC), the union that represents agents and support staff of the U.S. Border Patrol. Brandon Judd, the head of NBPC, recently said Abbott should "absolutely" declare an invasion.
Judd also echoed white nationalist "replacement theory" rhetoric: "I believe that they're trying to change the demographics of the electorate; that's what I believe they're doing," he said.
The "invasion" declaration idea is being heavily promoted by the Center for Renewing America, a conservative think tank led by Ken Cuccinelli, a former Homeland Security official under Trump. Abbott has not committed to the plan, however. Most legal observers note that the term invasion is reserved to mean an "armed hostility from another political entity."
The most pernicious aspect of the invasion rhetoric, however, is that it is fundamentally eliminationist in nature: It dehumanizes the people it targets. In this case, it serves two specific functions: It justifies state coercion and violence, and it creates permission for nonstate violence.
It's rhetoric that has been consistently cited as inspiration and motivation by domestic terrorists of recent vintage, ranging from Norwegian terrorist Anders Breivik in 2011 to the man who shot up the Walmart in El Paso, Texas, in 2019, killing 26 people. That man's manifesto described the attack as a response to the "Hispanic invasion of Texas," and expressed fears that changing demographics would "make us a Democrat stronghold."
Similarly, the man who walked into a Pittsburgh synagogue in 2018 believing Jews (and specifically the Hebrew Immigrant Aid Society) were responsible for the immigrant caravan then arriving at the Mexico border, around which Trump and Fox News had indulged in nonstop fearmongering, used the same rhetoric. He posted on Gab just before he murdered 11 people and wounded six:
HIAS likes to bring invaders that kill our people.
I can't sit by and watch my people get slaughtered.
Screw your optics, I'm going in.
It's fascinating how the same cast of characters promoting "invasion" rhetoric has played a role in helping spread the very same far-right violence that such eliminationist speech is intended to fuel. It's worth remembering that when Cuccinelli was the deputy director of the Department of Homeland Security (DHS) under Trump, he and Acting Director Chad Wolf blocked the release of a threat assessment of future dangers to the nation that highlighted white supremacist violence and Russian election interference, saying it was blocked because of the way it might "reflect upon President Trump."
"Mr. Cuccinelli stated that Mr. Murphy needed to specifically modify the section on white supremacy in a manner that made the threat appear less severe, as well as include information on the prominence of violent 'left-wing' groups," a whistleblower later averred. Cuccinelli was also heavily involved in DHS' project in the summer of 2020 to use an army of federal contractors to collect information on Portland's antifascist activists, which a subsequent review found had engaged in a long litany of constitutional violations.
Invasion rhetoric has a long and violent history in American politics, dating back to the origins of nativism in the 1830s, when anti-Irish agitators like Samuel Morse (inventor of the telegraph) called the arrival of immigrants a "Papist invasion" and an attack on "the American way of life." Likewise, a panic about a "Chinese invasion" arriving on the West Coast "900,000 strong" in the 1860s led to the passage of the Chinese Exclusion Act in 1872.
Japanese immigrants began arriving in the 1890s, and with them, fresh resentment:
During the early 1900s, paranoia about an "invasion" from Asia (mostly Japanese immigrants) gave birth to another wave of nativism. In San Francisco, local agitators founded the Asiatic Exclusion League, dedicated to repelling all elements of Japanese society from the city's midst. Its statement of principles noted that "no large community of foreigners, so cocky, with such racial, social and religious prejudices, can abide long in this country without serious friction." And the racial animus was plain: "As long as California is white man's country, it will remain one of the grandest and best states in the union, but the moment the Golden State is subjected to an unlimited Asiatic coolie invasion there will be no more California," declared a League newsletter. As one speaker at a League meeting put it: "An eternal law of nature has decreed that the white cannot assimilate the blood of another without corrupting the very springs of civilization."
It became popular among right-wing border extremists in the 1990s, particularly white nationalist ideologues like Glenn Spencer, who concocted the "Reconquista" conspiracy theory claiming that Latino ideologues were secretly conspiring to return the American Southwest to Mexican rule, creating a new Hispanic nation called "Aztlan."
This conspiracy theory was revived by Patrick Buchanan in his 2001 book The Death of the West, which played a foundational role in spreading the white nationalist conspiracy theory of "cultural Marxism" into the mainstream. Similarly, his 2006 book State of Emergency: The Third World Invasion and Conquest of America had as its core thesis a revival of the "Reconquista" theory, claiming that Mexico was "slowly but steadily taking back the American Southwest."
"You've got a wholesale invasion, the greatest invasion in human history, coming across your southern border, changing the composition and character of your country," Buchanan said on Fox News' Hannity & Colmesin November 2007.
In the context of the Ukraine war—where Americans can see on a daily basis what an actual invasion looks like—some conservatives at least recognize how wildly out of proportion that kind of rhetoric seems now. And in light of the very real and very lethal consequences for Texans this kind of rhetoric has had in the recent past, its pervasiveness is a real cause for concern. It's not just "hot talk."
David J. Bier of the libertarian Cato Institute called invoking an invasion an "overheated political analogy … An 'invasion' isn't just an overstatement," Bier wrote. "It's a completely unserious attempt to demand extraordinary, military-style measures to stop completely mundane actions like walking around a closed port of entry to file asylum paperwork or violating international labor market regulations in order to fill one of the 10 million job openings in this country."
As the Post'sDownie observes:
Abbott, McCaul and McCarthy, whether they admit it or not, recognize that the easiest way to protect their standing in the Republican Party is to embrace the hate and stoke the same bigoted fury that led a man to open fire in a store. Perhaps one day, the GOP's fever will break. Until it does, this country's future remains very dark.
Printed with permission from DailyKos.