Why The GOP's Efforts To Reach Out To Women Are Doomed To Fail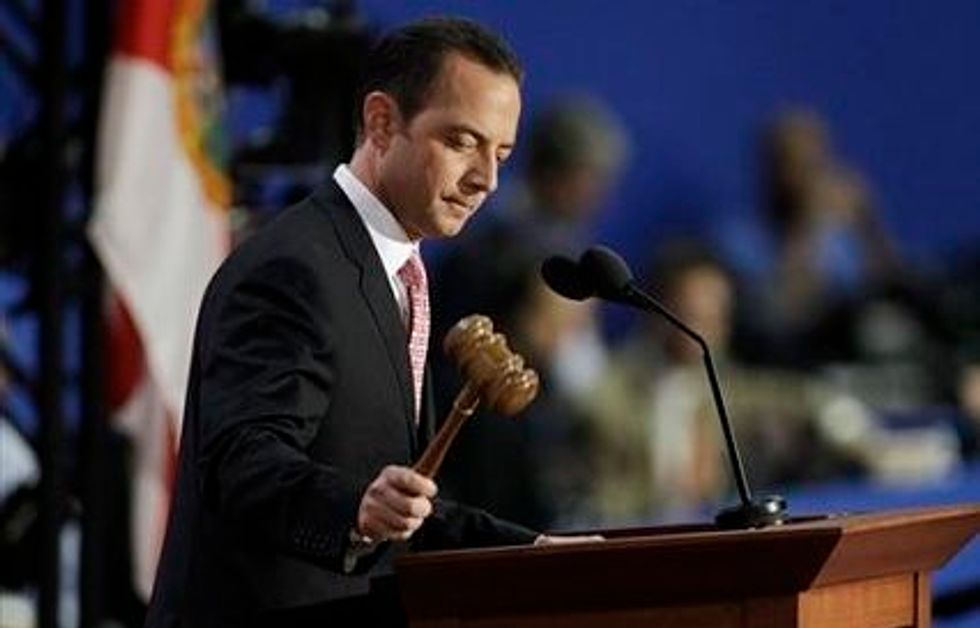 Why should women vote for a party that's actively working against their needs and interests?
On Monday, the GOP released a report detailing its "Growth and Opportunity Project," a new initiative that explores reasons for the party's November defeat and posits strategies for winning future elections. If it wasn't evident before, it is now abundantly clear that the Republican establishment officially attributes its November loss to a failure in style, not substance. The 100-page report details the party's inability to effectively communicate its policies and priorities to women, immigrants, young people, and people of color. It largely ignores the possibility that what motivated the majority of American voters, and in particular women, to give President Obama a second term was an aversion to the GOP's outdated vision for the nation.
Acknowledging that Obama won the single women's vote by a "whopping 36 percent," the report's authors suggest ways the party can be more inclusive of this critical voting bloc: Making a better effort to listen to female voters; fighting against the Democratic rhetoric against the "so-called War on Women"; doing a better job communicating the GOP's policies and employing female spokespeople to do it; and using Women's History Month to "remind voters of the Republican's Party historical role in advancing the women's rights movement."
I'm glad they specified "historical" role in advancing the women's rights movement, given that their current role seems squarely focused on rolling back women's rights. It's encouraging that GOP strategists in Washington want to spend more time listening to women voters, but there is no indication that Republican lawmakers will respond to that feedback. As Rachel Maddow said on her program this week, while Beltway leaders are "preaching about how to appear more reasonable to the womenfolk among us," Republican governance has become a competition – a race – "to see who can get the most extreme the fastest."
And a race it is.
This week Andrew Jenkins of RH Reality Check reported on some of the most recent Republican efforts to chip away at women's access to care:
Arkansas just passed a bill banning abortions after 12 weeks of pregnancy, while South Dakota just passed a bill to expand its 72-hour waiting period, which was already one of the longest in the country, in a state with only one abortion clinic. The North Dakota Senate just approved a ban on abortions after six weeks of pregnancy, the most restrictive in the country. And in Kansas, a state House committee just passed a 70-page bill that defines life at fertilization and requires that physicians lie to their patients.
That's not all.
Republicans in Texas remain hard at work leading national efforts in steamrolling access to women's health care. Previous budget cuts and funding restrictions have already closed more than 50 clinics and are making it more difficult, if not impossible, for nearly 200,000 women to access care. Last week the Texas Senate Education Committee moved a bill forward that would ban Planned Parenthood and other organizations from providing sexuality education in schools, and the governor recently promised to advance a 20-week abortion ban.
In Wisconsin, four Planned Parenthood clinics closed as a result of a GOP-led ban that prevents the organization and other clinics from receiving state funds. In Oklahoma, a major Planned Parenthood facility closed after the state's department of health cut off funding through the WIC program, forcing low-income women to go elsewhere to obtain vouchers for themselves and their children. Last month, Republicans in Michigan introduced a bill that would require women to get a vaginal ultrasound at least two hours before obtaining an abortion.
Mississippi is about to close its only abortion clinic thanks to a requirement that abortion doctors have admitting privileges at a local hospital (and local hospitals' refusal to grant those privileges) – a move the Republican governor has applauded as being the first step in ending abortion in that state.  Earlier this year, a Republican (female!) representative in New Mexico proposed legislation that would have allowed for women who terminated pregnancies resulting from rape to be charged with a felony for tampering with evidence. (She promptly rescinded and then proposed a new bill that would instead charge abortion providers with facilitating the destruction of evidence.)
The new GOP report also suggested that Republicans "talk about people and families, not just numbers and statistics." In releasing his 2014 budget proposal last week, Paul Ryan certainly provided an interesting perspective into how the GOP proposes taking care of women and families. According to the National Women's Law Center (NWLC), the Ryan budget includes significant reductions for "childcare and Head Start, K-12 education and Pell grants, job training, civil rights enforcement, women's preventive health care, domestic violence prevention and more." It would dismantle Medicaid, Medicare, and the food stamp program. It would repeal the Affordable Care Act (ACA), denying nearly 15 million women access to affordable health insurance and Medicaid and forcing women to pay more for prescription drugs, including family planning. As NWLC pointed out, repealing the ACA would "allow insurance companies to continue charging women higher premiums than men, deny coverage to women with so-called pre-existing conditions like domestic violence, and refuse to cover maternity care."
The ACA is certainly providing fertile ground for GOP lawmakers to show how much they care about women. Twenty states now restrict abortion coverage in health insurance plans that will be offered through the insurance exchanges, and 18 states restrict abortion coverage in insurance plans for public employees. Nearly all of those states are Republican-led. Additionally, 14 Republican governors have reported they will not participate in the Medicaid expansion programs that are a critical part of the ACA, denying access to a broad range of health services to millions of women.
On top of all this, 22 Republican senators and 138 Republican members of the House voted last month against the Violence Against Women Act, a critical piece of legislation that provides assistance to victims of domestic and sexual violence.
In their report, the GOP strategists recommended developing training programs in messaging, communications, and recruiting that address the best ways to communicate with women. "Our candidates, spokespeople and staff need to use language that addresses concerns that are on women's minds in order to let them know we are fighting for them," they state. Given the above-mentioned pieces of legislation, the GOP will be hard-pressed to convince women the party is fighting for them. It's patronizing to think that using different language, new messaging, and female spokespersons will convince women to support a party that is so clearly working against their best interests. Women are smart enough to know that a party that calls itself home to lawmakers relentlessly fighting to chip away at family planning and abortion access, food stamps, affordable health care, education, civil rights, and a social safety net providing tenuous stability to millions of marginalized individuals is not a party committed to truly understanding or addressing their priorities.
Maybe next year the GOP will make a more earnest attempt at celebrating Women's History Month. Although, by that time, their state leaders might have alienated half the women in the country, and it will be too late.
Andrea Flynn is a Fellow at the Roosevelt Institute. She researches and writes about access to reproductive health care in the United States and globally. 
Cross-posted from the Roosevelt Institute's Next New DealBlog
The Roosevelt Institute is a non-profit organization devoted to carrying forward the legacy and values of Franklin and Eleanor Roosevelt.
AP Photo/Charlie Niebergall