Why The Right Should Support Boosting Minimum Wage, Too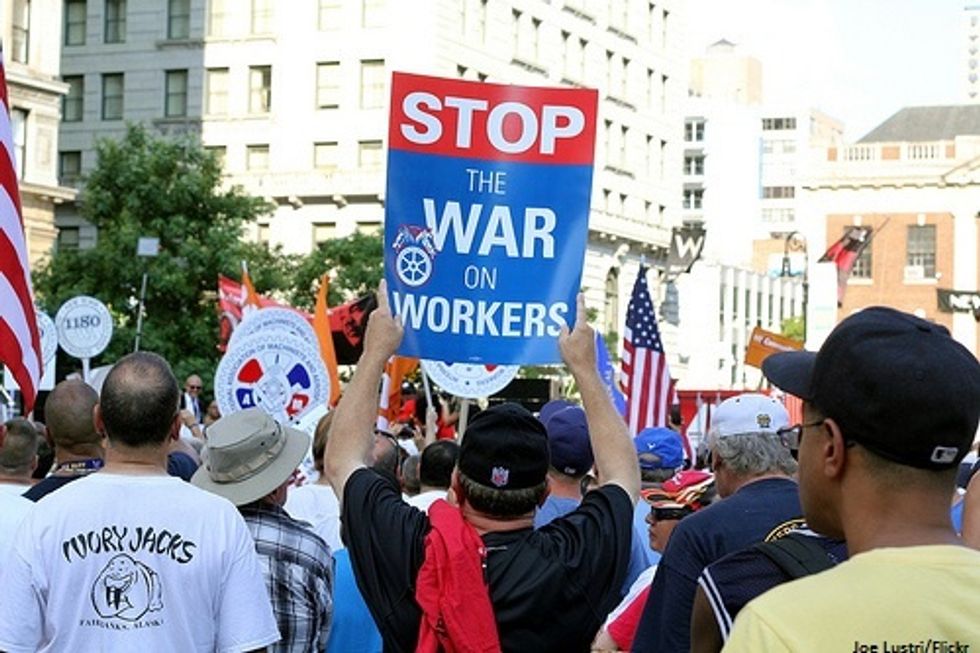 I've heard a lot of goofy arguments against raising the federal minimum wage. The silliest goes like this: "You want to raise the minimum wage to $15? Why not $50? Why not $100?"
Of course, that's not a real argument. Yet I hear it a lot, which means it probably originates somewhere in the nation's vast menagerie of conservative talk-show hosts.
The answer, if this pseudo-argument deserves one, is that $15 is at least where the current minimum hourly wage of $7.25 would be if it had kept up with worker productivity since the 1960s, according to various experts.
For example, the liberal-leaning Economic Policy Institute estimates that, if the minimum wage had kept pace with productivity growth since 1968, as it did for the two decades before, it would now be $18.67 per hour. Ah, the good old days.
That figure makes President Barack Obama's request for a raise to $10.10, after asking for $9 earlier in the year, sound modest.
Yet at the other end of the political spectrum you have conservatives like Rep. Joe Barton, a Texas Republican, who told National Journal that he would rather just get rid of the federal minimum wage altogether. "I think it's outlived its usefulness," he said, although he acknowledged that "it may have been of some value back in the Great Depression."
No minimum wage? It seems to me that America tried that before. It's called slavery.
But whether Barton's fellow Republicans share his extreme view or not, a minimum wage increase isn't likely to have any easier time in the current Congress than most of this president's other requests.
That's a tragedy for millions of hard-working Americans who are having an increasingly tough time making ends meet — even as stocks soar to record highs on Wall Street.
Does it sound like I'm talking class warfare? Americans didn't think so in the three decades after World War II, when the idea of wages keeping up with productivity had much more bipartisan support.
In the years from 1947 to 1969, the minimum wage actually did keep pace with productivity growth, according to the Center for Economic and Policy Research, another liberal-leaning Washington think tank. As recently as President George W. Bush's administration, Congress passed a bipartisan minimum wage increase in 2007 that included tax breaks for small businesses. That's not class warfare. It's legislating.
Yet not all conservatives are opposed to raising the minimum wage. While Washington sounds gridlocked, the issue has produced productive alliances in various states and municipalities.
In California, fast-food workers and others who have been rallying nationwide for minimum wage increases, have found an unusual ally in Ron Unz. The conservative Silicon Valley businessman probably is best known for backing Proposition 227 in 1998, a ballot issue that eliminated bilingual education as it had been practiced in California schools.
Now the former publisher of The American Conservative magazine has submitted a ballot initiative to the California secretary of state that would raise the state minimum wage to $12 an hour in 2016 from the current $8.
His reasons? Strictly conservative, he points out. He sees it as an economic growth measure. It would put $15 billion a year into the pockets of workers who would spend it as "one of the largest economic stimulus packages in California history," he told KQED radio. And it would be funded entirely by the private sector, he pointed out.
More controversially, Unz hopes that raising the minimum wage would help slow the flow of illegal immigration. "In effect, a much higher minimum wage serves to remove the lowest rungs in the employment ladder," he wrote in the magazine he used to publish, "thus preventing newly arrived immigrants from gaining their initial foothold in the economy."
That may be asking too much, in my view. History shows that immigration, legal or illegal, rises or falls according to how well the U.S. economy is doing.
But there's no question that raising wages would make work in this country even more attractive, particularly to Americans who already toil on the bottom rungs of the income ladder. They deserve a raise.
(Email Clarence Page at cpage@tribune.com)
Photo: Joe Lustri via Flickr