Will High Court Widen Flood Of Money In Politics?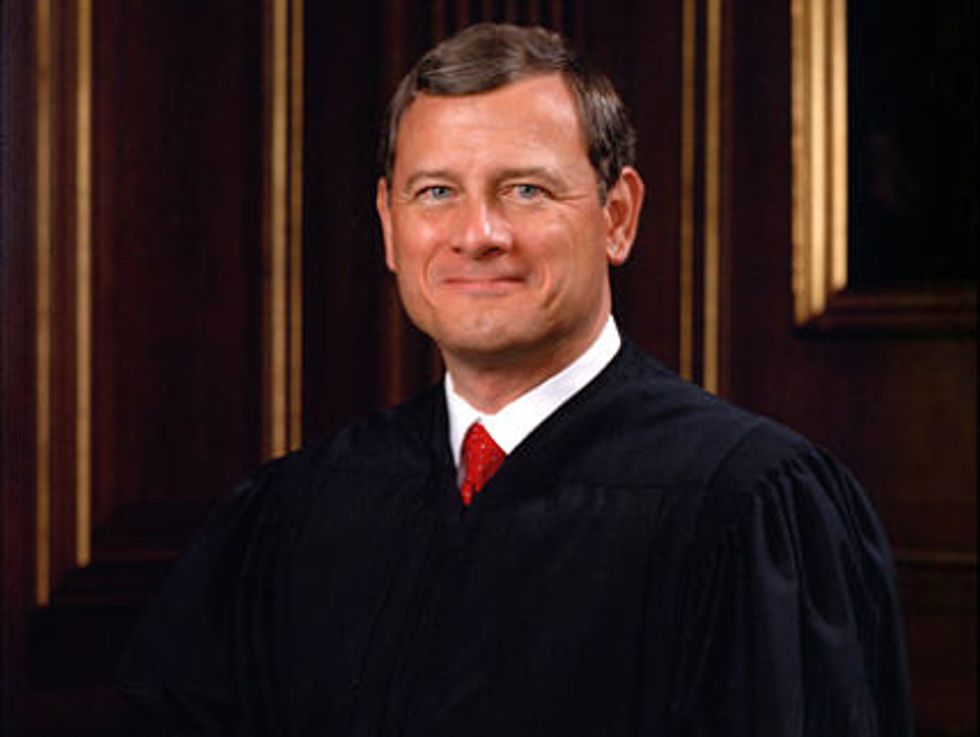 Aug. 26 (Bloomberg) — One of the first cases the Supreme Court will consider in its next session is whether to allow millions, perhaps billions, more dollars into the U.S. political system.
That may seem like a joke considering that more than $6 billion was pumped into last year's elections. A flood of special-interest money, courtesy of rulings by Chief Justice John Roberts' court, led to a campaign that many found depressing.
The issue that will be argued on October 8 is whether to remove the almost four-decade limit on the aggregate amounts any contributor can give directly to candidates and parties for federal elections in a single cycle. There are no limits now on independent expenditures or money given to political action committees, creating what critics call a system of legalized indirect bribery.
If the court decides to remove most of the limits on upfront contributions to presidential or congressional campaigns, it would no longer be indirect.
Going back to its first major campaign-finance decision in 1976, the high court has always distinguished between contributions, and majorities have ruled they can be limited to prevent corruption or the appearance thereof.
That contrasts with expenditures that the court has ruled are a form of speech. These rulings included the lifting of the ceiling on the amount of personal money a rich candidate could spend and the infamous Citizens United case, which freed corporate money to be spent on supposedly independent political expenditures.
Then a lower court gave the green light to wealthy individuals to give unlimited sums to so-called SuperPACs, which back politicians but are supposed to be distinct from the campaigns, which is a bit of a fiction.
Until now, the high court has consistently upheld limits on direct contributions to candidates for federal office or political parties. If the court reverses these precedents, the impact on campaign spending and influence-peddling would be considerable.
"The consequences could be worse than Citizen United," says Fred Wertheimer, the president of Democracy 21, who has been a tireless advocate for campaign-finance reform for 40 years.
Critics of campaign-finance limits reply that such alarm is typical of ole Fred, who claims the sky is falling every time another dollar is thrown into politics. And, they believe, the public won't be aroused by arcane fights over "aggregate" ceilings.
Yet Wertheimer, and the amicus brief to the Supreme Court filed by former U.S. Solicitor General Seth Waxman, is taking on big stuff.
It's first necessary to understand that all political spending isn't equal. Any campaign will tell you that the money it controls is far more valuable than the money spent by outside supporters. The money unleashed by Citizens United and other decisions contributed to the ugly tone of last year's campaign, but it wasn't as important as the money spent by President Barack Obama, former Massachusetts governor Mitt Romney and most congressional candidates.
Under current law, a rich contributor, who can spend any amount on independent efforts or SuperPACs, is limited to donations of $74,600 an election cycle to the party committees; in addition, a total of $48,600 can be given to individual candidates.
Here's what would happen if the court strikes down these aggregate limits:
Let's say that for 2016, a presidential candidate — Hillary Clinton, for example — set up what's called a joint fundraising committee. She could then ask, among others, the Hollywood mogul and Democratic money man Jeffrey Katzenberg to give directly almost $1.2 million to her committee, in addition to his other political spending.
That would include the maximum allowed to her campaign, $5,200; the maximum to the three party committees, $194,400; and the maximum to all 50 state parties, $20,000 each or $1 million. Although most of this money is supposed to go to state parties or other campaign committees, the Clinton campaign would effectively control it. That adds considerable value and clout for any donor.
A similar joint fundraising committee could be established by, say, House Majority Leader Eric Cantor.
Then, Harold Simmons, the Texas billionaire with interests in mining and toxic dump sites who is always on the lookout for political favors (he doled out $27 million last year), could give Cantor's committee directly more than $2.3 million. This would include $64,800 for the House campaign committees and the maximum of $5,200 a candidate for the 435 House candidates.
Although it's only 10 percent of what he gave in independent spending and to PACs last year, this form of direct giving to a powerful politician is more valuable to Simmons as a political investment.
The Waxman brief argues that lifting these limits would "effectively negate" the ban on so-called soft money enacted in 2002, under the McCain-Feingold law. Ten years ago, the Supreme Court said these soft-money contributions were "likely to create actual or apparent indebtedness on the part of federal officeholders."
A dueling brief on behalf of Senate Minority Leader Mitch McConnell, filed by the veteran campaign-finance lawyer Bobby Burchfield, argues against drawing any real distinction between expenditures and contributions. As for precedent, it said the Roberts court "has not hesitated to overrule decisions offensive to the First Amendment," citing Citizens United.
Because the aggregate limit doesn't preclude a politician from taking money from any contributor — it only limits the total amount that can be given — Burchfield pointed out that big money is more important than small donations. This is evidenced, he writes, by the fact that so many contributors give the maximum amounts allowed.
With these aggregate limits, anyone could give $100 to every member of Congress of his or her party and $2,000 to a presidential candidate.
That wouldn't impress the politician or buy as much influence as several million bucks.
(Albert R. Hunt is a Bloomberg View columnist.)