Will Kellyanne Conway Take Over White House Communications?
@FAWFULFAN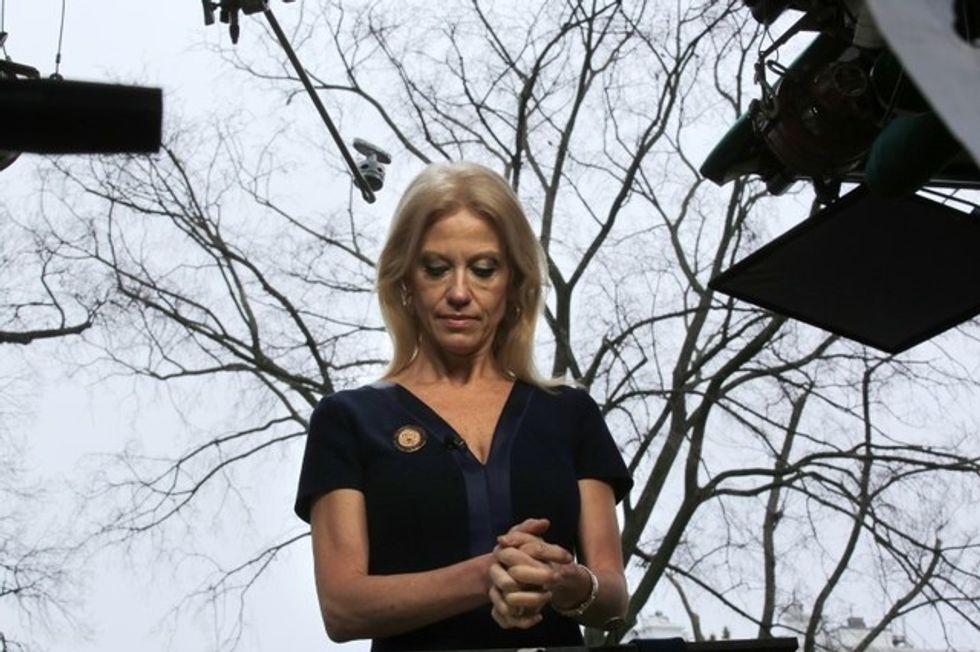 Reprinted with permission from Shareblue.com
Once again down a communications director, White House officials are getting desperate. Now they're turning to one of the only people who has been with Trump for his entire administration: Kellyanne Conway.
According to a report in the Atlantic, Conway "is moving closer to accepting President Donald Trump's offer for her to succeed Hope Hicks as White House communications director, if only on an interim basis, according to multiple sources who have spoken with her."
She doesn't want to do it, but Melania Trump and Mike Pence's chief of staff have been prodding her to take the job.
But it's hard to imagine a less qualified person than Conway to serve as communications director. Her disastrous performances in on-air interviews certainly don't evince readiness for the job.
She claimed lying about Trump's inauguration crowd is just presenting "alternative facts." She threatened reporters' press access with the cameras rolling. She said journalists should be forcedto report positive things about Trump. And she called a woman a "jackass" for questioning her at a women's summit.
But the simple fact is that Trump is running out of people who can or want to do the job.
In February, Hope Hicks resigned as communications director amid fallout from the domestic abuse and security clearance scandal surrounding former aide Rob Porter.
Hicks had replaced Anthony Scaramucci, who was fired after just ten days over crude remarks he made regarding former chief of staff Reince Priebus and Steve Bannon.
Before that, Sean Spicer served as interim director for a month and a half following the resignationof Michael Dubke.
Trump's press operation is such a disaster — often thanks to Trump himself — that staff shake-ups have become routine. Conway has good reason to want to steer clear of it. But now she may have little choice in the matter.