Will Mexican Cartels Go The Way Of Colombia's Crime Syndicates?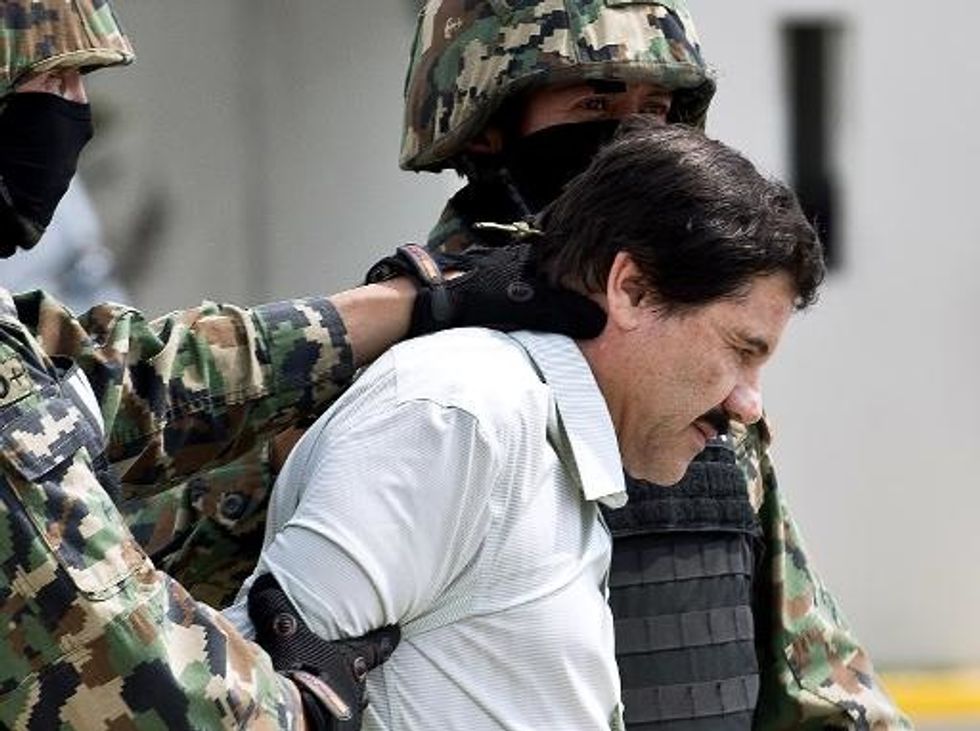 By Tim Johnson, McClatchy Foreign Staff
CULIACAN, Mexico — Almost as soon as Sinaloa Cartel boss Joaquin "El Chapo" Guzman, reputedly the head of one of the world's largest crime syndicates, was captured after a 13-year manhunt, young drug dealers began campaigns to take his place — a sign that the group, responsible for 25 percent of all illegal drugs smuggled into the United States, might not be headless for long.
But even as the internal jockeying intensified, experts predicted that the arrest of the legendary crime boss over the weekend would prove to be a watershed event likely to usher in the breakup of Mexico's huge crime syndicates.
"The fragmentation we've seen here in Colombia will be replicated in Mexico," said Jeremy McDermott, a former British army officer based in Medellin, Colombia, who's a co-director of InSightCrime, a research group. "The capture of Chapo will accelerate that process in Mexico of criminal fragmentation. The days of big cartels are gone."
Considered the world's No. 1 crime lord, Guzman was snared in a messy bedroom in an oceanfront condo in Mazatlan early Saturday. Mexican and U.S. counter-drug agents had tracked him over several weeks, tracing him to safe houses in Culiacan, the capital of Sinaloa state, and then staying on his trail to Mazatlan when he disappeared through a series of tunnels and drainage pipes.
Guzman, whose Spanish nickname means "Shorty," built the Sinaloa Cartel into one of the world's biggest narcotics-trafficking groups, with a reach deep into Latin America, across the Atlantic to Africa and Europe, and into major U.S. cities.
He operated the cartel with the help of at least two other reputed crime chieftains, Ismael "El Mayo" Zambada and Juan Jose "El Azul" Esparragoza, both in their 60s and allegedly with decades of experience in smuggling narcotics to the United States. Guzman has worked with Zambada since an earlier drug gang, the Guadalajara Cartel, was divided up in the late 1980s, and shared management with Esparragoza of the Sinaloa Cartel, which sometimes is called a federation because of its loose organization.
Potential rivals are watching closely to see whether they might make a move on Sinaloa Cartel turf or on its leadership, said Sylvia Longmire, a security consultant who's the author of the 2011 book "Cartel: The Coming Invasion of Mexico's Drug War."
"There will be a lot of wait-and-see going on by a lot of groups: rivals like Los Zetas, smaller trafficking groups that are members of the federation who are weighing their options, and cocaine suppliers who want to make sure the federation is a stable client," Longmire said.
"El Mayo and El Azul need to work fast to exude confidence and power to friends and foes alike," she added.
If the two aging leaders don't move fast, the criminal underworld that the Sinaloa Cartel controlled may begin to crumble.
"When there's no control, what was organized crime becomes disorganized crime," McDermott said.
The cartel's biggest rival in Mexico, Los Zetas, fractured after the killing in October 2012 of its undisputed leader, Heriberto Lazcano, and the arrest last July of his successor, Miguel Trevino Morales.
In significant ways, Mexico might be following the course of Colombia, which was the epicenter of the global cocaine trade in the 1980s and 1990s under the Medellin and Cali cartels but began to take a lesser place as a crime headquarters after the leaders of those cartels were slain or imprisoned. A plethora of weaker successor groups with names such as the Urabenos, the Rastrojos and La Oficina became wholesale suppliers to the more powerful Mexican groups, Los Zetas and the Sinaloa Cartel.
How the Sinaloa cartel will cope with Guzman's capture may depend on whether he can maintain any semblance of control from within prison walls. During a previous stint in prison, from 1993 until he escaped in 2001, Guzman didn't appear to be weakened as a drug lord.
AFP Photo/Ronaldo Schemidt