Will The Trump Campaign Ever Fire Their New York State Co-Chair?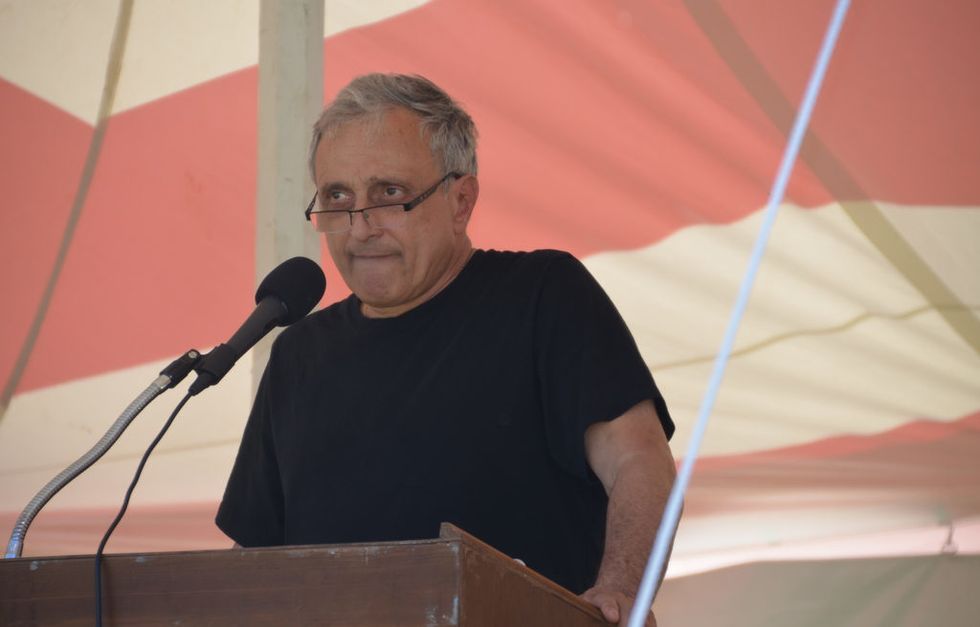 It's a jarring headline: Who am I to suggest hirings and firings to a presidential campaign? But in the burgeoning pantheon of political outrage, the continued employment of Carl Paladino as Donald Trump's campaign co-chair in New York must rank near the top.
On Friday, in an interview with Imus in the Morning's Connell McShane captured by Buzzfeed, Paladino spoke about Khizr Khan, the father of deceased soldier Humayun Khan who gave an animated speech denouncing Trump at the Democratic National Convention. Paladino reiterated his frequent claim that President Obama is secretly Muslim, and said that the Khans didn't deserve to be honored as a gold star family because of Khizr Khan's (non-existent) radical Islamist views.
"I don't care if he's a Gold Star parent. He certainly doesn't deserve that title, OK, if he's as anti-American as he's illustrated in his speeches and in his discussion," Paladino said. "I mean, if he's a member of the Muslim Brotherhood or supporting, you know, the ISIS-type of attitude against America, there's no reason for Donald Trump to have to honor this man."
Attacks on Khizr Khan's patriotism began almost immediately after his DNC speech, including from Trump confidant and former Nixon "dirty trickster" Roger Stone — who alleged (baselessly) that Humayun Khan was an al-Qaeda and Muslim Brotherhood double agent — and eventually, from Trump himself, who attacked Khizr Khan and implied falsely that his wife Ghazala was not allowed to speak at the convention because of religious restrictions on Muslim woman.
In an email to Buzzfeed on Sunday, Paladino doubled down on his comments, repeating the same baseless sentiments and accusations from the McShane interview, evidently without fear of any kind of consequences from the Trump campaign:
Hillary's staff obviously wrote [Khizr Khan's DNC] speech. She even bought him the pocket Constitution which he probably never read but also returned to the staff after the speech.

Hillary tried to get five other Gold Star parents to do the theatrics and they all said no and were paid handsomely to keep the request confidential.
In the following paragraphs (and paragraphs, and paragraphs), Paladino regurgitates many of the same spurious talking points found in the first conspiracy hit piece that Roger Stone published to his Twitter account about Khizr Khan.
Paladino, once a gubernatorial candidate in New York and a lifelong right-wing activist, has a bit of a reputation: In March, he sent an email to New York Republicans imploring them to support the Trump campaign, "and try to preserve what's left of your pathetic careers in government."
During an April interview with NPR's Morning Edition, Paladino said, "People that get on this [Trump campaign] bus, on the Trump bus, are people that are very, very frustrated with their government." He added, in what some said was coded racial language, "That's the most important thing. It doesn't matter what kind of person is the exterminator, OK? They want the raccoons out of the basement."
He remains unapologetic about questioning Khizr and Ghazala Khan's allegiances, and he continues in his position as New York co-chair for Trump.
All of this leaves us in a familiar place: What happens next, when a candidate doesn't seem to care that a representative of his campaign spews vicious, hateful attacks? Does anyone care? Or has this kind of racist politics, seemingly picked out of the dustbin of history, make a comeback?
Jake Tapper confronted Trump campaign manager Paul Manafort about Paladino's comments on Sunday. He was a met with a resounding "Meh."
It goes to show: For every front-page controversy highlighting Trump's slow motion car wreck of a campaign, there are 10 that slip under the radar. Consider the white supremacist "journalist" who was invited to the Republican National Convention — I still haven't seen any explanation for James Edwards invitation to cover the convention as a credentialed member of the media.
So it goes. We will have to reckon with this eventually. But for now, we're left with Paul Manafort's reassurance to Tapper: "I'll have to look into it."
Photo: Carl Paladino at the 2012 Oneonta Tea Party Rally. Flickr user Sheryl J Thomas.