Will These Two Senators Save America From Kavanaugh?
@alexvhenderson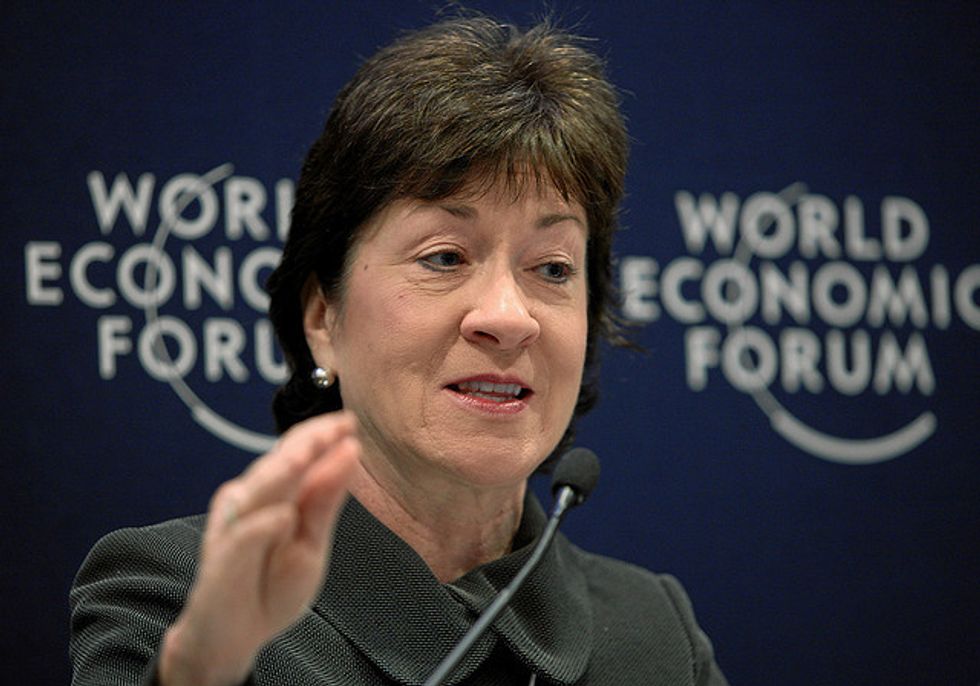 Reprinted with permission from AlterNet.
With President Donald Trump having nominated Judge Brett Kavanaugh to take over Justice Anthony Kennedy's position on the U.S. Supreme Court, it is now up to the U.S. Senate to hold confirmation hearings before appointing him. And critics of Kavanaugh—a severe social conservative and far-right "strict constructionist" along the lines of Justice Clarence Thomas, Trump appointee Neil Gorsuch and the late Antonin Scalia—are hoping that if all Senate Democrats oppose him and are joined by Republicans Susan Collins and Lisa Murkowski in a "no" vote, Kavanaugh can be kept off the High Court. But don't count on it.
Maine's Collins and Alaska's Murkowski are among the few Republicans in the Senate who are typically described as "moderate" in the mainstream media. But neither Collins nor Murkowski is genuinely "centrist"; both are right-wing fiscal conservatives even though they aren't big social conservatives. And on the whole, they are much more likely to vote with Utah Sen. Orrin Hatch or Senate Majority Leader Mitch McConnell than they are with Sen. Elizabeth Warren—let alone Sen. Bernie Sanders.
Nonetheless, Collins and Murkowski do have a bit more nuance than most Republicans in the Senate—and they showed some independence in 2017 when they voted against a bill that would have overturned the Affordable Care Act of 2010. Collins and Murkowski, along with Arizona Sen. John McCain, helped saved Obamacare despite considerable pressure from McConnell and President Trump. And both of them parted company with McConnell when they joined Senate Democrats in opposing a proposed 20-week abortion ban.
But when it came to confirming Justice Neil Gorsuch—Trump's replacement for Scalia—Collins and Murkowski both voted with McConnell despite being pro-choice on the abortion issue. Three Democrats voted to confirm Gorsuch as well: West Virginia's Joe Mansion III, Indiana's Joe Donnelly and North Dakota's Heidi Heitkamp, indicating that opposition to Kavanaugh might not be universal among Senate Democrats.
In 2017, Collins and Murkowski both stressed that they were carefully weighing the merits of the Tax Cuts and Jobs Act and would not be a rubber stamp for McConnell. But ultimately, they caved into party pressure and voted for it—and they will be under enormous pressure from Trump and McConnell to vote for Kavanaugh.
Collins and Murkowski will also be under pressure from supporters of Roe v. Wade, which Kavanaugh would no doubt vote to overturn. And it certainly couldn't hurt to bombard their offices with phone calls urging a "no" vote on Kavanaugh's confirmation. Maine and Alaska voters who oppose Kavanaugh and support Roe v. Wade should let Collins and Murkowski know how they feel. But their voting records demonstrate that more often than not, Collins and Murkowski are allies of Trump and McConnell—not Democrats in the U.S. Senate.
Alex Henderson is a news writer at AlterNet and veteran political journalist. His work has also appeared in Salon, Raw Story, Truthdig, National Memo, Philadelphia Weekly, Democratic Underground, L.A. Weekly, MintPress News and many other publications. Follow him on Twitter @alexvhenderson.