Williams Downs Wozniacki For Sixth U.S. Open Title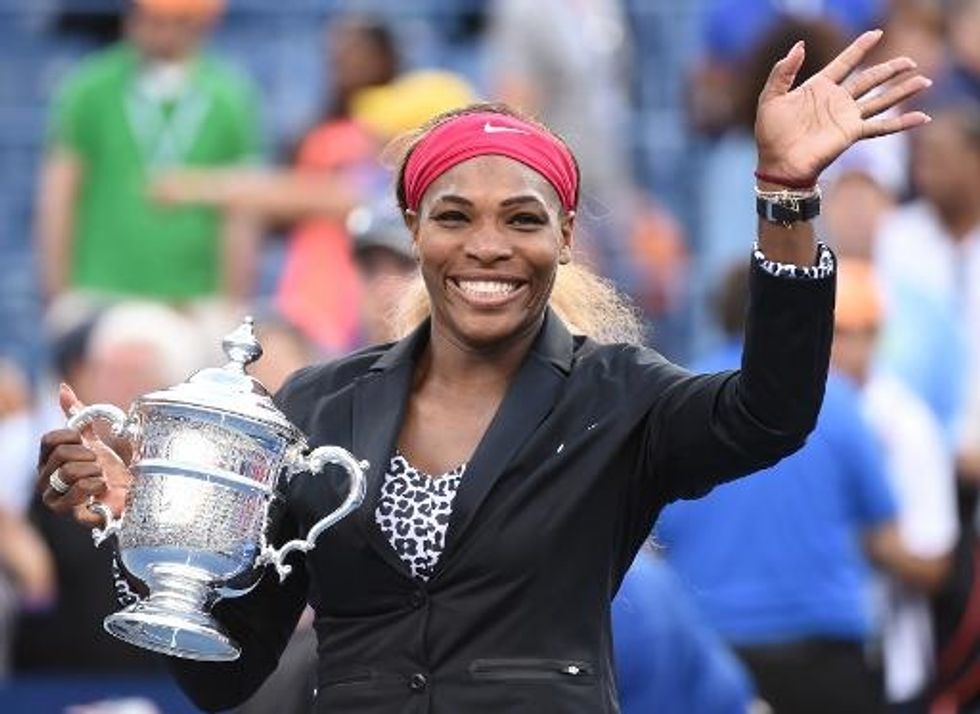 New York (AFP) — World number one Serena Williams won her 18th Grand Slam title at last, overpowering Caroline Wozniacki 6-3, 6-3 on Sunday to capture her sixth U.S. Open crown.
The world number one, shut out in the first three majors of the year, ended a year of waiting as she joined Chris Evert and Martina Navratilova on 18 majors — trailing only the 22 of Steffi Graf on the Open era list and six behind the all-time record held by Margaret Court.
Williams, who turns 33 later this month, said the goal of an 18th Grand Slam had hung over her "because I was joining Chrissy and Martina, someone I never thought me, Serena Williams, would be in that name group.
"Who am I?" said Williams, who grinned with delight as Evert and Navratilova presented her with a gold bracelet bearing an "18" charm.
"I never thought you would mention my name with such greats and legends."
Williams lifted the trophy at Flushing Meadows for the third straight year, joining Evert as the only woman in the Open era to win three titles in a row, and matching Evert's six U.S. Open triumphs.
She also offered words of encouragement to her beaten foe, her friend and confidant as both endured difficult months this year.
"Congratulations to Caroline, she knows the struggles I have had," Williams said, adding to her friend: "You will win a Grand Slam title soon."
But former world number one Wozniacki, owner of 22 WTA titles, still has that gaping hole on her resume.
The Dane was just 19 when she lost to Kim Clijsters in the 2009 U.S. Open final, and she hadn't returned to a Grand Slam title match until Sunday.
With so much on the line for each woman, the first set was a tense affair with few fireworks.
After saving a break point in the first game with an ace, Williams made Wozniacki pay for a tight first service game, in which the Dane double faulted twice.
Williams seized the break and a 2-0 lead with a pair of stinging service returns.
"I was a little nervous going out there," said Wozniacki, who found the noise in Arthur Ashe Stadium "overwhelming."
"I just wanted to get a good start. I knew that against Serena, you have to have a good start, otherwise she starts going in and being even more aggressive. You know, you're kind of done."
Williams didn't run off with it right away, but a run of five service breaks ended with the American holding for a 5-2 lead, heaping the pressure on Wozniacki to hold for the first time.
She did, fending off one break point to force Williams to serve it out.
With a set in hand, Williams was moving more freely. Even luck wasn't going Wozniacki's way, as a net cord bounce in Williams' favor ended a 20-shot rally to give the American a break chance in the first game of the second — which she promptly converted.
– So much on the line –
Wozniacki's vaunted defensive skills were on full display in the second set as she doggedly ran down balls, but she couldn't match Williams' power and ability to conjure winners from all areas of the court.
Williams finished with 29 winners to Wozniacki's four, belting a forehand to give herself match point.
That was the first moment she felt sure of victory, Williams said.
"Other than that I was really tight and nervous the whole match," said Williams, who didn't drop a set in the tournament. "There was so much on the line."
When Wozniacki's last backhand went long, Williams dropped to her back onthe court, covering her face with her hands.
"I just felt so good," she said.
Williams began the year boldly, with the possibility of achieving a rare calendar Grand Slam talked up by her coach Patrick Mouratoglou before the Australian Open in January.
That dream ended with a fourth-round exit at Melbourne.
An embarrassing second-round exit at Roland Garros was followed by a third-round departure at Wimbledon — where she also looked weak and disoriented in a bizarre exit from doubles.
Since then Williams had gone from strength to strength, winning two US hardcourt titles in the run-up to the Open.
Her strong showing on the hardcourts of America meant she claimed a $4 million jackpot on Sunday — $3 million for winning the title and a $1 million bonus as the winner of the U.S. Open Series points race.
"I think through this whole tournament I was really calm," Williams said. "I practiced so hard. Not just this week, but for like six months. I think it's now showing."
AFP Photo/Stan Honda
Want more updates on the job market and economy? Sign up for our daily email newsletter!